On a typically steamy wet season day in north Queensland, I check into Thala Beach Nature Reserve, on the Captain Cook Highway between Cairns and Port Douglas. Looking for a secluded getaway with romance on my mind, Thala is perfectly located, high above the beach, concealed mostly in eucalypt forest. Combining a deluxe retreat in an extraordinary natural setting, bungalow accommodation offers intimate seclusion surrounded by natural native forest.
Romance is definitely in the air at  Thala Beach Nature Reserve.
It's the kind of place that attracts new lovers who have eyes only for each other, or old-hand partners rekindling ebbing relationship embers. Either way, Thala offers a dreamy setting with attentive, friendly, unobtrusive service set upon a forest-clad headland with 2km of private access beachfront.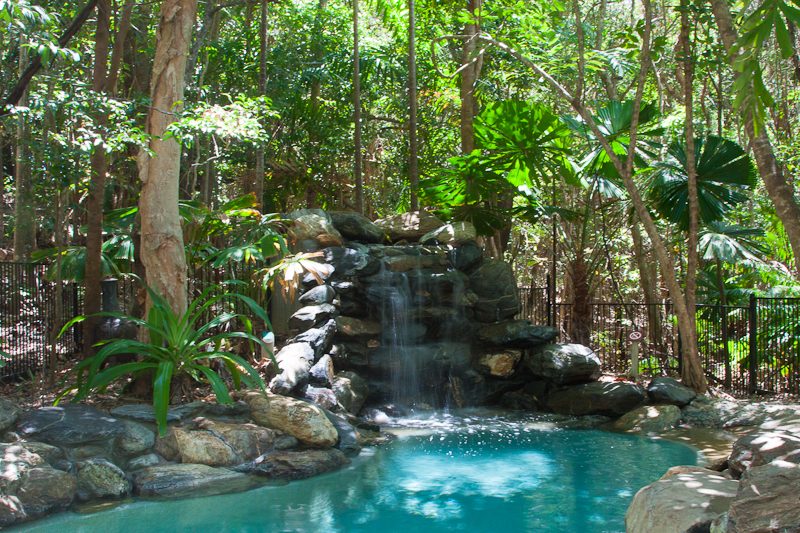 With strong eco credentials, one of Thala's  best features is the restaurant which offers delectable modern Australian cuisine combined with views of treetops over the Coral Sea. In December when I visit, despite the ceiling fans and open sides that allow the sea breeze to waft through, even at night the humidity is rather energy-sapping.
Birds such as rainbow lorikeets, sunbirds and honeydew eaters regularly fly amongst the treetops surrounding Osprey's Restaurant. Adjacent is an enormous open-sided deck overlooking the sea – the perfect place for pre-dinner sundowners.
Four different types of private bungalows make up the accommodation, with the Sandpiper Suite offering the ultimate in privacy-inducing romance with views over the secluded beach and eucalypt forest. The Sandpiper Suite contains a spacious living and lounge room, along with a private balcony and large verandah that blends with the lush environment. All bungalows feature a wall of glass that fronts onto a private deck, most with Coral Sea views or otherwise looking directly into the forest.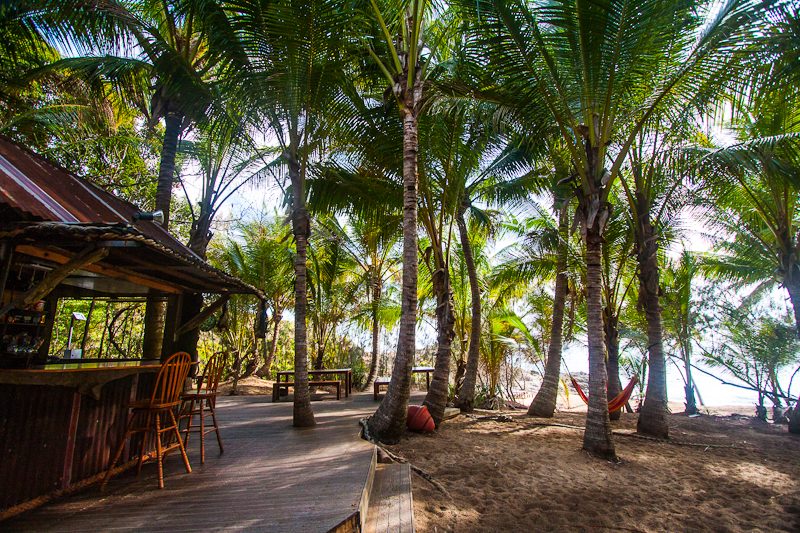 Two freeform pools are shaded by natural bushland, featuring waterfalls, spas and grottos, along with ample seclusion for some evening romance. The larger pool is located near the main lodge with the second 'Rock Pool', a smaller and more intimate swimming hole with a waterfall, rather like having your own private pool concealed in the forest.
Two kilometres of private sandy beaches at Thala provide the perfect opportunity for long languid beach walks. If that gets a little exhausting, Herbie's Beach Shack offers informal beach front lounging with drinks and picnic tables beneath the coconut palms.
If you can drag yourself away from your bungalow or the beach, there are plenty of activities on offer to get you up close with nature, many of them complimentary. Twitchers will love guided bird watching hosted by local bird and butterfly expert Dave Anderson. Dave knows intimately the numerous rare species located amongst Thala's natural native forest. There's also a nature and wildlife walk led by flora expert Brett Kelly, who delights in sharing his knowledge of the plant species scattered across 145 acres of the resort's grounds.
For something a little more nutty, coconut enthusiast Carl Johansen takes visitors on the 'Coconut Odyssey', a talk held amongst Thala's coconut plantation. Here Carl spruiks the life giving properties of the coconut and its means of providing food, drink, clothing, shelter and health benefits. He's a man who is passionately 'nuts', making for a fascinating tour. There's plenty of opportunity to taste this versatile nut in its many stages of growth too.
Starry-eyed romantics will love the night sky in these parts, free of light pollution, the outdoor observatory perfect for star gazers. Combined with the gentle lapping of waves on the nearby beach and the noises of the forest at night, it's a heady heaven-sent kind of evening encounter. And, yes, I do believe it is incredibly romantic gazing into a wondrous night sky, a loved one by your side.
The lodge is located between world heritage rainforests and The Great Barrier Reef, making it the ideal base for exploring the natural attractions of the area surrounding  Port Douglas and Cairns.
But really, once you're ensconced at Thala it's unlikely you will want to leave.
Opinion: Eco-credentialled resort set amidst natural bushland makes it a superb option for environmentally conscious guests. Staff are friendly, discrete and service oriented. Not suitable for anyone with mobility issues as pathways between rooms, pools and central lobby can be steep and rough-surfaced. Also not suitable for those who like to be in the centre of retail or commercial activity (Thala is about 15 mins drive from downtown Port Douglas and 40mins drive from Cairns).