Smartphone Apps are becoming more useful. So much so that it's becoming harder to imagine doing anything without the ubiquitous smartphone. I was at a digital media seminar recently which re-enforced just how much we have come to rely on these gadgets. Apps are the key to their usefulness and an increasing number of marine Apps are of particular use to boat owners.
Like any medium, there are good Apps and there are rubbish ones. Unfortunately it is difficult to tell which camp an App falls into without actually downloading it and trying it for yourself. Though user Reviews do assist in working out whether you're wasting your time or not. Boat Beacon from Pocket mariner is definitely one of the better ones.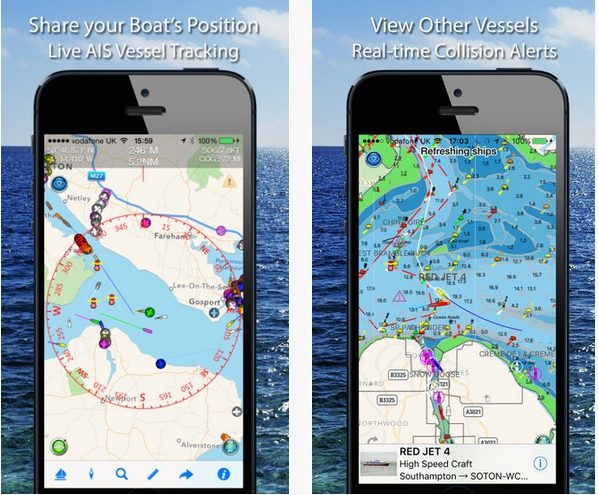 Boat Beacon offers Marine AIS Navigation for iPhones or Android Smartphones for the princely sum of USD9.99. Used in conjunction with other navigation equipment onboard, Boat Beacon is a simple and affordable AIS-based anti-collision detection system. Though nothing works better for avoiding a collision than keeping a constant visual watch, Boat Beacon is a worthy support system for verifying what you are actually seeing with your own eyes.
Functions like bearing, range and closest point of approach calculations take the guesswork out of potential collision situations, with up to the second feeds in real time. But perhaps Boat Beacon's best asset is its portability. Chart plotters and radars that host AIS systems are often housed (particularly on sailing yachts) down below where it's nice and dry, which also means they're not readily visible to a helmsman. We rarely move without patting our pockets to check that our phone is coming with us. In the cockpit of a boat, an iphone provides a conveniently portable navigational device. Assuming it's not pouring with rain or conditions are unsavoury. It will be a terrific day when a smartphone is actually waterproof.
But in the interim, invest in a waterproof drysack for your phone and take Boat Beacon out on the water with you next time and put it through its paces. Boat Beacon is available for iPhone and Android
Save