Departing from Cairns on a Great Barrier Reef cruise expedition, Coral Expeditions II ventures into some of Queensland's best scuba diving and snorkelling hotspots on the northern Great Barrier Reef. Highlights include Hinchinbrook Island, Lizard Island and Fitzroy Island as well as underwater treasures of the outer Great Barrier Reef like the Ribbon Reefs.
Small ship expedition-style cruising offers many of the advantages found on much larger ships, such as superb meals, comfortable spacious cabins and a full complement of fun-loving crew. But the real advantage of small ship cruising is that you'll avoid the hustle and 'production line' ethos of larger cruise lines.
Small ship cruising means no queues for shore excursions. No queues at meal times. No queues ever. Small ship cruising means taking full advantage of shipboard life along with a very real connection to cruising grounds beyond your cabin windo. Being aboard a small ship means you'll have access to some of the best parts of the Great Barrier Reef that larger ships simply cannot access.
Swim-up access to coral gardens of the Great Barrier Reef
With permanent moorings laid that prevent damaging delicate corals, Coral Expeditions II is able to moor within a few metres or coral gardens on the Great Barrier Reef. In reality, this means that you'll simply step off the dive platform and be immediately immersed in the underwater treasures of the Great Barrier Reef. Scuba divers descend directly onto coral-lined drop off walls, while snorkellers, with merely a few flipper kicks, are immediately above extraordinary coral gardens. For those not confident in the water, this sort of close-up encounter enables even novice snorkellers to experience all the glory of the Great Barrier Reef in safety.
I was fortunate enough to witness a middle aged lady experience snorkeling for the first time in her life. Her sheer ecstatic joy at discovering this gorgeous underwater world was priceless. Another passenger hadn't dived 'since the 70's'. He too was overjoyed with overcoming his fears and immersing himself in the underwater playground he thought he no longer had access to. It was such a treat seeing these travellers experiencing such extraordinary opportunities.

Cruising to Cooktown
Four night cruises head north from Cairns, stopping at Cooktown, Lizard Island and the Ribbon Reefs before returning to Cairns. During the Cooktown stopover there is enough time to wander the town on your own, or alternatively take a tour by small bus, which is an easy way to get to the top of Grassy Hill. Capt James Cook took the long way up to the summit back in 1770, but it's worth the walk up the bitumen road for the superb views over the hinterland and out to the islands and outer reef.

Cruising to Lizard Island
Lizard Island is a continental island located well offshore. There is a research station and luxury resort on the island, but for Coral Expeditions II passengers, the most interesting aspect is the chance to snorkel over the coral gardens in Watson Bay. If you're feeling energetic, the walk to the summit of Cooks Look is a heart-pumping trek that will take about one hour in each direction. The reward is worth the sweat equity as the views from the summit are spectacular. Looking south, you'll see islands and a vast turquoise-hued lagoon. To the east you'll see the same view that Capt. James Cook saw when he searched for a passage out of the reef and into the safety of deep water. Down at sea level a dazzling strip of white beach sand offers beach walkers the chance to stretch their legs or a swim in tranquil sun-kissed sea.

Cruising to the Ribbon Reefs on the outer Great Barrier Reef
Heading south from Lizard Island, the Ribbon Reefs beckon and are keenly anticipated by both snorkellers and divers. The Ribbon Reefs offer some of the best diving and snorkelling on the entire Barrier Reef, making this the highlight of the cruise for many 'waterbaby' passengers. It's such a rare opportunity to dive or snorkel the pristine outer reef. Generally, visibility is far superior to inshore waters, the wildlife is more prolific and corals seem to be more diverse and abundant. Hopping in the water on the Ribbon Reefs is truly one of those 'must do' experiences. Once you've dived or snorkelled this part of the Great Barrier Reef, unfortunately for you, every future dive is going to look pretty ordinary by comparison. The marine and coral life on the Ribbon Reefs make it a spectacular underwater destination.

Cruising to Hinchinbrook Island
Crusing south from Cairns,  mountainous Hinchinbrook Island dominates the horizon. The island is all dramatically craggy peaks clad in rainforest that tumble into the sea. Peaks are often shrouded in mist creating an otherworldly vibe that could easily be mistaken for a Tasmanian landscape. The waters surrounding Hinchbrook Island are a marine playground for dugongs attracted to extensive sea grass beds. But saltwater crocodiles inhabit these waters too, and are attracted to the mangrove-line waterways within the Hinchinbrook Channel.
Coral Expeditions II is large enough to handle any seas the south east trades blow up yet small enough to provide an intimate experience – by the time you return to Cairns you'll likely have made new friends and memories to last a lifetime.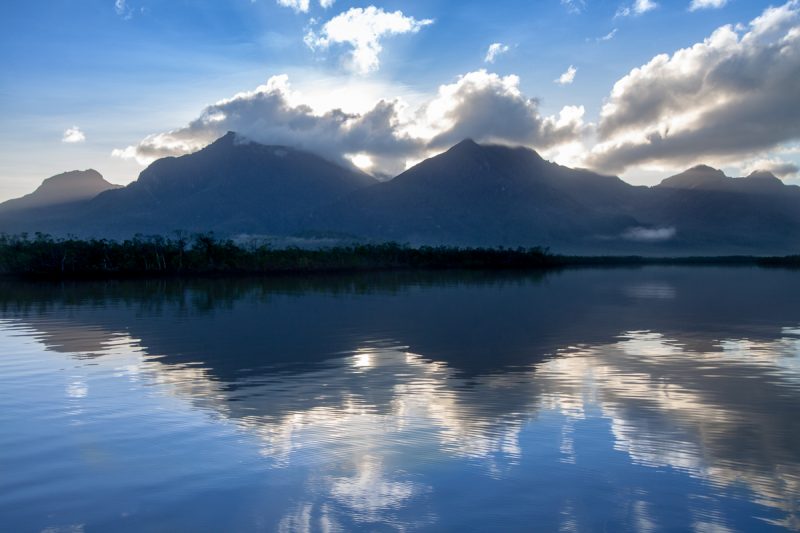 Verdict: Highly recommended
Visit Coral Expeditions website for cruises to Great Barrier Reef, the Kimberley, Papua New Guinea and beyond to South Pacific islands.