I'm a big fan of scenic drives and road trips, especially road trips from Cairns. There's something a little bit special about hitting the road for an adventure along a scenic drive, especially in tropical north Queensland. It's true we're a little bit spoilt around Cairns, Port Douglas and the Atherton Tableleands when it comes to spectacular road trips. Make sure you put road trips to Cape Tribulation and the Great Barrier Reef Drive on your must do list.
Here's our 7 top picks for the best road trips from Cairns
Buckle up your seatbelt, set your favourite playlist to repeat and settle back into your seat as we take you down some of Tropical North Queensland's most scenic roads on a tropical road trip highlights reel.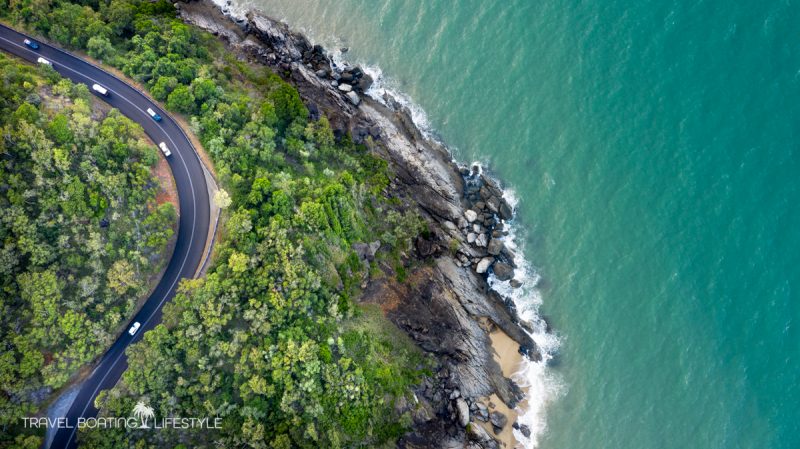 Captain Cook Highway, aka the Great Barrier Reef Drive – road trip from Cairns
If tropical North Queensland were to claim a 'signature scenic route', Captain Cook Highway, otherwise known as the Great Barrier Reef Drive, is it. Its main claim to fame is two famous World Heritage-titled neighbors either side of winding asphalt. With the Great Barrier Reef to the right (heading north) and Wet Tropics rainforest to the left, this road is the delicious meat in a deluxe gourmet sandwich. But beware, it's also been the scene of accidents so drivers should leave the sight-seeing to their passengers.
Why we love it: Ellis Beach, Palm Cove and Rex Lookout as well as numerous unnamed spots to pull over and soak up longs stretches of unbroken beach sand on the Great Barrier Reef Drive. It's likely the only footsteps you'll spot are those left behind by sea birds and nesting turtles. Triathletes adore this road when it's partially closed to traffic during the annual Cairns Ironman (14 Jun 2015)
Where from & to: Cairns to Cape Tribulation via Port Douglas
How far: 75 km
Old Telegraph Track
One for 4WD enthusiasts, conquering the Old Telegraph Track comes with a ute full of bragging rights. Nervous drivers on their first off-road expedition might do well to take the much easier bypass road. But for those with the right vehicle, the OTT offers countless challenges laced with scenic river crossing bush campsites with front row seats to watch others forging creeks. Gunshot Creek crossing is known for its near vertical tyre-hugging descent into a cavity mere inches wider than most 4WD's. Don't bother wearing clean underwear for the crossing: you'll likely need to change it once across. Alternatively, take the Chicken Track crossing.
Why we love it: It's rough and ready and the undisputed highlight for many on a Cape York driving adventure. You'll be talking about this epic 4WD adventure for years to come
Where from & to: The southern section runs between Bramwell Junction and Bypass Road Junction
How far: We're not quite sure! (sorry…)
Gillies Highway – road trip from Cairns
Ascending from a junction 35km south of Cairns (at Gordonvale) to the Atherton Tablelands, the Gillies Highway ducks and weaves (reputedly with 263 corners) over an elevation of almost 1,000 misty metres. You'll likely feel your ears pop and you'll definitely feel the temperature drop as you ascend through the Rex Range. Stop off at Heales Lookout for the mandatory photo across the Goldsborough Valley and Walsh's Pyramid.
Why we love it: The landscape changes from sugar plantations on the valley floor through eucalypt woodlands and dense rainforest before popping out in dairy farmlands of the Atherton Tablelands. During the wet season, countless waterfalls tumble roadside
Where from & to: Gordonvale to Atherton
How far: Approx 60 km

Hire a convertible Mustang from Cairns Luxury Car Hire
Kirrama Range Road
Closed for eight years but now open to traffic, thanks in part to a passionate local campaign, the Kirrama Range Rd's original purpose was to service the timber industry. These days, campers and freshwater fishermen it biggest users. North-bound adventurist tourists too are using it as an alternative route into the southern Tablelands as it winds upwards through Kirrama National Park.
Why we love it: Firstly it's dirt. Secondly, you don't need a 4WD to access it. Bereft of bitumen, wind down the windows, silence the driving tunes and enjoy the soundtrack of the forest. Allow this road to sing to your soul.
Where from & to: Kennedy (near Cardwell) to Society Flat
How far: 30 km
Savannah Way
OK, first up, this is no Sunday drive. It's an epic adventure traversing some of Australia's most remote country from coast to coast across three states and territories. If you're looking to find the 'real Australia' you're on the right track. If on the other hand you're merely trying to keep the kids entertained for a couple of hours, do a U turn back to Cairns and tackle something a little less time-consuming.
Why we love it: It's a capital letter-worthy Epic Australian Adventure
Where from & to: Cairns to Broome
How far: Approx 3,700 km
Canecutter Way
Here's a scenic route through the historical heart of sugar cane country. Sugarcane plantations line the road either side, their swaying stalks swishing in the breeze. Depending on the time of the year (harvesting takes places any time between July and November), crops may be a few centimetres or a few metres tall. Either way, fields stretch across the plains between coast and mountains.
Why we love it: There's something reassuringly wholesome about seeing a healthy crop in peak condition. Salt of the earth, fruit of the land, call it what you will, 95% of Australia's sugarcane is grown in Queensland. It might just explain our sweet tooth!
Where from & to: Kurramine Beach to Innisfail
How far: 52 km
Mission Beach Waterfront
So little known it doesn't even rate a title, waterfront roads rarely come more pretty than Alexander Dr on Mission Beach's waterfront. Locals would prefer to keep this little treasure to themselves. But the secret is out! Bookended by Clump Mountain National Park in the north and Clump Point in the south with Dunk Island lying offshore, there's little chance of keeping quiet about this drive.
Beachwalkers this is your moment of glory. Ditch the car, abandon your shoes and sink your toes into a few km of delightfully firm beach sand all the way to South Mission Beach
Why we love it: There's rarely any traffic and there's a really good chance of spotting the rare and endangered cassowary
Where from & to: Mission Beach
How far: Less than 2 km