Hike & Cruise Tasmania onboard bespoke motor yacht
Explore south west Tasmania's Bathurst Harbour on an expedition-style cruise where a bespoke floating hotel competes with the landscape for top billing.  
Lurching through an updraft crossing the Rugby Range my camera and phone go flying, landing back in my lap with a metallic clunk. My stomach takes a little longer to settle. Behind, fellow travelers' heads hit the padded ceiling of our Britten Norman Island 10. Riding shotgun in the co-pilot seat, on my left Par Avion pilot Michael shares a confident grin from behind aviator-style sunglasses. With a slight shift to the left he guides our aircraft away from the line of menacing clouds ahead before dropping gently onto the dirt Melaleuca Airstrip.
Onboard Odalisque a luxury 20m motor cruiser
Pieter Van der Woude, former abalone diver, police search and rescue diver, Antarctic re-supply crew, and now owner and Skipper of Tasmanian Boat Charters, steps forward and extends a handshake as solid as the mountains we've flown over. His 20m purpose built Odalisque, fitted out to accommodate 10 guests in plush comfort, awaits in nearby Bathurst Harbour.
The serenity in Tasmania's Southwest National Park is absolute. It's all jagged mountain peaks and wild rivers overgrown with virgin rainforest. Button grass plains shimmy and shake in tune with Roaring Forties winds rolling in from the Southern Ocean. With no roads into this untamed World Heritage wilderness, the only access is by air, foot or boat.
From the airstrip the 84km South Coast Track winds its way south towards Cockle Creek over ranges, across undulating plains and through ancient rainforest that sees few human visitors.
(Rare & almost extinct) Orange Bellied Parrots come to play
Hardcore twitchers fly into Melaleuca on day trips from Hobart clutching much-thumbed field guides, binoculars at the ready. While Australia's largest national park is home to several rare species, most come for the blue riband opportunity to tick off the almost extinct Orange Bellied Parrot. With fewer than 20 OBP's existing in the wild, last year an emergency crowd-funding campaign was launched in a last-ditch effort to save this migratory species.
So, it's with a certain amount of incredulity that within an hour of landing we've ticked off the twitchers dream bird. Not once, but a handful of times.  Though it's hard to know if we see the same bird a dozen times, there's no mistaking three OBP's twittering together at the feed station near Deny King's former home.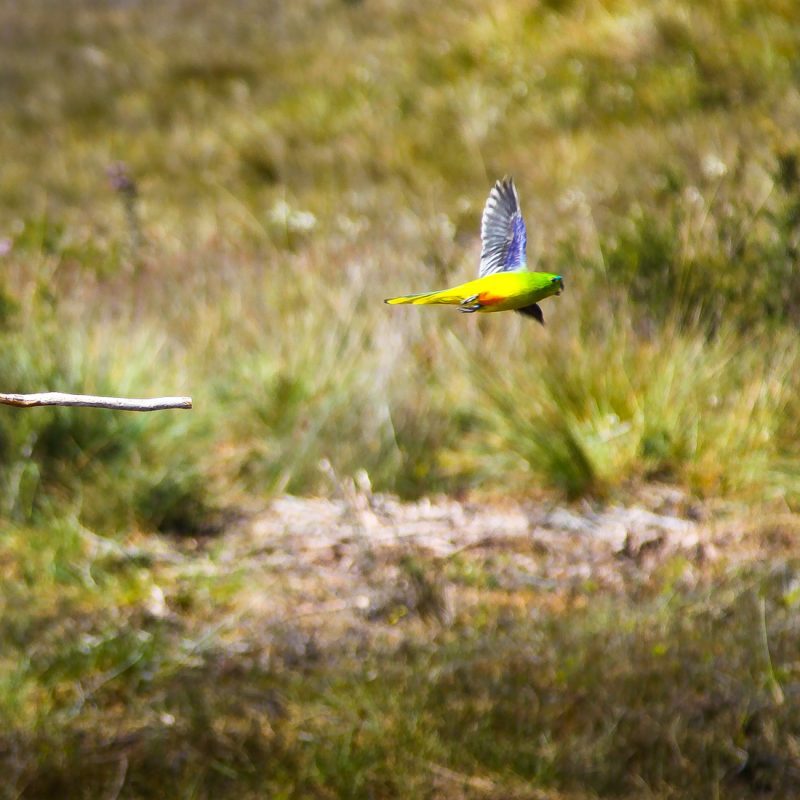 Characters of Tasmania's Southwest Wilderness
Despite the landscapes' resistance to human settlement, Charles Denison (Deny) King was one of few to thrive in one of Australia's harshest locations. Reclusive, insatiably curious and with a love of the natural environment, King relished the challenges of southwest Tasmania, moving to Melaleuca in the 1930's. He worked his father's tin mining lease for over fifty years while developing an interest in ornithology. In the early days, passing fishermen collected Kings love letters to Margaret Cadell, delivering them to her in Hobart where she worked as an occupational therapist. After four years of courtship by correspondence they were married in Hobart before Margaret joined him at Melaleuca. Raising two daughters in the wilderness, this industrious couple built the airstrip we landed on with their bare hands.
[siteorigin_widget class="SiteOrigin_Widget_Slider_Widget"][/siteorigin_widget]
Others who sought to tame Tasmania's wild south weren't quite so resilient. On the beach at Bramble Cove a tin-plate headstone pays tribute to whalers who lost their lives in the far-flung Southern Ocean. Critchley Parker Jr, a wealthy intellectual from Melbourne, was another to succumb. Head over heels in love with Jewish journalist Caroline Isaacson, Parker concocted a grand scheme in the 1940's to establish a haven in south west Tasmania for persecuted Jews. Unlike King, Parker was no bushman. His forlorn grave marked with a quartzite headstone sits at the base of Mt McKenzie. He died a lonely death from starvation, but not before documenting his ultimate vision for Caroline while camped on the shore of Bathurst Harbour.
Exploring Bathurst Harbour & Port Davey with local experts
Skipper Pieter Van der Woude and guide Peter Marmion have both spent countless hours exploring Port Davey Marine Reserve. Cruising this remotest of waterways over three days on board Odalisque, their stories help bring life to the extraordinary land and seascape outside our windows. Days are spent hiking along mountain ridges cloaked in wildflowers. Or beachcombing shorelines rarely disturbed by human footprints. We poke around the cottages of Margaret and Deny and a museum-like homestead at Claytons Corner. Anchored at Bramble Cove, sundowners are taken on the flybridge bathed in dusky sunlight that dances upon the bony quartzite flank of Mt Stokes. Chefs from Hobart's best restaurants are on rotation, ensuring that meals are equally as spectacular as the landscape they are served in.
Beneath our hull, a deep layer of tannin-rich freshwater sits on top of clear seawater, this stratification concealing a most unusual marine world. Passionate diver and environmentalist, Van der Woude is so fond of sea pens that their form graces the superstructure of Odalisque. Delicate soft-bodied invertebrates that stand like white-robed sentinels on the sea floor, they look like antique quill pens. When threatened, sea pens collapse and contract into the muddy seafloor sediment as an instinctive survival reaction.  With last year's OBP crowdfunding project exceeding funding goals, it is hoped the endangered OBP is equally resilient.
More information
Tasmanian Boat Charters
Stay in Hobart pre/post cruise at Salamanca Wharf Hotel
Fiona Harper travelled as a guest of Tourism Tasmania and Tasmanian Boat Charters