The Northern Territory's Larapinta Trail is rated as one of the best hiking trails in Australia. Winding it's way westwards from Alice Springs in Central Australia through the West MacDonnel Ranges, the 223km trail can be tackled as day walks or as a multi-day extended hike. Guided trekking companies like Life's an Adventure take care of logistics like overnight camping or lodge stays, along with organising meals, porterage of gear and transport to and from trail head each day.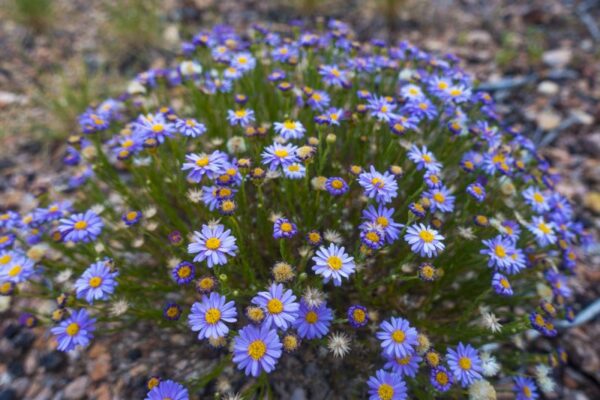 The trail is open during the winter months when nights are cool and days are generally sunny, if you're lucky enough to hike the trail after rains you'll come across a splendid display of wildflowers in bloom.
Travelling by foot is one of the most pleasurable ways to enjoy an area with an abundance of natural beauty like the 'West Macs'. With ample time to stop and smell the roses, or in this case, to admire the wildflowers, Life's an Adventure guides keep the group moving on a schedule but without feeling like we're being rushed or don't have enough time to absorb our surroundings. Morning tea stops with fresh boiled billy tea and something sweet are a highlight, as are lunches taken atop mountains, beside river beds or surrounded by vertical cliffs of a dramatic gorged carved through the landscape.
Then there are the stars at night. Camping out in tents set up around the campfire we spend our nights gazing skyward admiring a gazillion twinkles burning bright.[/vc_column_text][vc_single_image image="8911″ img_size="full"][vc_single_image image="8872″ img_size="full"][vc_single_image image="8890″ img_size="full"][vc_single_image image="8880″ img_size="full"][vc_single_image image="11891″ img_size="full"][vc_single_image image="8884″ img_size="full"][/vc_column][/vc_row]