Glorious hotel bathrooms in the great outdoors are all the rage for loved-up couples keen on romantic escapism and indulgent singles who love soaking or showering beneath starlit skies. We've travelled the world (someone had to do it!) checking into some truly fabulous hotels to find the very best outdoor bathrooms. Getting clean was never so much fun! Though, truth be known, these bathrooms are less about cleansing our bodies and more about soothing our soul while soaking up the tranquility.
In the interests of taking in some quality 'me' time may we suggest you light the candles, pop the champagne and slip into one of these romantic hotels with their oh-so-indulgent bathrooms that capitalise on our love for the outdoors.
Famous for being the first Fijian island resort with divine overwater bungalows (complete with glass floor panels for fish viewing!), the best rooms in our opinion are Likuliku Resort's beachfront bures. Surrounded by lush tropical gardens with decks that include daybeds, some bures have their own beachfront plunge pools. All have lavish, light-filled bathrooms with a choice of indoor or outdoor showers. Step down into a large stone-walled private outdoor shower and enjoy the surrounding lush forest canopy overhead.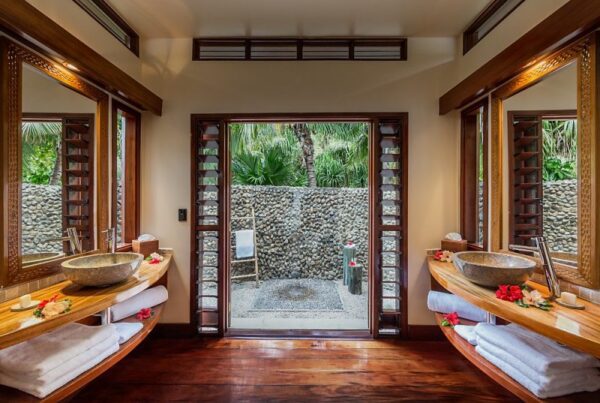 In the heart of Timbavati private nature reserve in South Africa sits the luxury tented safari camp of Tanda Tula. It's probably one of the finest safari camps in a country that has perfected this style of understated luxury accommodation in the wilds. Expect to fall asleep in the wilderness in a deluxe canvas-walled tent kitted out with a plush king bed, oodles of plump pillows beneath a feather doona. Bathrooms come with a freestanding claw foot bath and open air shower while a deck at the front overlooks a riverbed. The Big Five await on a safari if you can drag yourself away from this gorgeous abode.

It may seem a little indulgent to have a private plunge pool when your villa is positioned atop a dreamy turquoise lagoon. But few do indulgence better than the elegant hotelier members that come under  theSmall Luxury Hotels of the World umbrella. Kandolhu Island Resort is pure indulgence, the sort of tropical resort you'd stay at if the Lotto Gods play ball. On a coral atoll barely poking above the fringing reef, overwater villas are glass-walled to make the most of the dreamy sea views. These glass walls peel back to create the sort of tranquility that bathroom dreams are made of. No need for air-conditioning as the sounds, smells and sights of the surrounding sea dominate.

At Sanctuary Baines Camp five indulgent suites are set on raised platforms high above the Boro River in Botwana's Moreni Game Reserve. Surrounded by a grove of trees, one suite has a four poster 'sky bed' for sleeping under the stars as well as a private 'star bath' on the deck. Laze in bed or relax in a bubble bath filled tub beneath a star-filled night sky. Those roaring sounds coming from the surrounding bush? Don't worry, that's just the wildlife hunting for dinner…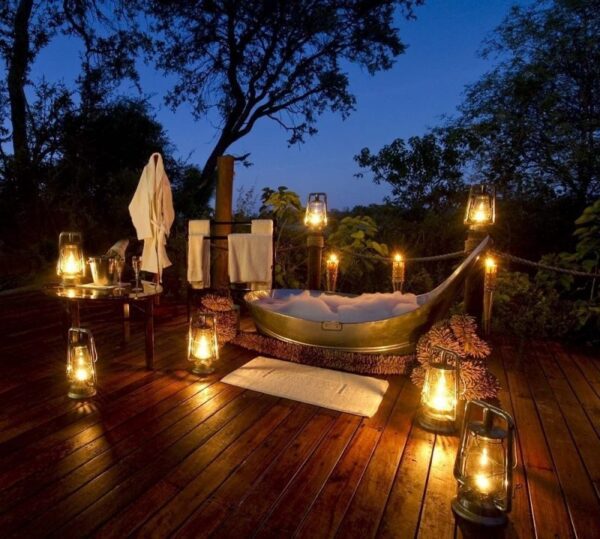 A few hours' drive from Nairobi in the spectacular Great Rift Valley, Mbhewah Camp is on a private reserve overlooking the Eburru and Mau Ranges. Luxuriously rustic lava stone thatched roof cottages sit comfortably within native bushland. Three  cottages each have an outdoor Star Bath for lingering under the night sky where you can indulge in a star-gazing bath to a soundtrack of a wild Kenyan night.

Tropical rustic luxury is the style of  Aitutaki Pacific Resort with each bungalow having a private walled garden with an outdoor shower amongst lush tropical greenery. Rich with heady aromas of frangipani, each shower comes with a relaxed backdrop that promises rejuvenation and relaxation. Shower while gazing at Aitutaki's pristine lagoon or cool down in leafy, walled seclusion – it's your call.

In an eccentric colonial teak homestead from the early 1800's, 137 Pillars House is a member of Small Luxury Hotels yet its leafy residential surroundings could easily be mistaken for a deluxe private home. Tiled verandahs, cane light shades, rattan furniture and freestanding Victorian baths give the place classic timeless elegance. Gin & tonic anyone? Nostalgic suites, which are named after historic settlers, come with outdoor garden showers and some have private plunge pools.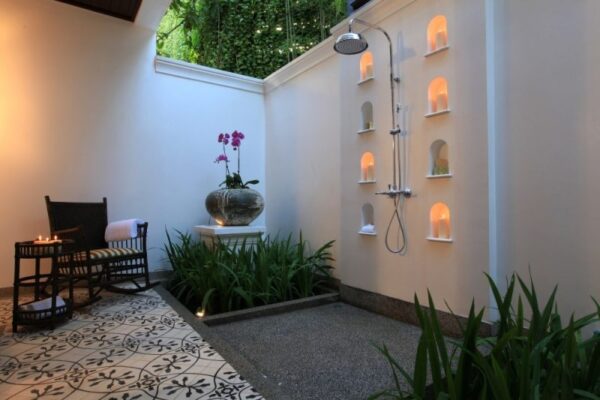 Casa Heliconia is a two roomed pavilion style hotel located in a small Sri Lankan village surrounded by manicured jungle and paddy fields. Bedrooms are all luxury in "Jungle Glam" style along with outdoor bathrooms in typical Sri Lankan style. Temple Angkor's copper and brass fitting and traditional bowl shower requires some bathroom flexibility as the copper barrel is filled from above while guests scoop out the warm water with a coconut shell to pour water over themselves. No lingering under a shower for hours here! Organic bathwash scented with cinnamon, sandlewood, vanilla and coconut ooze  spicy authenticity.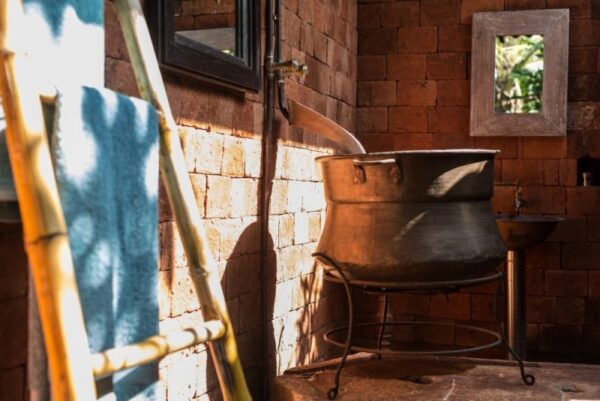 It comes as no surprise to find this design-led villa resort in the heart of Bali's Seminyak.
Cutting-edge contemporary architecture and ultra-chic interiors are a striking contrast from the orderly chaos of Balinese streets. Ultra chic villas are set within private landscaped gardens with swimming pool and open air bathrooms taking full advantage of tropical temperatures. Cool design and a hot location melds beautifully to provide an elegant modern retreat characterised by the architects signature sloping roofs.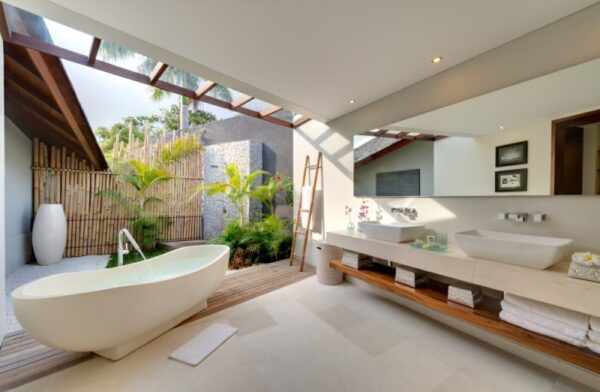 As you'd expect from a location in Outback Queensland, the folks at Longreach are a little unconventional the rustic charm of the Slab Huts are no exception. Inspired by Aussie pioneers, each hut is hand crafted using traditional methods to create a luxurious reproduction of earlier times. The outdoor Bath Terrace is a quirky alternative to a resort pool and is definitely the Hero Experience when staying here. Slip on a swimsuit and soak under the stars or cool off with a refreshing drink surrounded by the elements that the Outback has in abundance: fresh air and wide open spaces.