FIONA HARPER fell in love with sailing in Western Australia's Kimberley region as a teenager while backpacking around Australia. She's since had countless adventures – and misadventures – at the helm of her own yachts or while delivering other peoples boats across the oceans.
I've been on this far-flung Pacific island for less than 48 hours and am in rather a pickle. The trouble began with a bloody fist fight in the Marianas Yacht Club. Though, truth be known, our problems started a few thousand miles back after dropping the dock lines in Tonga. Now, I find myself an unwitting accomplice to a mutiny. I have jumped ship and am an illegal alien. I am bunkered down in the red light district of Guam in a windowless hotel room, complete with scarlet velour wallpaper and a black marble bathroom. My unlikely co-conspirator is a sun-worshipping Italian sailor I know only as Carlo. We are not in a relationship yet are sharing the only bed in this seedy room.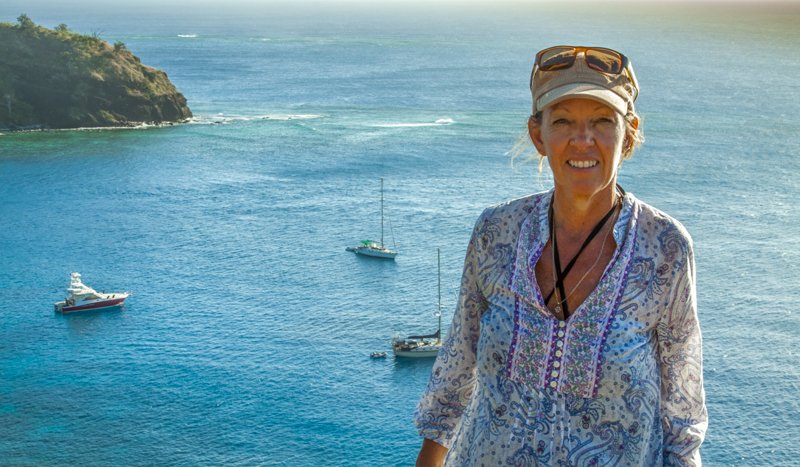 I have no money. No air ticket. And now I am also a sailor without a boat. There is no stamp in my passport authorising my arrival into this US-ruled territory. I try not to think about the fact that besides the man who picked up two bedraggled hitchhiking sailors, pushing aside an Uzi sub-machine gun to make room on the seat of his pickup, Carlo is the only person in the world who knows where I am. My boyfriend back in Auckland believes I'm delivering a yacht to Japan and will be home soon. He's probably yet to receive the letter posted weeks ago from Nauru, where I explained we were delayed when the skipper was hospitalised with alcohol poisoning. Imbibing medicinal alcohol from the first aid kit will do that.
A pickle indeed. On the upside, I've safely escaped an intoxicated (if somewhat bloodied, thanks to Carlo) skipper with my possessions hastily stuffed into my backpack. So, it's not a complete disaster. But the small matter of missing the vital entry stamp in my passport needs to be resolved fairly urgently. It's a long way from the illustrious career path I imagined as a sailor.
Don't get me wrong, I'd always been keen on the adventure aspect of the marine industry. Part of the allure of becoming a professional sailor was the opportunity to travel the oceans of the world, delivering cruising yachts here, racing yachts there, entertaining charter guests and showing them the time of their lives before the next group flew in and we'd do it all again.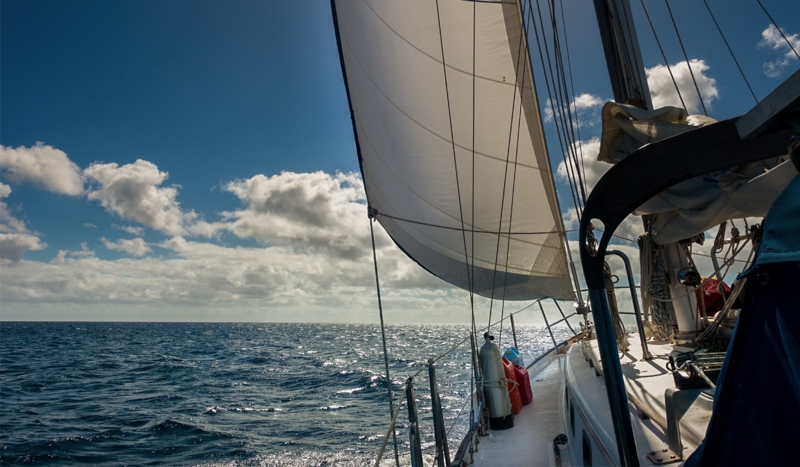 The raw power of wind against cloth, waves against hull, of being acutely attuned to the elements excited me. Departing on an offshore passage bound for harbours over the horizon tickled something deep in my soul. Standing watch on the dawn shift witnessing the transformation from night into day touched me deeply. It was exhilarating and made me feel alive. When the weather gods played nice, I'd sing to the waves, bid adieu to the stars and babble happily to the rising sun.
When the weather turned nasty, I'd cuss and swear like the salt-hardened sailor I thought I was, shrieking at the ferocious waves, begging the terrifying, towering liquid Himalayas to back off and allow me to survive until daybreak. Often the seas scared me so much I literally could not look at the ocean and would steer with my eyes closed, in tune with wind on my cheek and the yacht's motion to guide us up and over the crest and safely through the trough before rising again. As exhausting as it was exhilarating, I was like an addict on crack-cocaine, savouring the highs like salt coursing through my veins. After a challenging passage I swore I would stay home and get a 'real job', yet invariably signed up for another one before my salt-encrusted wet weather gear had dried out.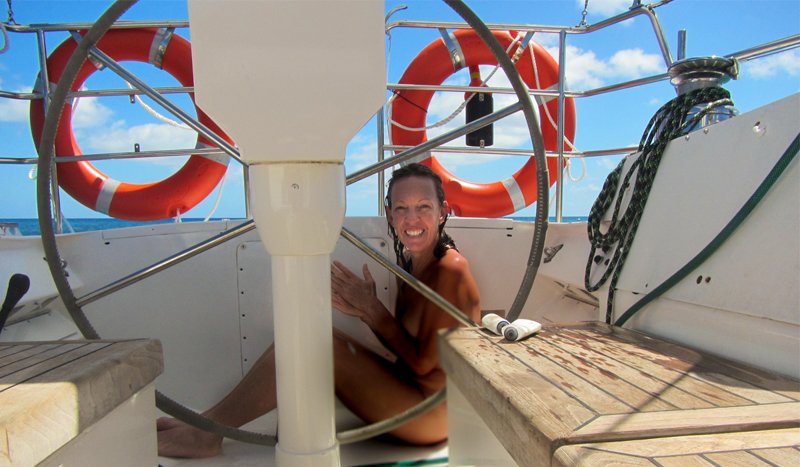 Besotted, nay, obsessed, I devoured sailing books at night and awoke with a head spinning with dreams. I absconded from my honeymoon to deliver a superyacht to Singapore, falling hopelessy in love enroute despite a newly minted marriage certificate, but that's another story. I had a yacht tattooed on my shoulder, so as to not lose sight of my dreams after a motorbike accident dropped me into long-term rehab. Living in the sailing-mad city of Auckland, weekends were spent racing. On weekdays I stitched sails at a sail loft, embarking on forays into the South Pacific moving yachts around for owners who had neither the time or the interest for ocean passages. My Kiwi workmates sailed with the likes of Sir Peter Blake and had gigs on elite Round the World racing campaigns, the America's Cup and the Sydney to Hobart races. I was both envious and enthralled. Like a sea sponge lolling on the tide line I soaked it all up. As my experience grew and confidence developed, I aspired to join the ranks of the likes of Tracey Edwards, who led a ground-breaking all-women racing crew on Maiden around the world.
But who was I kidding? Self-doubt and an uneasy imposter syndrome often replaced the bravado I felt onboard where I could hold my own. I didn't come from a yachting background. I hadn't even stepped on a boat until I was 18-years-old. What the heck was I doing mixing with New Zealand's sailing royalty?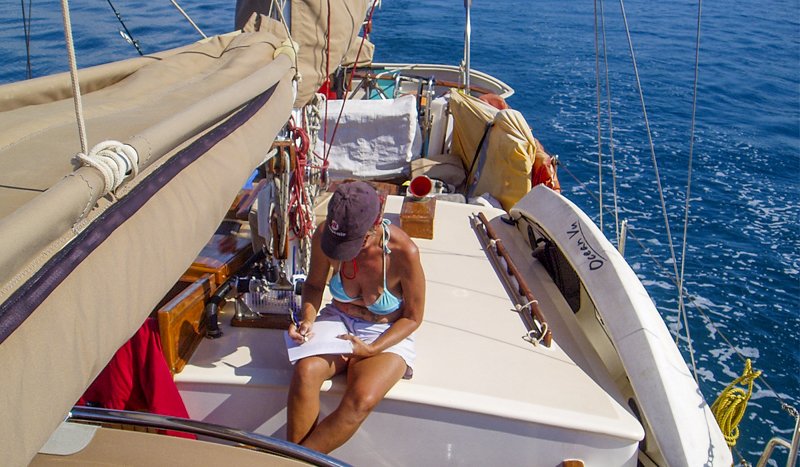 I'd stumbled into sailing years earlier. Serendipitously, it became my career, my sport, my hobby and a lifestyle I've happily flitted in and out of for 30-plus years. Like any self-respecting life-changing moment, this one began over beers in a pub. As a teenager, I'd hightailed it from Fremantle to Broome with few plans beyond deepening my suntan. Playing pool in the front bar of the Roebuck Bay Hotel, a friend mentioned a yacht that was looking for crew to sail to Darwin. Despite my complete lack of experience, the couple who owned Beehive welcomed me aboard their 44ft home, thus laying down an unwavering path.

I saw the Kimberley through the eyes of an explorer in unchartered waters. Viewing rock art tens-of-thousands-of-years old I felt like I was discovering unknown treasure. We clambered up cliffs to swim in rock pools beyond the reach of crocodiles. Surrounded by ochre-hued sandstone cliffs we watched the water disappear in mammoth tidal flows that left the yacht barely floating in a small pool of water. Crocodiles basked on beaches. Whales shadowed our hull. Dolphins rode our bow. Flying fish skittered across the sea before plopping onto the deck where I'd find them stiff and lifeless at daybreak. We partied with iron-ore miners on Cockatoo Island. Built bonfires on nameless beaches. Drank too much wine from cardboard boxes. I was attuned to the sun, the sea and the tides where nature called the shots and only the foolhardy ignored her demands. By the time we sailed into Darwin six weeks later, I was completely hooked.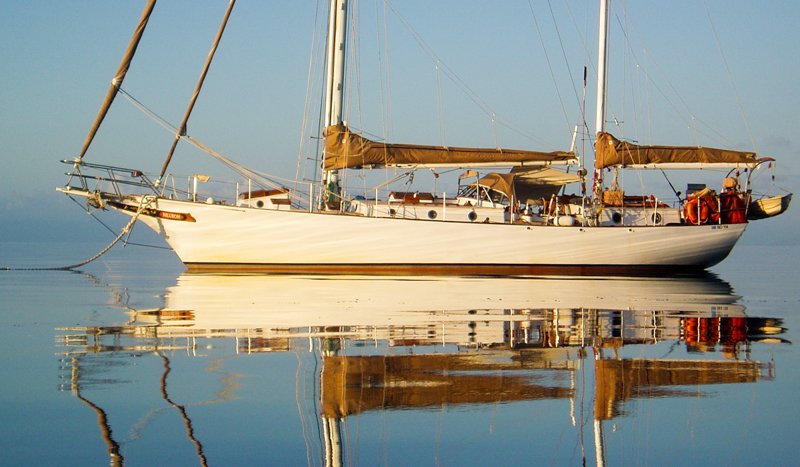 Returning to Fremantle I placed my faith in the universe, as you do when you're a naive 19-year-old seeking answers to life's big questions, like 'should I buy a yacht?' While walking on the beach a blue ribbon twisted around driftwood caught my attention. It was the same colour and spotted design as the curtains of Dot Dancer, the 18ft yacht I'd inspected a few days earlier.
I took that as a sign to buy the yacht. Dot Dancer led to many more yachts owned, repaired and sailed, oceans crossed and adventures aplenty. Thankfully, troublesome pickles like the one that landed me in that seedy hotel room in Guam were rare. I'd like to share the solution that eventually legitimised our compromised immigration status, but it's probably best I keep that to myself.
The blue spotted ribbon lays next to my keyboard as I type. When I lift it to my face, I still see that blonde-haired teenager with a lifetime of salt-kissed adventures  ahead of her.
About the author: Fiona Harper is a Queensland-based travel writer – follow Fiona at Travel Boating Lifestyle and Her.Holiday