Argentina | Antarctica
The search for colossal squid in Antarctica
Fiona Harper joins a research project seven years in the making which aims to photograph elusive colossal squid (not to be confused with lesser sized giant squid) deep beneath the Antarctic ice cap on a ground-breaking expedition.
Chimu Adventures teams up with KOLOSSAL, an ocean exploration and conservation not-for-profit, on an ambitious three-year marine conservation project looking for colossal squid in Antarctica.
Ground-breaking expedition with Chimu Adventures
I'm travelling onboard Ocean Endeavour with Chimu Adventures on a ground-breaking expedition to photograph the elusive colossal squid. Researchers from KOLOSSAL will be deploying deep sea cameras for the first time in Antarctica, aiming to photograph colossal squid (not to be confused with their smaller cousin the giant squid) in Antarctic waters almost 100 years since the species was first discovered inside the stomach of a sperm whale. They've never been photographed in their natural habitat and many unanswered questions remain about these elusive creatures which inhabit the deep dark depths of the Southern Ocean.
In the words of Matt Mulrennan, CEO of KOLOSSAL, 'This isn't just a monster squid hunt, it's a call to action for better understanding and protecting our ocean.'
The deep seas are earth's final frontier—according to UNESCO, only 5% of the planet's oceans have been explored. The dark marine abyss is almost completely unknown, especially in Antarctica's Southern Ocean.
What do colossal squid look like?
These behemoth-sized squid are the largest invertebrate on our planet. Eyes the size of dinner plates, hooked tentacles to ensnare its prey and an ability to illuminate itself with glow-in-the-dark bioluminescence makes them formidable Apex predators. Imagine a pair of soccer ball-sized headlamps mounted on a small bus lit up like a Christmas tree, arms askew waving crazily like a puppeteer on drugs, and you'll get the idea.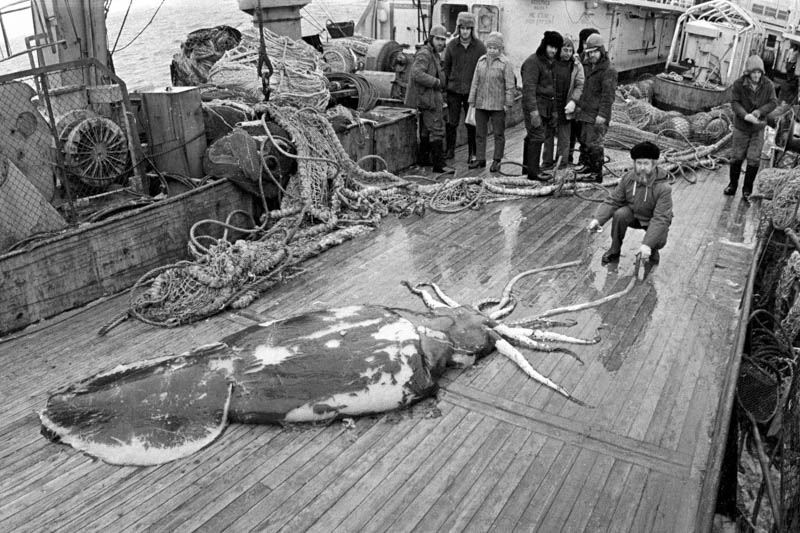 Image courtesy of Alexander Remeslo of a juvenile colossal squid caught in a trawl net, 1981.
Citizen scientists help researchers track changes to the environment
Chimu Adventures encourages passengers to become ambassadors for the earth and its natural environment with a citizen science program. Spearheading the program onboard is mathematician, author, comedian and card-carrying science geek Adam Spencer. Sightings of cloud formations, bird sightings and whale tails amongst others are sent to NASA, Oxford University and the Happy Whale foundation to contribute to research into the Earth's climate system and the crucial role the Southern Ocean and Antarctica plays.
Squid & octopus are enjoying a real 'moment'
Thanks to media attention through documentaries like My Octopus Teacher and internet celebrities like Paul, a famous octopus who was known for his winning 2010 World Cup predictions, cephalopods like octopus, squid, and cuttlefish are becoming better understood, but the colossal squid is still very unknown. Scientists don't know how common it is, nor if, indeed, it is endangered. That's why this unique and innovative project will not only increase researchers' knowledge of the colossal squid, but has broader impacts for the marine environment.
"The colossal squid is an oversized poster species for how little we know about the ocean", said Matt Mulrennan, Marine Scientist, Founder/CEO of Kolossal, "It's the largest invertebrate on our planet, with the world's biggest eye, hooked tentacles, and likely glows in the dark, does it get any cooler than that? Studying this species in this remote region is a truly challenging adventure. So let's 'get kraken' on this exciting scientific expedition!"
What equipment is used to photograph colossal squid?
SubC Imaging is installing the research technologies on the tourism vessel of the ACKBAR II (A Camera for Kraken Baiting and Recording), as well as a custom made crane, and oceanographic winch. This is an essential step in the search for the colossal squid, with this photgraphic equipment to be used during Antarctic expeditions.
Antarctica is the elephant in the room of climate change
By better understanding the habitat, population numbers, and behaviours of the colossal squid, Kolossal and marine advocates hope to increase restrictions on commercial fishing in Antarctica's marine reserves, particularly for Patagonian and Antarctic toothfish and mackerel icefish and also increase support for the High Seas Treaty Dialogues, which aims to improve conservation and marine protections in international waters, currently unregulated. 
Antarctic protection treaties stand to preserve the white continent against tourism's impact. But there is also a sound argument that one must experience Antarctica responsibly with minimal impact to truly understand why it needs protection. Visiting the white continent is one sure fire way to develop ambassadors who advocate for change. Hearing about the impact of the climate crisis is one thing but seeing human influence with our own eyes is the crucial catalyst. Looking away is no longer an option.
NOTE: Fiona Harper travels as a guest of Chimu Adventures.