When Banwa Private Island Resort invited me to visit I was just a little excited. Who wouldn't be thrilled with an invitation to visit the world's most expensive island resort – a Palawan private island, no less.
Tempering my excitement however was a worrying wardrobe issue. It's every travel writers dilemma, isn't it? What to wear when the world's most expensive private island resort – a luxury Philippines island resort –  invites you to pop by for lunch. It would be rude to refuse simply because I don't have a thing to wear! Tinged with my excitement at visiting Banwa Private Island, in the Philippines Palawan region, which had opened it luxurious doors rather discretely just a few months prior, I was concerned about what to wear. Never one to usually give a damn about the fashion police, my footwear choices for lunch at Banwa Island Resort were limited to two pairs of trail running shoes and Birkenstocks. Not an ideal selection.
Let me explain. I was on a travel writer's press trip with Philippines Tourism with a hectic schedule of travel, checking into a new hotel every night so I'd packed for convenience rather than for glamour.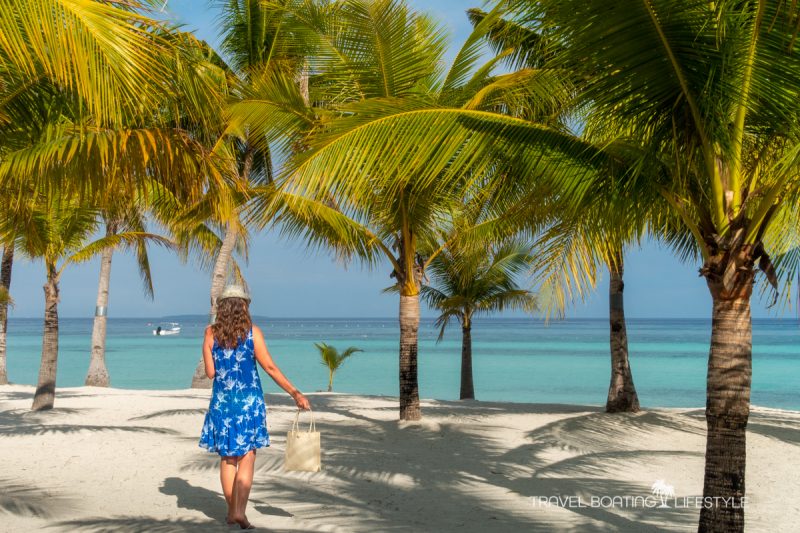 The invitation to visit Banwa Private Island came midway into a two-week long work trip (otherwise known as a famil) with Storylines Home at Sea and Philippines Tourism that had us moving at a rapid pace across much of the Philippine archipelago. My travel wardrobe was chosen for its ability to stand up to being scrunched up in a suitcase tossed onto a plane, barge, boat or bus rather than gracing elegant boardwalks of the rich and famous.
Fortunately I had a West Indies Wear summer slip dress, which went perfectly with the hat I'd bought. Flipping a light scarf around my neck added just the right panache. But sadly my well-worn Birkenstock's caught the disparaging eye of the fashion police. Wardrobe disaster averted apart from my footwear, I cast my eyes beyond the sharp uniforms of the dozen staff who were on the wharf to meet our small group. It was an impressive, snappily dressed crew.

Rockstar welcome at Banwa Private Island
Enthusiastically greeted like the royalty we clearly weren't, we walked down the dock to the main villa at the end of the pier which forms the hub of the island. Here, dining tables are set up beside the pool, on the patio, under the palm trees or upstairs on the roof for dining under the stars. There's also a 'help yourself' bar, casual lounging areas and the first of countless swimming pools surrounded by sun lounges and furled umbrellas.
The architectural style is modern with minimal fuss, all sharp lines and shades of crisp white allowing the gorgeous seascape to take centre stage.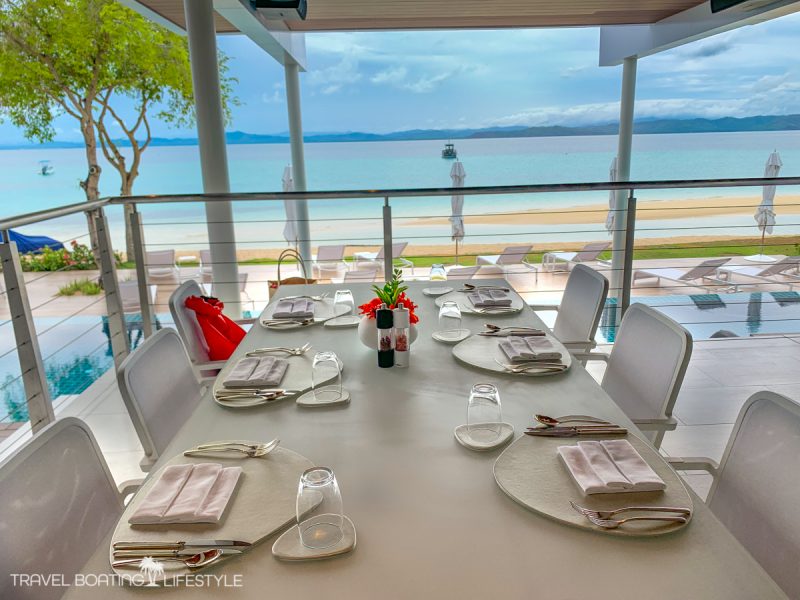 Lunch at Banwa Island, the world's most expensive island resort
There's a gentle breeze wafting across the Sulu Sea which cools the patio and sounds a soothing whoosh through the palm fronds, but rather than dining alfresco we are ushered into the glass-walled air-conditioned dining room. The walls are lined with staff ready to attend to my wine glass the moment it hints at needing replenishing.
When I ask to use the bathroom a gorgeous young lady offers to escort me, then asks if she should wait to escort me back along the 30 or so steps we've taken. I laugh and decline politely, "I think I'll be ok, thank you though," I tell her.

Staff at Banwa Island are the best of the best
Moises Aguisanda, Banwa's Sales Manager, tells me that there are approx. 100 hand picked highly trained staff on island, or hosts as they are known, when guests are staying in-house. Not that Banwa has actually had real guests (at the time of visiting in May 2019) willing to fork out the USD300,000 coin required for a minimum three night stay .
Apart from home-grown mega-Influencer Tim Yap who manages to make Banwa look like just another day at the office to his 400k Instagram followers. I don't know, I think if I was invited to stay as a guest of Banwa Private Island, I'd probably look a little more exuberant and excited than uber-cool Tim does on IG, but perhaps that's just me.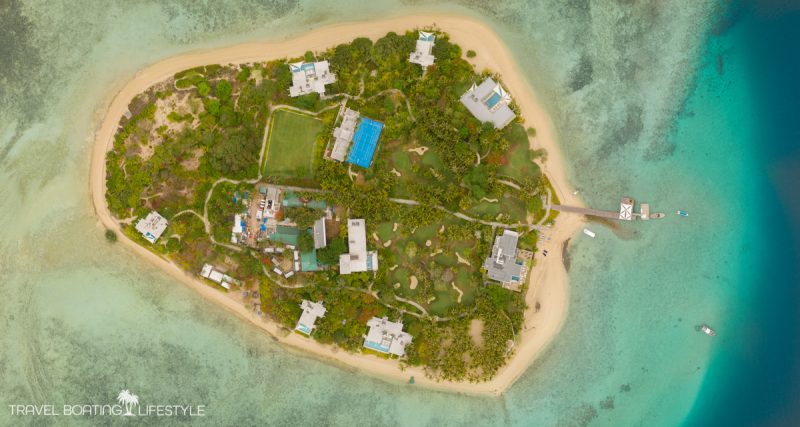 Even the crabs get romantic on the world's most expensive island!
Moises ays that there are seven designated dining options for guests, though he also says that with a mobile kitchen on hand, Chefs can, in reality create memorable dining experiences wherever guests please.
"They can have lunch on the putting green on the golf course if they want!" laughs Moises.
He starts to tell me about the good work the Aquos Foundation has done with cleaning up the surrounding sea from pollution when we're told there are two horseshoe crabs trapped in a low tide pool on the beach. Deep into a mating ritual rarely seen this close, the pair have clearly lost track of time and missed the high tide, distracted by their rapturous coupling. Temporarily joined at the groin and looking more like stingrays than crabs, they've evolved little over their 400 million year evolution and are considered living fossils.
Copulating crab love-fest aside, it's easy to imagine Banwa Private Island as just the sort of place for dreamy romantic seduction. Intimate and private and far from prying eyes, I also imagine that camera-shy Hollywood celebrities and European royalty are the only people who could afford to stay at Banwa. Sadly, it's beyond this travel writer's budget.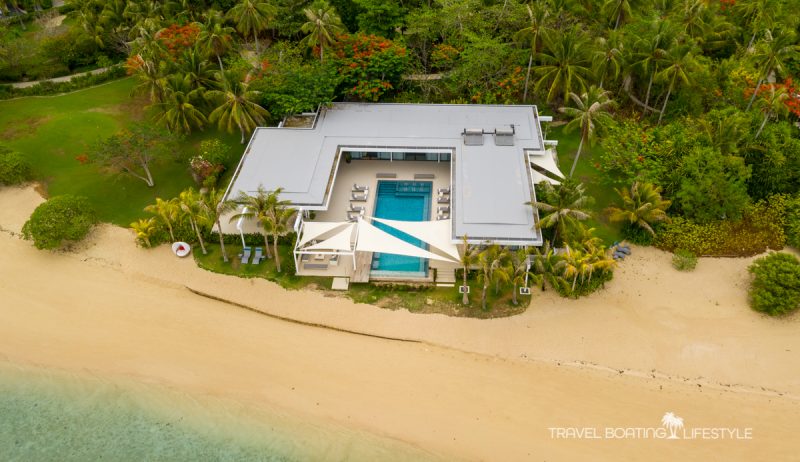 What's included in the USD100,000 per night price tag?
A tiny slip of an island little bigger than the MCG stadium, Banwa charges an eye-watering USD100,00 per night. Admittedly, you get to share the island with up 47 of your best friends as the island is sold as 'exclusive use' only.
With accommodation shared across six splendid villas (let's face it, splendid is mandatory at this price point) for up to 48 people, there's a minimum three night stay. Let's assume you're on a budget and can only shout 47 of your Besties for three nights. So, for a little over $6,000 per person, what do you get for your money?
Two words. Exclusivity and Privacy. You're paying for 'whole of island' use which means the only other guests will be those that you invite. The 100 or so hosts are on hand 24/7 to ensure you never go thirsty, hungry or lonely. That your surroundings are beautifully elegant goes without saying.
Ok I'll say it.
The island oozes elegance from the moment we step ashore to after we departed, when the crew waved us off until we disappeared over the horizon
There's plenty of toys at your disposal too – tennis, golf, scuba diving, sports fishing, heli-tours, boat cruises, massage, spa and wellness treatments to start with. Moises tells me that pretty much 'anything' is available – all the guests have to do is ask, he says, and we will deliver.
What did I love about Banwa Private Island?
But for me, I think the real pleasure of staying at the world's most expensive island resort is the ability to shut out the world beyond the fringing reef, switch off the phone, disconnect the wifi, reacquaint myself with meditation and yoga and just savor the peace, tranquility and decadence of no distractions.
That is of course, before a long leisurely poolside lunch where 47 of my besties are welcome to join in. You can wear whatever you want, I won't judge you. 🙂
Who wants to join me? Leave a comment below!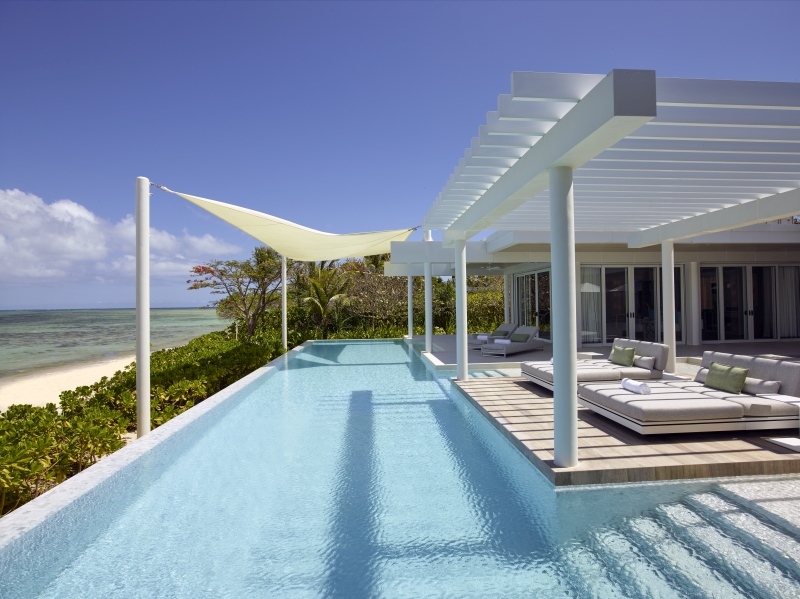 Fiona Harper traveled to Banwa Private Island as a guest of the Island and Philippines Tourism