Growing up in Western Australia with its seemingly endless coastline, the beach and the ocean became a significant aspect of life in 'the west'. Long hot summers that embraced the outdoors, the ocean and the rivers. Early years included swimming lessons amidst the (frightening, but harmless) jellyfish of the Swan River. Later soirees on the Swan involved 'going prawning' at dusk, in typical Aussie style, with the blokes wading through the shallows with the net, while the girls cooked the tasty crustaceans atop the camp stove on the riverbank. It wasn't until the sailing bug bit in my late teens that I realised there was far more fun to be had on top of the water than submersing myself in it.
The Swan River, which terminates at the Indian Ocean at Fremantle, while a sailing hub in itself, is actually an emerald highway to Perth's real boating Mecca, Rottnest Island. For a coastal city that boasts just a handful of offshore islands, Rottnest Island, or just Rotto as everyone calls it, is the favoured destination of almost every boat owning local.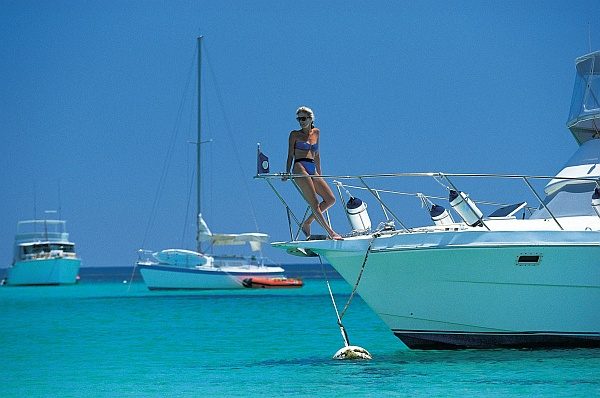 Relaxed and Laid Back</3>
Rotto is a compact microcosm of everything a boatie could want in a weekend or extended getaway. That is of course, unless you want fancy marinas and swanky waterfront resorts with fine dining restaurants. Don't get me wrong, Rotto does have berthing facilities, along with some terrific accommodation and dining options. But it's all done in charismatic Rotto style, just as it has done for scores of generations. And that is exactly the attraction of this low-lying island, 18km west of the mainland. Dotted with sweeping bays and intimate coves with turquoise waters lapping squeaky white sand, Rotto is boating bliss. Just don't expect to have one of these glorious anchorages all to yourself, as Rotto gets pretty crowded.
With crisp salty air and long summer days dictated by the heat of the sun and the strength of the wind, the only suitable attire is board shorts and bathers. Where the moist, sticky beach sand seems tattooed on your toes, and your hair takes on a lived-in look. But don't worry about your 'do', because Rotto is just not a hairdryer kind of place. It's the kind of place where parents relax enough to allow the kids to do just what they want to do. And the kids do, well, exactly what they want to do. What's not to love about Rotto?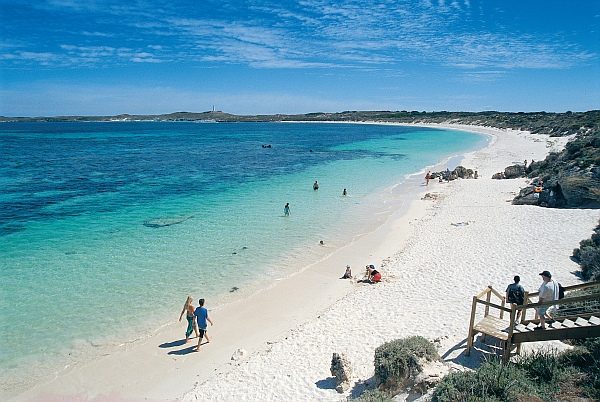 Prevailing Winds
As with any island destination, the wind is a dominating factor, particularly over summer. The Fremantle Doctor is the name of the sea breeze that arrives most days with clockwork-like regularity. Ghosting in mid morning as a gentle whisper from the southwest, by mid afternoon the Doctors' ferocity ensures all but the sailors and kite surfers seek refuge, as it buffets the coast at up to 25 knots.  By the time the sun sinks low on the horizon and sundowners appear on deck, the Freo Doctor retires for the day, leaving in its wake temperate tranquil evenings.
Conversely, when dry, hot easterly winds gust in from the Great Victoria Desert, you know you're in for extreme heat. It's not unusual for the temperature to exceed 40 degrees Celsius as the easterlies overpower the cooling Freo Doctor. This offshore breeze creates ideal sailing conditions, with a downwind sail to Rotto across the deep blue Indian Ocean pure joy. Come March however, the temperatures drop, the sea breeze becomes less domininant with periods of calm interspersed with low pressure systems that build momentum across the Indian Ocean, uniterrupted between Rotto and South Africa.
Bikes not Cars
Rotto's roads are used as cycle paths (cars are not permitted) and it's possible to ride around the entire, predominantly flat, island that stretches approximately 11km from east to west. The road winds past bays distinguished by battered limestone cliffs and wavecut platforms, the result of battering Indian Ocean swells. Extraordinary water clarity combined with craggy limestone reefs create intriguing dive and snorkel sites. With 63 beaches to choose from, there are plenty of diversions for swimmers and fishermen too. Surfers won't be disappointed either, with reef breaks aplenty, particularly on the outer reefs.
The main settlement of Thomson Bay provides the necessities, with a well-equipped General Store, cafes and take aways, as well as the legendary Rottnest Island Bakery.  This institution has sustained hordes of holidaymakers over generations and it's not unusual to see a line of hungry patrons snaking down into the courtyard. The bakery is only rivalled in popularity by the Rottnest Island Hotel, known as the Quokka Arms after the small marsupials that populate the island.
Mooring Options
The Rottnest Island Authority manages all public mooring facilities and onshore accommodation, with all visitors contributing to the conservation and upkeep of the island. Private vessel owners contribute by purchasing either a casual or annual visitor permit. The RIA website is your best source for the latest info about mooring locations and options.
With limited mooring options creating high demand, all mooring facilities require pre-booking with RIA. Public swing moorings are available at Thomson, Geordie and Longreach Bays, otherwise anchoring is permitted in designated zones.
Thomson Bay
Northeast facing Thomson Bay is the island hub as large ferries from Fremantle, Hillarys and Perth city disgorge passengers onto the main wharf. It's also the closest bay to the mainland, with the largest anchorage, ensuring that plenty of small craft are constantly arriving or departing from here.
Beach pens are available at Bathurst Beach in northern Thomson Bay. Using a Mediterranean-style of berthing that is only suitable for small, shallow draft craft, vessels simply reverse into their designated position and tie up to a beach mooring.
Stark Jetty has five pens suitable for small shallow draft vessels, while the Fuel Jetty has 26 pens. Larger vessels up to 15m can berth here, with some pens suitable for deep draft yachts.
Vessels are permitted to anchor beyond the mooring area, south of Kingston Reef and north of Phillip Point.
Longreach Bay
North facing Longreach Bay is almost land locked, if you count the outlying reef that is exposed at low tide. The entrance is marked with lateral beacons, though even if they weren't there, the channel would be fairly obvious, as this is usually the only water free of moored boats. The entire bay is almost filled with swing moorings, though an anchorage zone is located near the eastern end of the beach.
A sweeping crescent shaped beach is book marked at either end by jagged limestone, while accommodation units sit atop the sand dunes. A cycle path that link Longreach with the rest of the island, with the Geordie Bay café and store not far away.
Roe Reef is a popular dive site about 1nm north east of Longreach Bay.
Geordie Bay
The navigable water of northwest facing Geordie Bay is completely taken up with swing moorings, with no anchorage zone. Reef surrounds the bay, with lateral beacons marking the channel. The ubiquitous white sand beach beckons on the shore, while a jetty juts from the beach at the eastern end. This is an intimate bay. If you take the literal meaning of intimate, that of a close and personal relationship, intimacy with your neighbours is almost guaranteed. Taking up a mooring here over the peak season, you're likely to become aware of the intimate details other boaties activities whether you're interested or not. But don't let the nearness of others hinder your fun. Allow your inner voyeur to break free instead and enjoy a little surreptitious people watching. It's all part of the uninhibited fun of Rotto. And, if sleeping onboard your vessel loses its attraction, there is an abundance of accommodation ashore.
There is a café and General Store tucked in behind the dunes. Discovery – Rottnest Island operates a glamping tent accommodation resort at Pinky's Beach
Parakeet Bay
Popular with dive charters when the sea breeze makes Roe Reef untenable, Parakeet and neighbouring Little Parakeet Bay has space for just a few vessels to anchor. Entry is straightforward with onshore leads guiding vessels towards the beach.
Rocky Bay
Down in the far northwestern corner, in the vicinity of Narrowneck, relative seclusion may be found in Rocky Bay or nearby Marjorie or Stark Bays. Far from Thomson Bay, there is little onshore infrastructure towards the west end, though in calm conditions all three bays are filled with moored craft. Navigation in this part of the coast is tricky and requires skilled, cautious manoeuvring through treacherous reef. Entry and exit becomes even more dangerous during periods of heavy swell:  be prepared to stay put if the weather deteriorates whilst you're there.
Parker Point
Considered to be an all weather anchorage, despite the fact that it is exposed to the south and east, the surrounding reef dispels any swell, creating a protected anchorage that is particularly favoured by yachtsmen. Entry is via an unmarked channel into a lengthy anchorage that runs parallel to the beach and can accommodate a large flotilla of vessels. I say unmarked, but the channel is fairly evident by the surf that breaks on the reef either side of the navigable water. Surfers are often within chatting distance as you pass through.  As with much of the waters surrounding Rotto, it's not for the faint-hearted navigator and caution is required.
There is an enchanting timelessness about Rotto that is extraordinary. The smell of the sea intermingles with the 'freshly baked' aromas from the bakery, permeating the air. Leave behind your big city expectations and allow Rotto to envelop you with its' charms soon.
More information
Rottnest Island Authority Ph 08 9472 9111 or 1800 111 111
Navigation Essentials
Chart – WA412 Rottnest Island
Cruising Guide – Western Australia Cruising (Fremantle Sailing Club)
Australian Marinas Guide
Travel Boating Lifestyle takes all care with providing accurate information. But things change. Please use this information as a guide only.