"Sorry I'm late, I fell asleep on the massage table." It's not a bad excuse is it? Slick with scented Pure Fijian body oil and looking slightly unkempt thanks to 'spa hair', I've kept my fellow passengers waiting for our jaunt to Nakawaga rainforest and waterfall. Checking into arguably Fiji's best resort, time has become a little skewed!
Lulled to sleep post massage, in true 'Fiji time' therapist Selai allowed me to slumber on for 35 minutes before I woke myself embarrassingly by snoring. It's usual for the masseuse to give a gentle yet firm shake a few minutes after a massage is complete. But not today. Which sort of sums up the attitude of many Fijians whose mantra seems to be 'take your time', reflecting their warm generous nature, where nothing is rushed, knowing that everything happens eventually.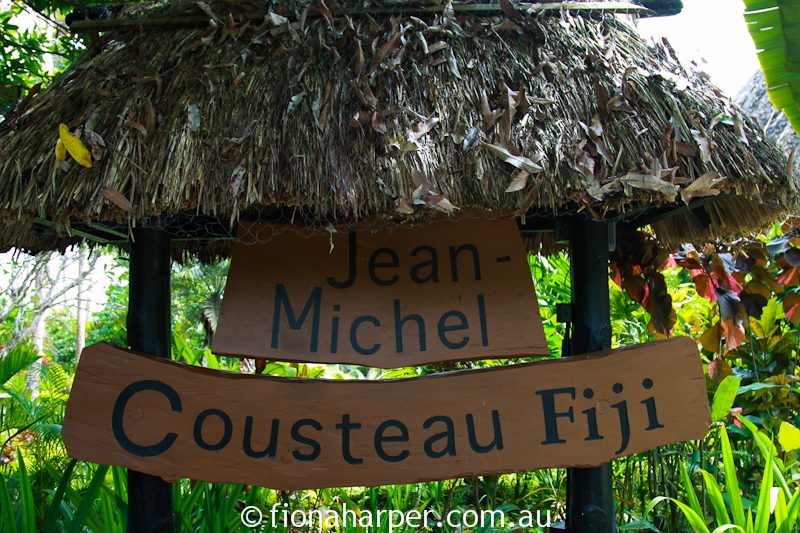 Fiji's friendly welcome
This attitude is in abundance, in the nicest possible way, at Jean-Michel Cousteau Resort, a few minutes from downtown Savusavu on the island of Vanua Levu. A serious contender for one of the finest family friendly resorts on the planet, every child is allocated their own private nanny upon arrival. Predominantly women (though I'm sure a male nanny would be available if requested – nothing is too much trouble at JMC), their orange and blue shirts are spotted everywhere.
Each has a young child in their arms, riding their backs, walking hand in hand or poking around the shallows on the beach. It's hands on, interactive child minding with a subtle environmental educational approach, that enables parents to share adult time with each other, rekindling romance or allowing time to talk uninterrupted, knowing their kids are in the very best hands.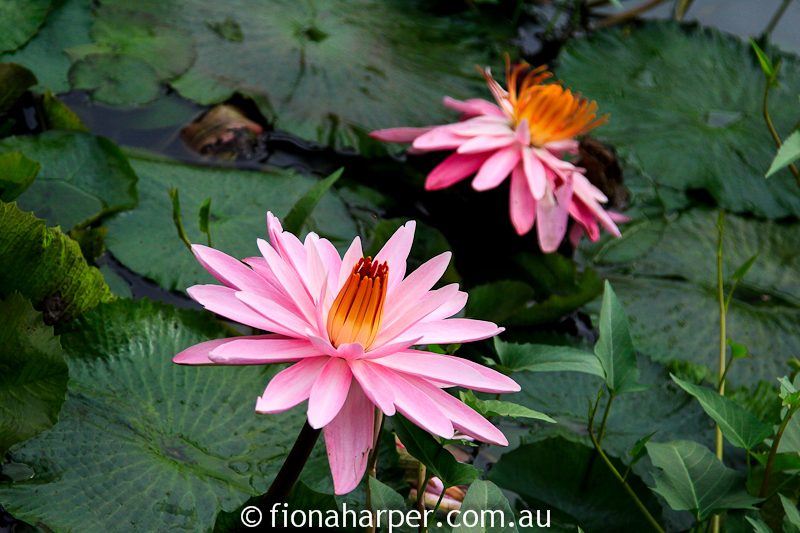 While many Kids Clubs are tacked on as an afterthought at JMC, the Bula Club is one of its main features, taking up a good portion of the vast landscaped grounds. With its own commercial kitchen, swimming pool, waterslide, tree house (which looks like so much fun I'm tempted to climb into it myself), miniature tennis court, table tennis table, crèche, quiet areas and noisy areas, it's the key to extraordinary repeat guest numbers. Indeed, some families have been spending annual holidays here for years. Beyond the kid's facilities, the attraction for adults is equally enticing, combining luxurious bures, fine food, child-free serenity zones, activities aplenty or peaceful daybeds for doing absolutely nothing. Designed on a traditional Fijian village, it's a winning combination that ensures JMC appears on 'best of' lists worldwide.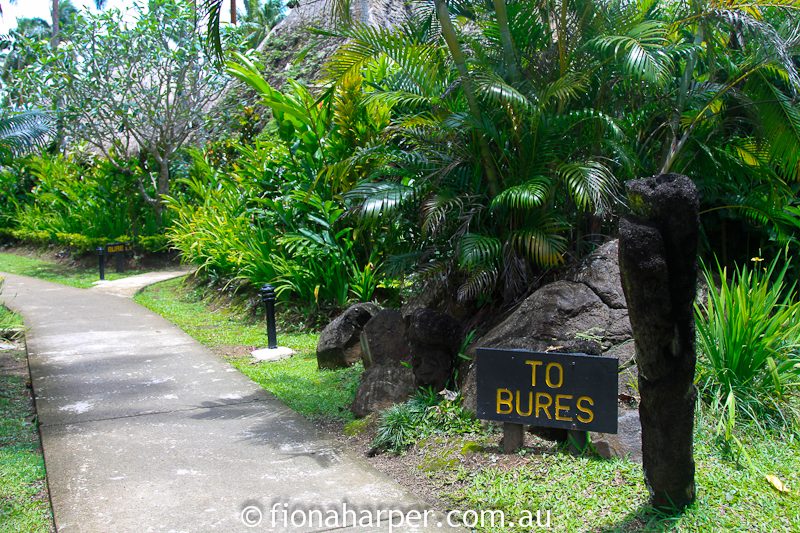 In a crowded field of would be contenders there's a plethora of resorts laying claim to offering the very best hotel rooms, service and facilities. But what qualifies as 'best'? And who is qualified to make this claim anyway? Sure there are strict criteria when it comes to hotel star ratings that determine whether a property rates (and retains) its coveted five stars or is relegated lesser status. But a star rating is not necessarily the best indicator.
So, while any 'best' assessment or list is subjective, I'm prepared to risk the wrath of more worldly travellers and place The Villa (or simply Bure 25) at Jean Michel Cousteau Resort Fiji in my list of Best Hotel Rooms. Why?
Fiji's best resort for families?
Firstly, JMC wins hands down for the rather unsexy reasons of an abundance of natural light and ventilation – an absolute essential in the tropics. I have a love/hate relationship with air conditioning, preferring the sensation and aromas of tropic-infused air wafting over warm bare skin. Feeling cold is not a sensation I embrace whilst in the tropics. Banks of timber louvers fitted with insect screens keep the bugs out and the breeze in. A shower with double overhead roses has a glass sliding wall opening onto another one outdoors (there are actually four showers in The Villa, because one is rarely enough right?). The bathroom is palatial with a glass wall beyond the stone hot tub that looks into a high-walled garden courtyard with waterfall.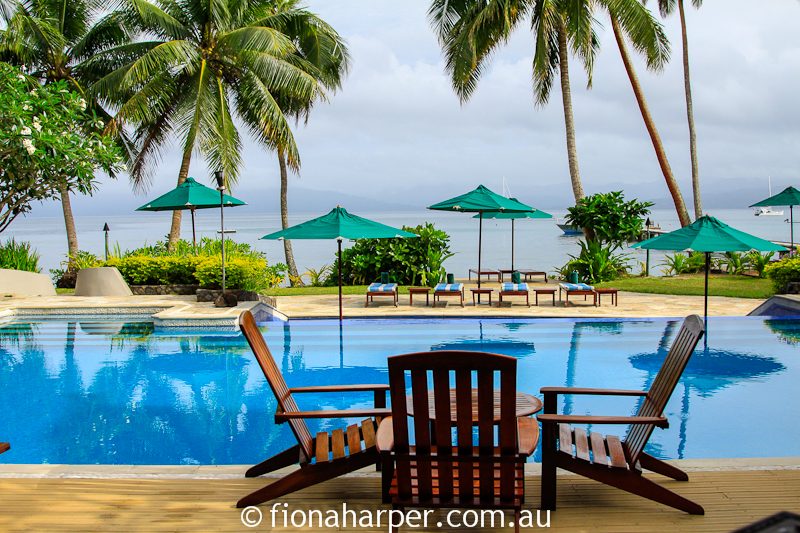 Secondly, space. There's plenty of it. A master bedroom is dominated by a muslin curtained four poster bed. Slide back the louver doors to welcome the south easterly trade winds and enjoy the view across the deck, raised day bed and horizon edge private plunge pool which in turn flows onto grass, a beach and the ocean beyond. So much space.
Other reasons I rate The Villa (bure 25) highly include a pavilion living room with mini kitchen, linked to the bedroom by undercover dining area, which doubles as another bedroom with its own bathroom. There's a full sized fridge to store fresh fruit snaffled from the organic garden nearby.
Did I mention the swimming pool? Located on the point, and therefore some distance from the main pool and restaurant area, The Villa is the only bure with its own private pool.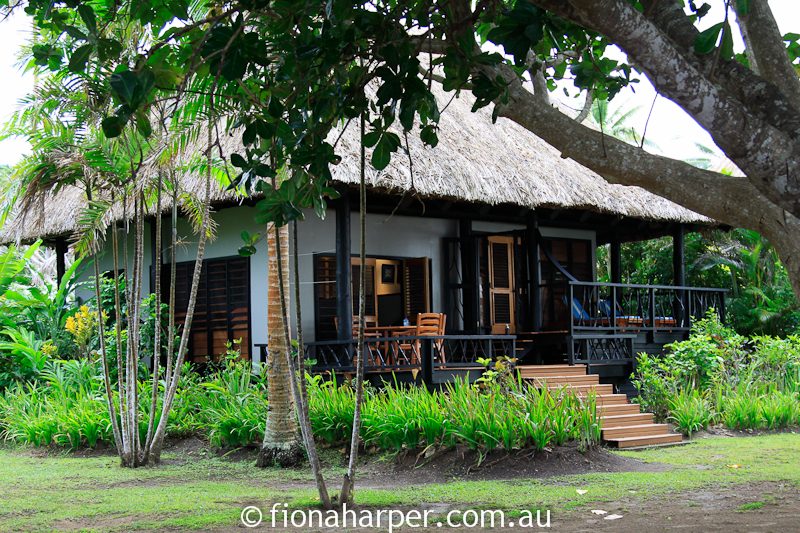 If your budget is a little more modest, ocean front bures, both one and two bedroom are spacious, beautifully appointed and oh so romantic. I particularly like Bure 24's layout and island view, though another repeat visitor swears by Bure 5. Limited to 25 bures, there are actually no bad ones.
But the main reason I rate JMC so highly is for the intangibles. With a strong environmental focus, a team of warm, hospitable staff and an ethos of sustainable tourism that supports the local community, JMC offers a holiday with heart. The place just has a good soul – you can feel it. Much like Fiji itself.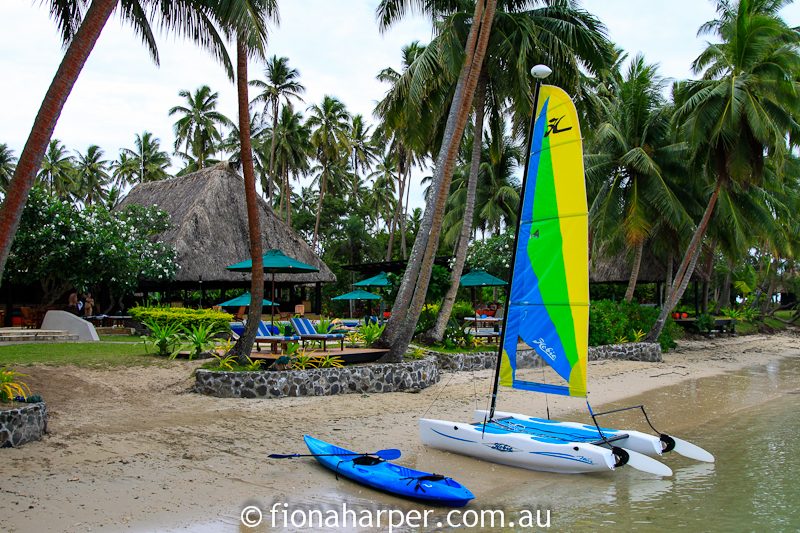 More information
Jean-Michel Cousteau Resort
Tourism Fiji
Fiona Harper was a guest of Tourism Fiji