'Bula bula, welcome to Lo's Tea House,' says Loraina Masibuli as I walk down onto the beach at Enedala village. I've just walked across Nanuya Lailai Island in Fiji's Yasawa Islands. Overlooking a beach cooled by trade winds, the Tea House of full of Fiji character!
'Call me Lo,' she says with a dazzling smile bright enough to turn night into day.
20 minutes earlier I had left behind the tranquil waters of Fiji's famed Blue Lagoon, taking a well-trodden path that wound through a coconut plantation, teetering across a couple of tree trunks strung together as bridges, down the valley and up over the ridge looking for Lo's Tea House. Even by Fijian standards Enedala village is tiny, with just 30 people from 11 families living in the coastal village.
'This is my Grandfather's village, it's my family's land,' Lo explains.
Lo's Tea House is a 'must do' when visiting the Blue Lagoon
Lo sits me down inside and away from the blustery south-east trades winds that buffet the beach a few metres from her door. She tells me how she established the tea house with her husband Voka 16 years ago.
'My husband is a chief at Nabukero village near the Sawa-i-lau Caves in the northern Yasawa Islands.' Lo says proudly. His chiefly duties keep him from home most of the time so that he returns to Enedala village just once each month. With her husband absent, the first ten years were tough for entrepreneurial Lo as she established the business. Visitors were sparse in the early days, sometimes just two or three arriving each week.
'Initially I didn't have money to build the tea house. I didn't have anything in the beginning, I had to borrow everything to get the tea house started,' Lo explains. 'I've been working hard and for ten years I struggled with this business,' she says, explaining how she would visit tourist resorts dotted around the lagoon, encouraging travelers to visit.
'It's a tea house, come to the tea house, I would tell all the guests. My special cake is chocolate and banana cake, served with Lemon Leaf Tea. All the guests now come because I serve the famous Fiji Lemon Leaf tea.' she says.
'The tea is the best. It makes you healthy and strong!'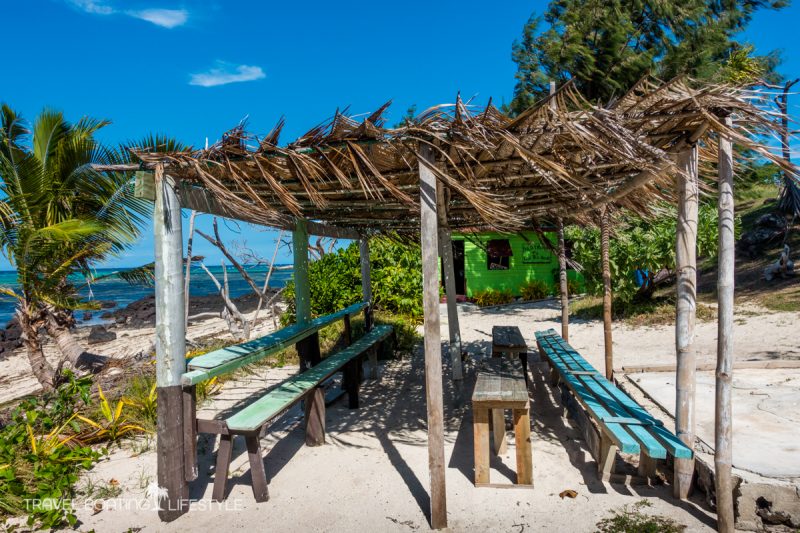 Here are some other tours I'd recommend doing in Fiji!
Lo's Tea House has become famous with travellers
In recent years Lo's star has risen. Travellers come from across the globe to indulge in her special chocolate and banana cakes, served with traditional Lemon Leaf Tea. She ducks outside to a healthy-looking shrub and plucks a handful of leaves from the bush.
Holding the leaves up to her nose before tucking it behind her ear, Lo laughs, 'Mmmmm it smells nice! 'Like a perfume. We can put it in our hair, like a flower,' she laughs, erupting into bubbles of laughter from her ample bosom.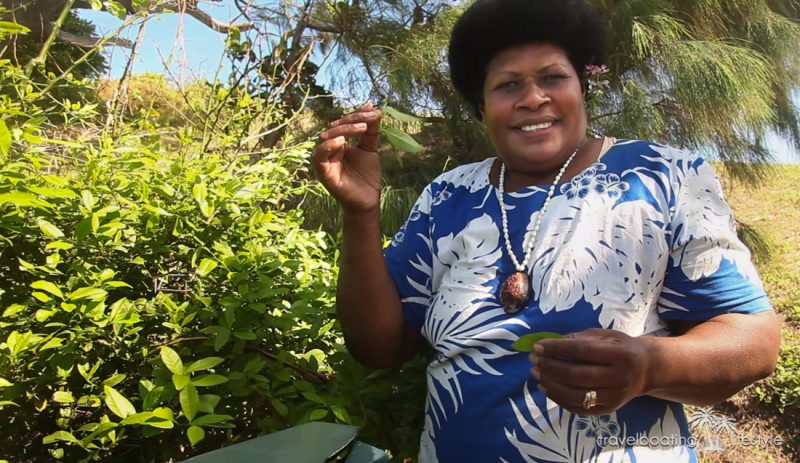 Lo's charmingly ramshackle tea house interior walls are lined with cotton cloth in colourful Fijian designs. External walls are clad in clapboard painted a vivid lime green trimmed with burgundy shutters. Beach sand that clings to our feet is as welcome inside as the hermit crabs that wander in confidently. As we sip tea and tuck into a generous wedge of chocolate cake dripping with chocolate frosting, Lo reveals the secret to the rich smokiness of her cake.
'My secret ingredient is fresh coconut milk straight from the coconut,' she says. 'We have plenty of coconuts here!' she laughs, spreading her arms wide to indicate the coconut palms that dominate the landscape as far as the eye can see. Shunning modern conveniences, Lo's cakes are baked as her grandmother did, in a cast iron pot over an open fire.
'I bake my cakes using firewood, rather than using gas, which gives it a special taste,' she says.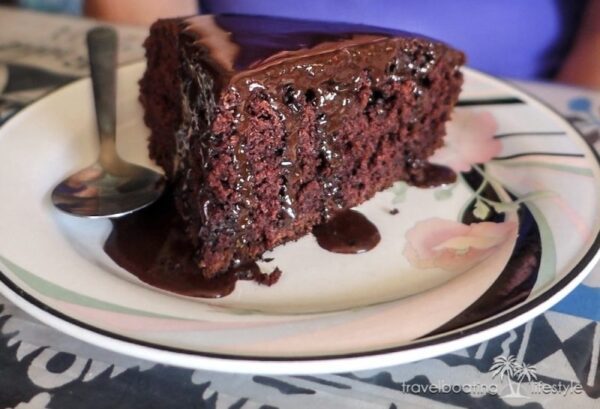 Our conversation is interrupted by Lo's granddaughter who waltzes in, red ribbon in her hair, her four-year-old lips slashed with lipstick.
'This is my naughty granddaughter Mili,' Lo says. 'She's interested in the guests who come to the Tea House. She see's people coming and she puts the lipstick on, the nice dress and a hair ribbon. She runs out greeting them bula, bula, bula!' Lo laughs again, pulling Mili into her lap for an affectionate hug.
Lo's is the kind of place where you could easily while away a few hours laughing and chatting in true Fijian style. 'I am very happy,' Lo sighs contentedly. So too are her guests.
More information:
Lo's Tea House is on the south-east coast of Nanuya Lailai Island in Fiji's Yasawa Islands.
Blue Lagoon Cruises guests can visit Lo's Tea House during their 7-night Yasawa cruise.