Patagonia. One magical, mysterious word. It's a name that evokes the unknown, conjures up many questions. The first one that occurs to me is where the heck is it? Once I had that part figured out I was excited.
In case you're still not sure, Patagonia is at the bottom of South America, straddling both Chile and Argentina. Patagonia is best known for its mountainous landscape, thanks to the Andes Mountains running down its spine. Glaciers line inshore waterways, making it an exceptional cruising area for sailboats and expedition-style cruise ships.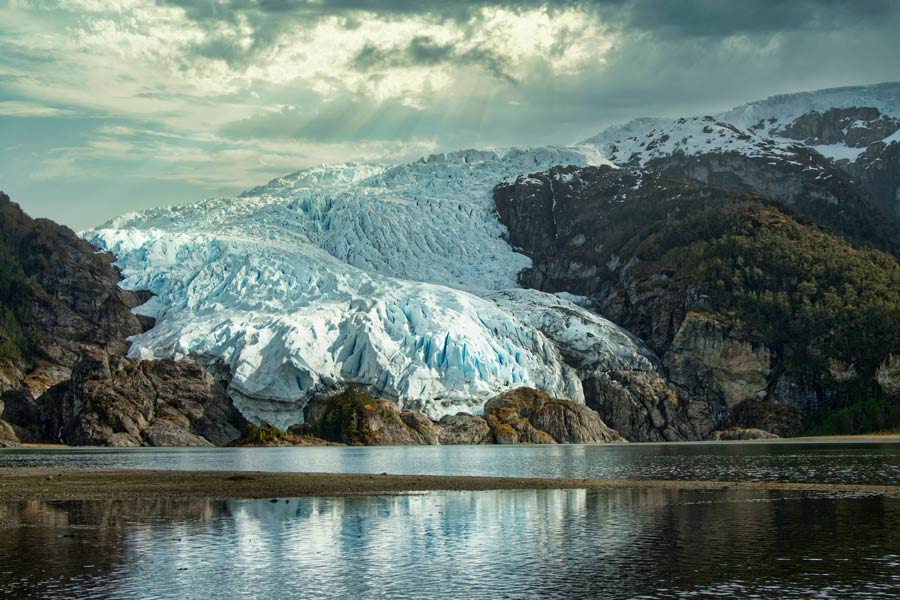 Patagonia: the southernmost tip of Tierra del Fuego including Cabo de Hornas, otherwise known as Cape Horn, encompasses southern Chile and Argentina. Deliciously foreign sounding names that roll off the tongue, sodden with anticipation, whetting this sailor's appetite. The 'end of the world' some say.
For the 10,000 or so mariners whose lives ended in these waters, it proved to be so. Drake Passage, the narrow band of Southern Ocean squeezed between Antarctica and South America, covering latitudes known as the Screaming Sixties and Furious Fifties holds both fascination and terror for sailors.
The allure of sailing round Cape Horn is irresistible to me. I board a flight (actually several flights over several days) to Patagonia at the first opportunity.
Beneath a dreary overcast sky dripping liquid ice that pools at the foot of the gangway we step aboard our swanky new expedition ship docked in Punta Arenas. On a rare windless day in this land ruled by wind (street trees are deliberately manicured to yield to the wind), my fellow travellers on Stella Australis are an intrepid lot.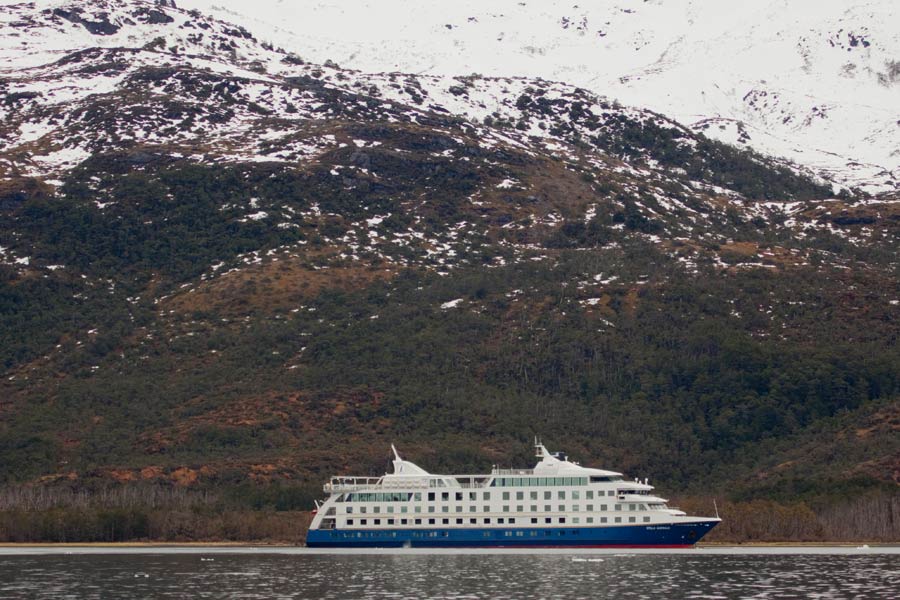 For many, the opportunity to visit Cape Horn is the sole reason for the long journey to Patagonia. Some are sailors on the voyage of a lifetime. Others are serious landlubbers, soon to find solace in seasick bags conveniently stashed throughout the ship. Some have flown for days across the globe to board Stella Australis from the southernmost city in southern Chile. For fellow passenger Dennis from Sydney, it's high on his bucket list of travel 'must do's.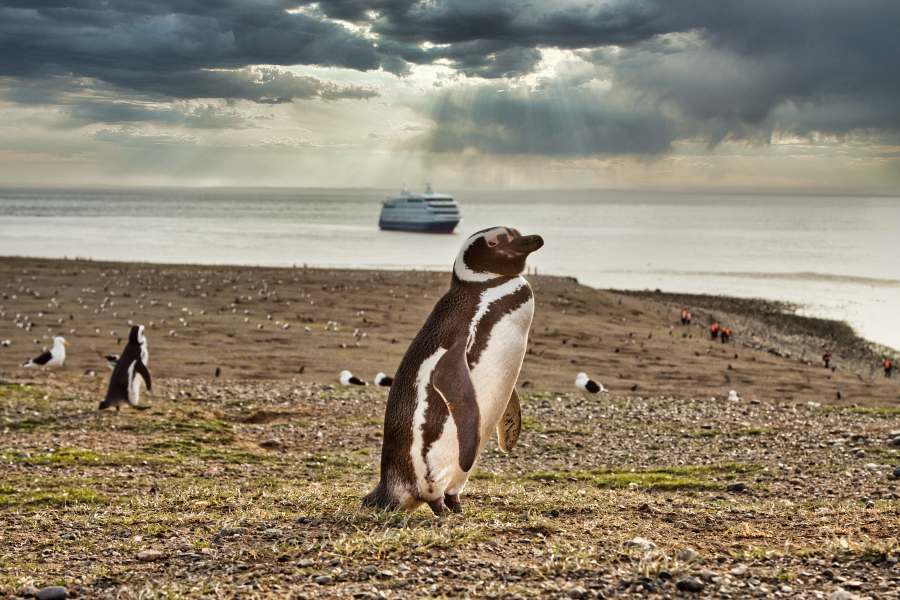 For hardcore blue water sailors like myself reaching the 'sailors Everest' has fuelled sailing dreams for years, inspired by legends of those who sailed past the Horn.  Others still are slightly dazed from pre-cruise explorations of Torres del Paine National Park to the north, all dramatic rocky peaks and turquoise glacial lakes home to some of Chile's most stunning Andes scenery. Spanish speakers are by far in the majority, lilting tones that resonate pleasingly across the Darwin Lounge as we gather for pre-departure cocktails.
It's almost 180 years since the brig-sloop HMS Beagle, under the command of Capt Robert Fitzroy, explored these waters, leaving English monikers against significant landmarks such as Beagle Channel and Darwin Range. But for most of us onboard, the historical significance pales against the drop-dead gorgeous scenery we view from the top deck Darwin Lounge over the next five days.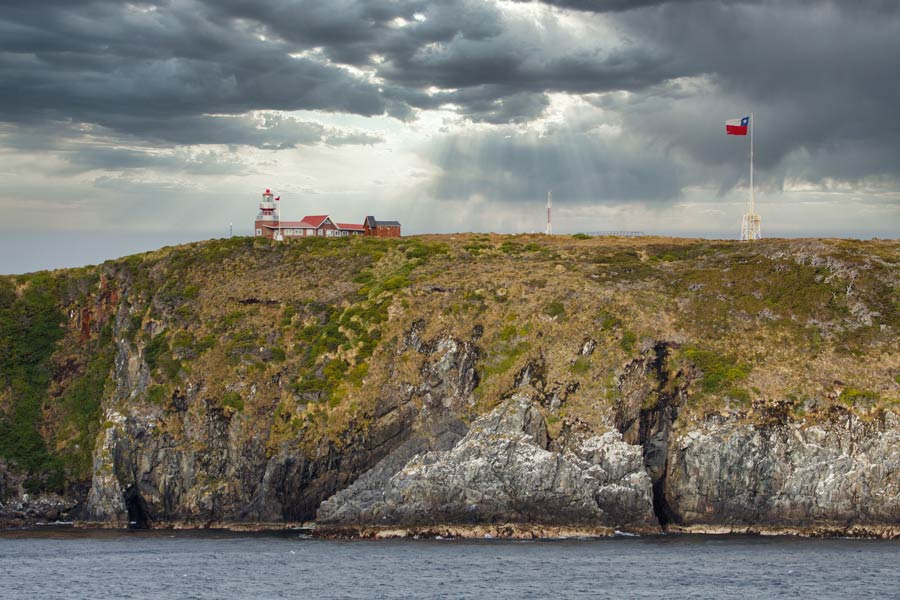 The open bar policy draws us together late each afternoon as we gather to admire the splendid view. With floor to ceiling windows circling the central bar, barman Juan wields the cocktail shaker with gusto.  I learn a few days later that he plays another pivotal role onboard. 62 times each season Juan tells me he dons a 7mm wetsuit and jumps into the near-freezing Southern Ocean. Naked head exposed to temperatures that barely reach double figures, his job is to prevent the Zodiacs from capsizing in the surf when we land on Hornas Island. "Over five years, I've done that job 340 times," he says unenthusiastically, as I prop up the bar over champagne one evening. Surrounded by leather sofas with plumped up cushions the fifth deck is the social hub of the ship.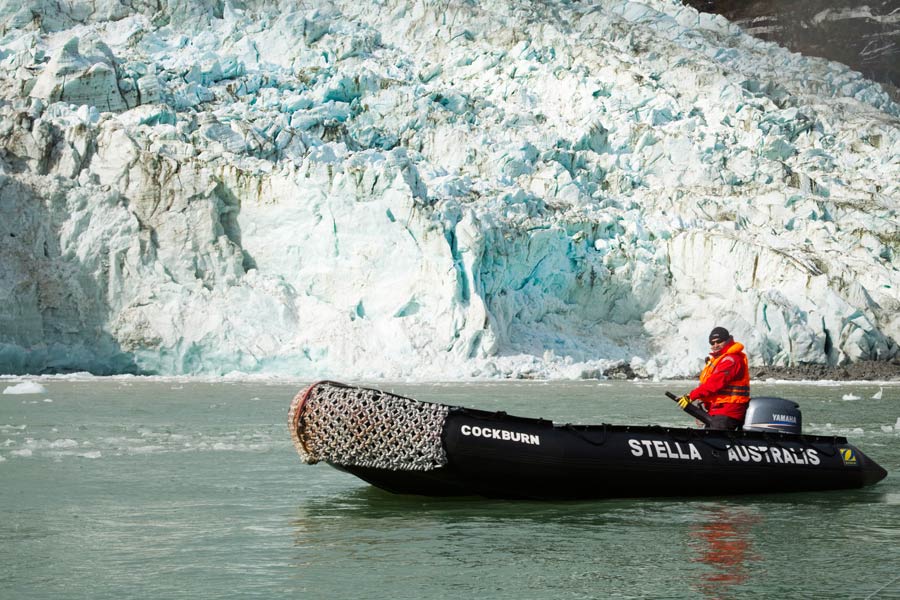 Daily excursions ashore keep us from spending too much time lingering in the bar however. At least once each day we board the zippy black Zodiacs, drivers peering out through balaclavas against icy winds as we explore mostly uninhabited lands beyond isolated settlements like Puerto Williams. Enroute to Cape Horn we're deep into the Chilean Fjords in all their theatrical 'take your breath away' glory. Yes, Patagonia is far from subtle. Not her weather, her landscape nor history. Snow capped mountains, trees grimly defying gravity on near vertical slopes, plunge into a bottle green sea. Charcoal coloured clouds laden with icy rain scud across a cobalt blue sky, craggy summits poking through momentarily before being enveloped in clouds again. Ridiculously azure glaciers disappear into mist-draped valleys, lining up back to back for our snapping cameras along Glacier Alley, five glaciers in total cascading into the sea as we sail past.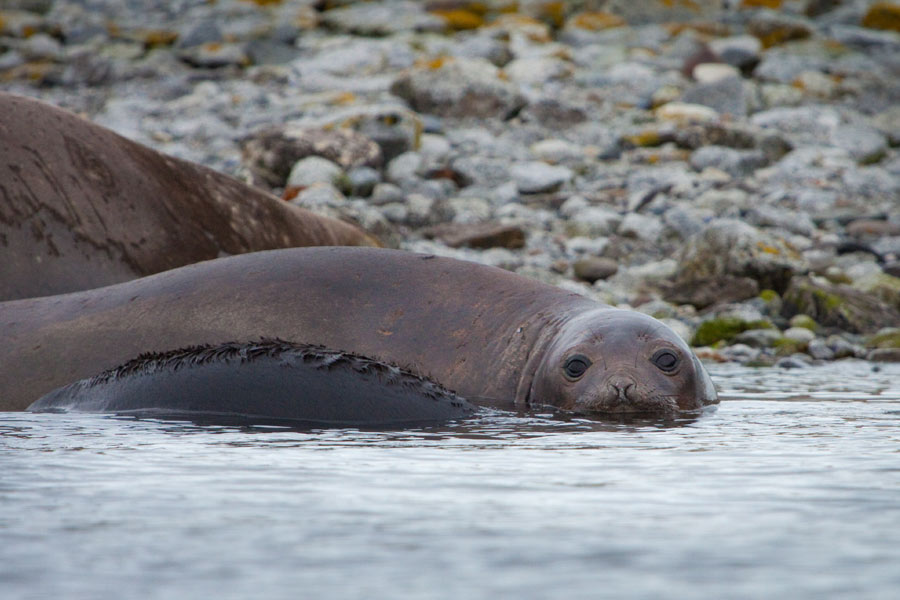 Overhead graceful petrels soar on wind currents, wings outstretched gliding effortlessly. Anticipating seeing albatrosses in full flight once we reach the Southern Ocean, they remind me of Samuel Taylor Coleridge's poem Rime of the Ancient Mariner. Although we're not quite at the end of the world, it feels as though we're on our way, just as those ancient mariners must have felt.
Sailing around the Horn offered immense bragging rights for Capt FitzRoy, his salt-hardened crew and others of his ilk. It still does. Even if it is kind of cheating to be doing it in splendid comfort, passengers are nevertheless presented with a Certificate to mark the occasion. A Cape Horniers Brotherhood evolved from the grand old days of sailing ships in recognition of those who successfully navigated this fearsome stretch of water, but also to mourn those who were lost.
The striking Cape Horn Memorial stands on the summit of Hornas Island, a magnificent sculpture of a soaring albatross atop the small weather beaten, wind-whipped island. Proudly thrashing itself into a fury, the Chilean flag nearby leaves no doubt about who controls the teeny island at the end of the world.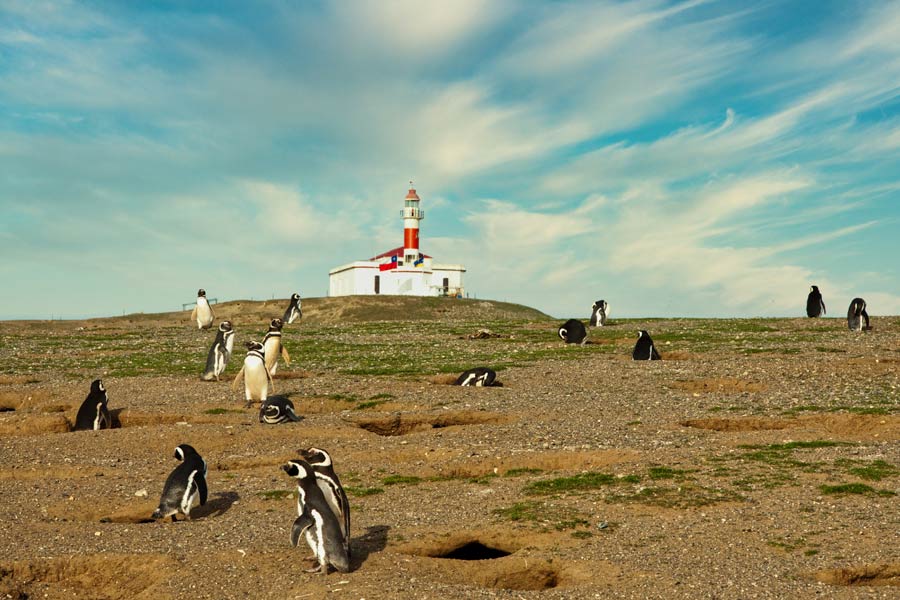 Approaching Cape Horn just after dawn, a sliver of burnt orange above the horizon is the only colour in an otherwise monotone grey sky. Wind strength is relatively calm, so by 7am Captain Sheward gives the all clear for passengers to disembark. Conditions change so quickly, but today the weather Gods are shining on us. The excitement is palpable. Though Barman Juan, who is chest deep in freezing water steadying the Zodiac, doesn't seem quite as thrilled as I am as we land at Lions Cove. Stepping ashore on the rock strewn beach I resist the crazy urge to kiss the ground. This piece of land has loomed large in my dreams for years.

Up on the island's summit, despite the ferocious winds that whip the moisture from my eye sockets, dehydrating my tongue, lips, any bare skin not covered in fact, euphoria makes me giddy. Reaching the monument, I adopt the stance of a windblown mariner: legs spread wide and leaning heavily to windward to prevent being blown over.  I'm kind of pleased to know that I've got a hot shower and a big comfy bed waiting for me back onboard the ship once I thaw the frozen grin that's plastered across my face.
Back on board, two hours later, her bow wildly pitching into a building sea, our ship is fittingly accompanied by soaring albatross as we round Cape Horn. Yes! Comfortably ensconced in the Darwin Lounge, no matter that the sun has yet to reach the yardarm, we down a tipple of hot Grog. The traditional sailors drink made from rum, hot water (not too much!) lemon juice and sugar, we salute sailors past whose Horn rounding's weren't quite so easy.
More information
Cruceros Australis
Cruises via Cape Horn depart from either Punta Arenas (Chile) or Ushuaia (Argentina) on 4 or 7 night itineraries
Fiona Harper travelled as a guest of Cruceros Australis.