Purpose-built for the discerning traveller, Hobart's newest boutique hotel was inspired by its closest southern continent, Antartica. Salamanca Wharf Hotel opened its swanky doors down on waterfront Salamanca Place and offers guests a true boutique contemporary apartment hotel accommodation experience in the heart of Hobart's premier entertainment precinct.
The hotel is intimate enough that the staff all know your name yet it's private and luxurious enough to feel like your own private bolt hole from the world. Not that the world outside these double-glazed windows is hectic. Hobart is about as laid-back as a capital city can get. Which is definitely part of the city's charm and Salamanca Wharf Hotel capitalises on this with its terrific central location.
Salamanca Wharf Hotel was designed and built to wedge itself in between two original John Lee Archer 1840 sandstone warehouses. The result is a modern hotel that offers the ultimate in luxurious big-city comfort with every attention to detail catered for.
Shane Pritchard, Owner and General Manager says,  "discerning travellers who value a premium location and luxury finishes will receive a first-class hotel experience with every attention to detail catering for their supreme comfort, whilst delivering an unparalleled ambience befitting this unique location".
Which is exactly the kind of welcome we received during our stay! Our only regret was that we had to check out… If only we had a long weekend in Hobart.
Looking for more ideas about what to do in Hobart?

Paying homage to Tasmania's unique location as the key international gateway to Antarctica, Salamanca Wharf Hotel's interiors are inspired by its connection to this majestic and beautiful frozen continent.  Crisp and vibrant Antarctic colour shades of blue, aqua, golden orange and russet are reflected throughout the unique décor with the extraordinary photography of Antarctic adventurer Laurent Dick showcased throughout the hotel rooms.   Bespoke furniture, crafted from local Tasmanian timber and specifically commissioned, adorns every room creating a depth of character to the brand new hotel apartments.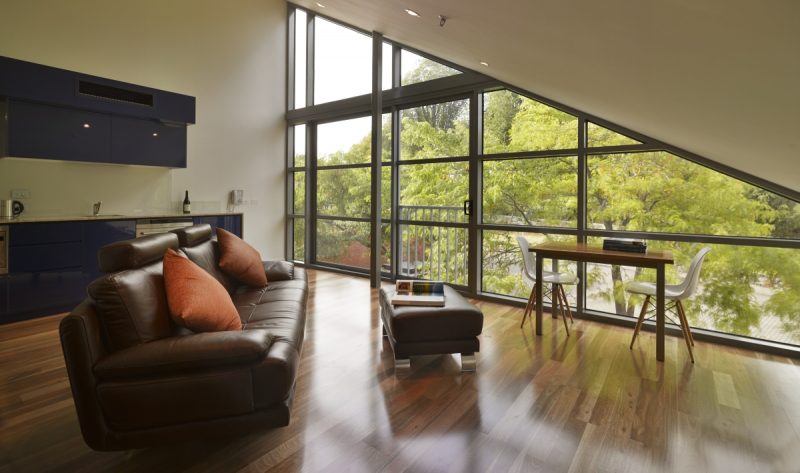 "Entering one of our apartments is like being invited into the beautiful and comfortable sanctuary of an adventurous friend," comments Pritchard. "Massive floor to ceiling window doors in each room can be thrown open to let in the famous Tasmanian air and we've stocked our fully-equipped kitchens with the best Tasmanian wine, beers, cheese and chocolate".
Located at 17A Castray Esplanade in Salamanca Place on the Hobart Waterfront, the boutique hotel has 22 apartments comprising four loft penthouses, fifteen one-bedroom apartments and three studio apartments.  Opening accommodation rates will range from $200 to $500 per night depending upon the room type and time of year.  The Hotel's Ground Floor is home to Castray Esplanade Food & Wine, owned by well-known Tasmanian foodies Michael Roberts and Karen Goodwin Roberts, author of Tasmania's Picnics in Paradise.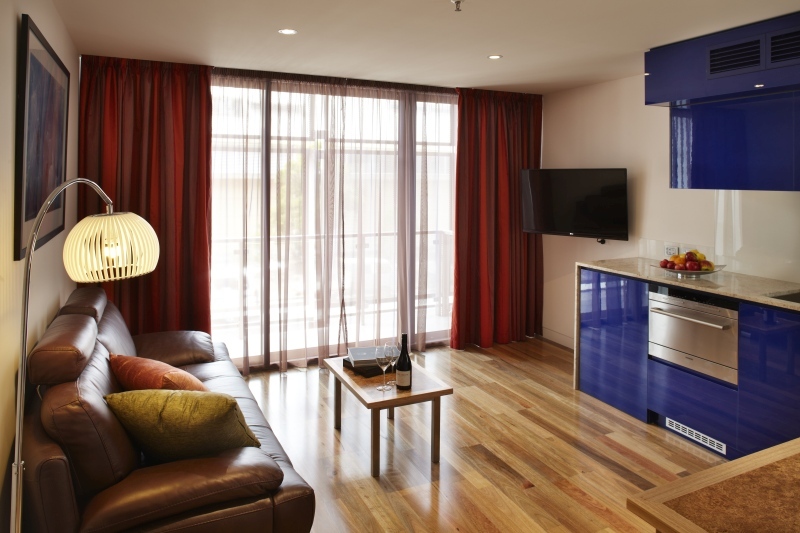 "These hotel apartments are perfect for individuals and couples seeking extra space, quality and personality to make their leisurely escape or business trip, a thoroughly enjoyable experience," concludes Pritchard. "They're the perfect place to drop anchor whilst exploring everything this superb precinct has to offer".