Our first surf lesson doesn't go well. Despite Surf Guide Jeremy taking us through the basics on the beach before we wade into the Solomon Islands sea, none of my four fellow surf sisters manage to ride a single wave. Oh, it's not that we don't give it our absolute best. I have the raw knees and damaged ego to prove it. But the Solomon Islands defeat us when it comes to surfing untouched breaks that surfers travel from all over the globe to ride.
Surfing sounds simple enough. But, like most water sports, surfing requires more than just a one-hour lesson to master the basics. Later, fellow passenger James who is a seasoned surfer from New Zealand, declares the morning's waves to be some of the best he's encountered anywhere in the world. It's a big call.
While we lack the skills to hang ten our enthusiastic coterie of women make up for it ten-fold with our unbridled  enthusiasm. Encouraging each other to succeed, four days prior we were strangers yet today we bond over our surfboards. Our group of women, a travel agent, yoga teacher, academic, another journalist and myself are some of the eleven expeditioners exploring the Solomon Islands' more remote islands north and west of Honiara with Solomon Islands Discovery Cruises.
Water skiing and SUP board adventures are substantially more successful than surfing. It's been so long since I last strapped a pair of water skis to my 50-plus year-old feet, the ski's feel more like planks than aerodynamic instruments of pleasure. It doesn't take long however for the exhilaration and adrenalin rush to kick in. After a couple of laps around our ship, taking a few ungainly tumbles along the way, I feel like I'm 20 years old again. Thanks to Vicki from Make Time to See the World for capturing my water skiing adventures.
Expedition cruising onboard MV Taka
Our home for seven days is MV Taka, a 30m long expedition ship with 12 cabins spread over an upper and lower deck. My fellow passengers have travelled from as far afield as Mauritius, New Zealand and Australia to cruise amongst the Florida and Russell Islands from the comfort of this small ship which is crewed by Solomon Islanders. It's an exciting new expedition adventure by Solomon Islands Discovery Cruises, travelling by small ship with locals at one with the sea and the perfect way to explore the Solomon Islands.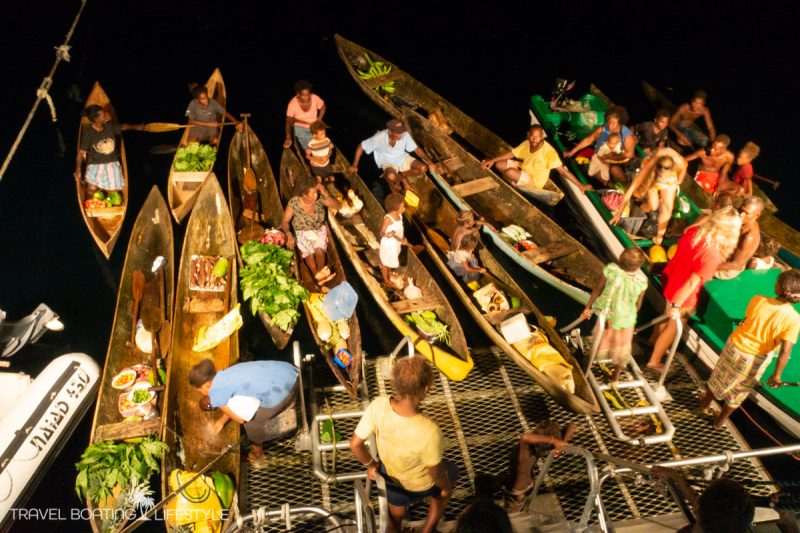 Actually, travelling by boat is pretty much the only way to get around the Sollies. Solomon Airlines fly from Brisbane to Honiara and Munda with domestic connections to around 20 outlying airstrips so that regional infrastructure is limited. Visited by as few as 20,000 travellers each year, the Sollies offer travellers an adventure into one of the world's last remaining wildernesses.

1,000 Solomon Islands to explore
The archipelago of almost 1,000 islands has always been popular with divers attracted by gin-clear water and a plethora of WW2 wrecks that, after 70-odd years, have developed habitats for an extraordinary array of marine creatures. But there is much more to the Solomons than dive sites and the MV Taka is our ticket to paradise as we explore the cultural and geographical treasures of this country.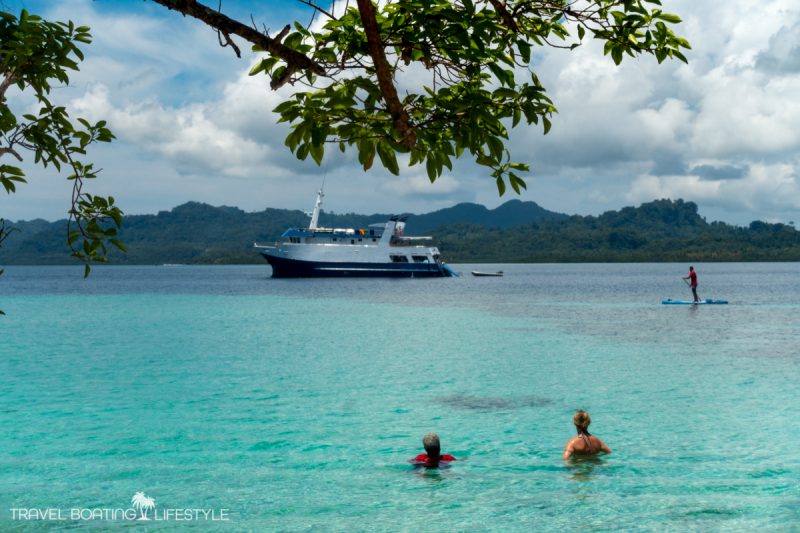 During 2017 five cruise ships visited Roderick Bay, which is home to one of the most unusual attractions. A cruise ship well past her glory days whose maritime adventures came to an abrupt end, the 87m World Discoverer's cruising days terminated at Roderick Bay after striking a reef and running aground. Her formerly gleaming topsides now sprout trees emerging from glassless portholes. With her hull lying on her starboard side 20m from the beach, village children have rigged a flying fox and rope swings between the sky deck and trees on the foreshore, creating their own unique adventure playground.

Each day begins with a Yoga session on the Sky Deck
As our seven night Discovery Cruise through the Solomon Islands unfolds, it quickly becomes evident that the extraordinary becomes ordinary. Each day's adventures begin at dawn in serene surroundings with a yoga session on the top deck led by Instructor Katie. On one unforgettable morning luminescent plankton hangs in a silken sea the colour of emeralds. Stars cast one final twinkle upon the ocean before disappearing into the soft pink of a marshmallow-hued sky. Birdsong erupts from the forest clinging to the cliff at our stern as we begin the first round of sun salutations.
"Focus your attention on this beautiful view, take a deep breath and hold," Katie instructs as I settle into Tadasana pose, close my eyes and allow the serenity to wash over me. Feeling the gentle hum of the ship beneath my feet, I want this moment to last forever. The peace and tranquility is absolute.
It's an ideal way to begin each fun-filled day which sees us steaming to a different island, bay or cove each day. Some have villages lining the beach, others are tiny enough to walk around in ten minutes and are uninhabited.

Tourism is an emerging industry in the Solomon Islands
Tourism is a burgeoning industry in the Sollies and this cruise takes us into villages which have hosted few western visitors. We explore villages on Karomulun and Marulaon Islands and are privileged to witness Marulaon Villager's inaugural public dance performance as they open their arms to visitors for the first time. Ever-inventive, musicians have fashioned instruments from bamboo into pan pipes. Plastic pipes cut to different lengths are struck with rubber thongs to create foot-tapping rhythms. A plastic drum and improvised didgeridoo provide bass notes. It is grass roots culture at its most entertaining as villagers watch from the shadows, erupting into belly-bursting laughter as our group are invited up to dance.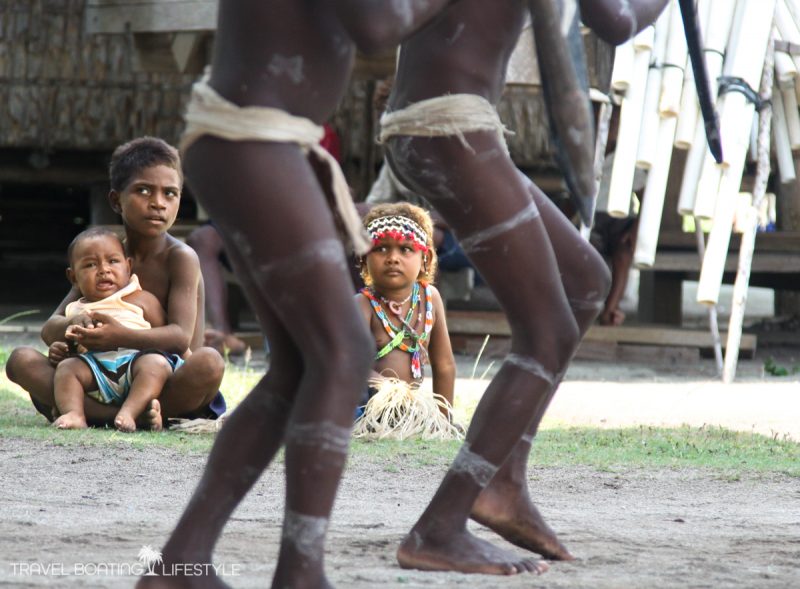 It's this raw opportunity to interact with locals that is one of the absolute highlights of our island adventures. The brainchild of Belinda Bootha who fell in love with the Sollies during her first visit in 2013, Solomon Island Discovery Cruises was developed on an ethos of sustainable tourism by empowering locals to develop their skills and create employment opportunities. She hopes to eventually employ the country's first female captain on MV Taka.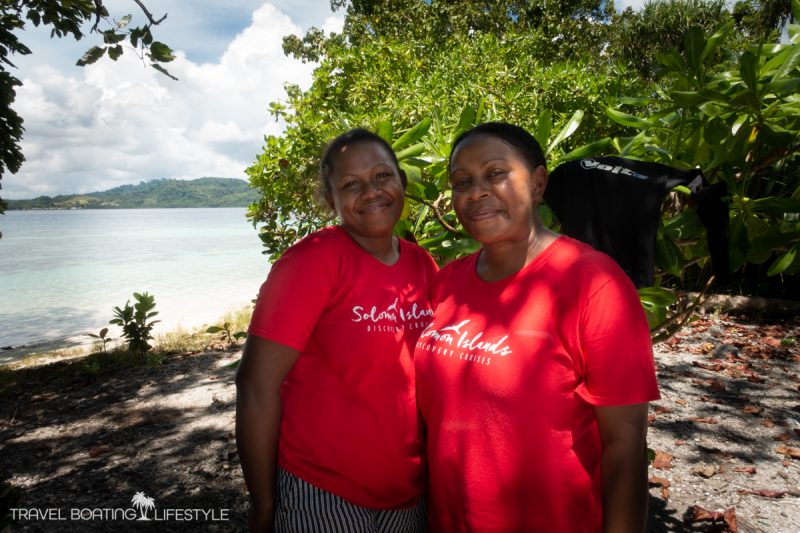 The crew onboard are simply brilliant. Meals are mostly enjoyed socially and communally on long tables in the Saloon, the indoor hub of the ship. At other times we take advantage of the superb weather and venture ashore for BBQ on the beach. Our final night is accompanied by a massive beach bonfire silhouetted against a scarlet sunset as the crew dress in traditional garb and entertain us with song and dance.
Long after the fire has died down, we return to the ship sated and weary, our sun and salt-kissed skin tingling with an irresistible glow.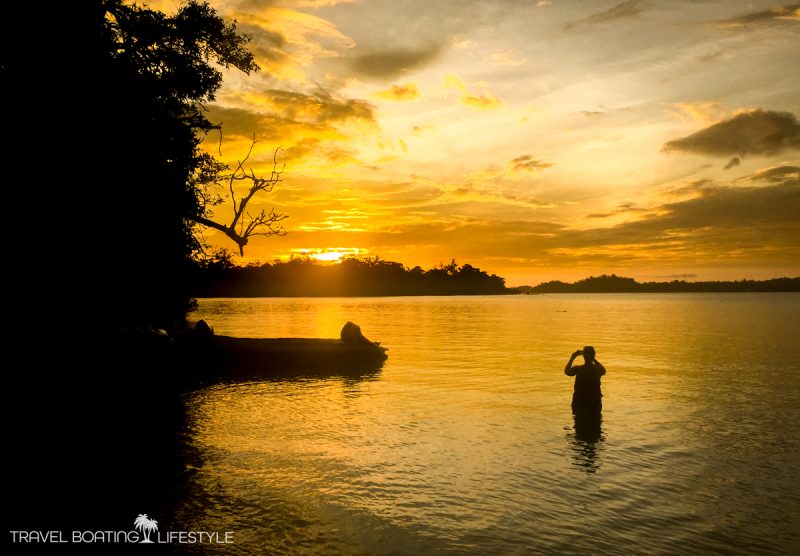 Fiona Harper travelled as a guest of Solomon Islands Tourism and Solomon Islands Discovery Cruises