Orlando | Florida
Florida stands for Fun with a capital F
Florida is undisputedly USA's Fun Capital. Whether your idea of a god time is ziplining over alligators, rollicking through theme parks.
Orlando is the only place in the world where you can have a private meeting with the legendary Mickey Mouse (he' a REALLY big deal in these parts), zip across alligator-infested everglades in an airboat, cast a Harry Potter-worthy spell in Diagon Alley, dine with rock music legends at Hard Rock Cafe and enjoy spectacular fireworks after dinner – all in one day. But that's not all. Orlando is known for its theme parks but the whole city itself is like one big party on steroids. If you can't find something to tickle your fancy in Orlando, you probably don't have a pulse. Here's seven uniquely Orlando adventures to float your holiday boat
1. Fireworks shows happen every day of the year
Orlando does fireworks like Melbourne does coffee, Venice does gondolas, like London does Wimbledon. Making time to view the nightly fireworks spectacle is mandatory after-dark entertainment when in Orlando. From the "Disney Enchantment" show at Walt Disney World's Magic Kingdom and "Harmonious" at Epcot, to Universal Orlando's nightly "Cinematic Celebration," fireworks shows happen at various locations city-wide. Then there are additional seasonal displays to add to the enchantment. Expect fireworks displays to ramp up a notch on the Fourth of July, New Year's Eve and during Halloween – whenever there's a significant date on the calendar, expect the fireworks gods to deliver big time.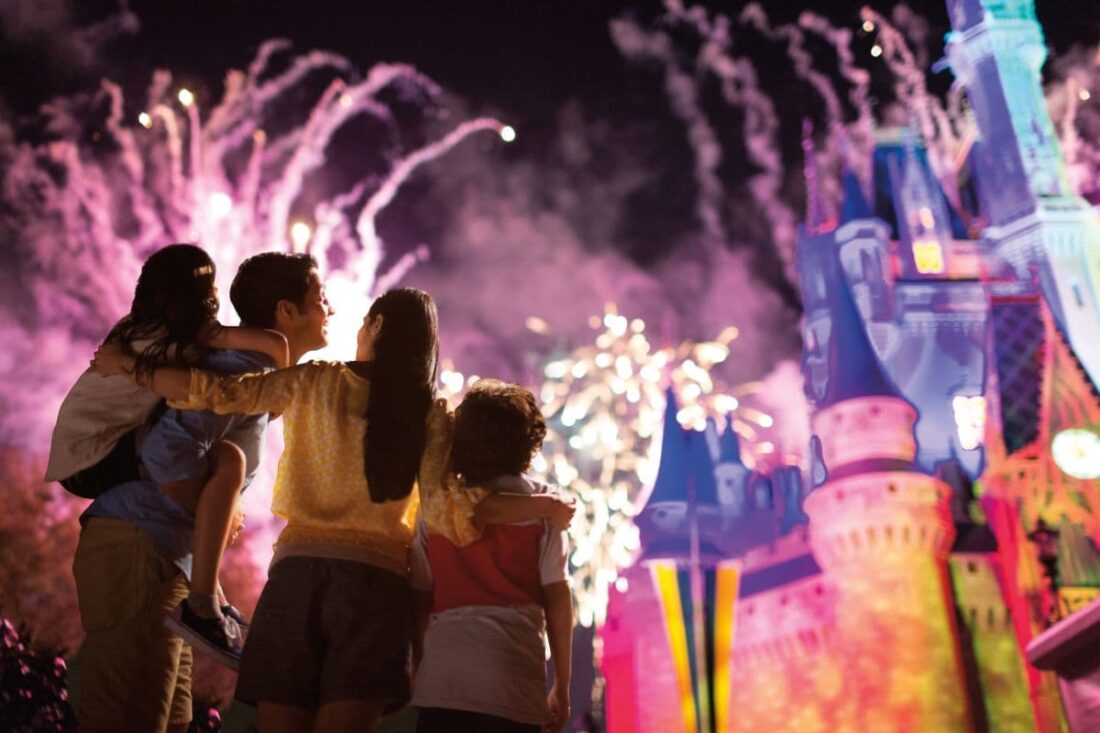 2. Spoiler alert: it's all about Mickey
Unless you've been living under a rock for much of the past five decades you've probably heard of the loveable big-eared rodent called Mickey Mouse.
Eternally youthful with his unlined face and a grin that lights up a room, the world's most popular rodent, Mickey Mouse has been around for almost 100 years. His spiritual home is Disney World and its Magic Kingdom, which celebrates 50 years young this year. Disney World is an enchanting destination dedicated to fun where a Cinderella Castle illuminates its surrounds with a dazzling glow sparkling like fairy dust. Spectacular fireworks shows each evening add to the magical atmosphere. Book a photo session with Mickey or any of the popular Disney characters to take home a cherished memento.
3. Rockets are not just for astronauts
Nowhere else in the world can pay your entrance fee and rock up to watch a real live space rocket being launched. You can in Orlando. Head down to Kennedy Space Centre at Cape Canaveral to get the low down on USA's space history and to watch a launch up close and personal if you time your visit right. Or alternatively, watch a rocket being launched from Kennedy Space Centre from a unique vantage point across the city. Wheel at ICON Park or Exploria Stadium in Orlando are excellent places from which to view a live rocket launch spectacle.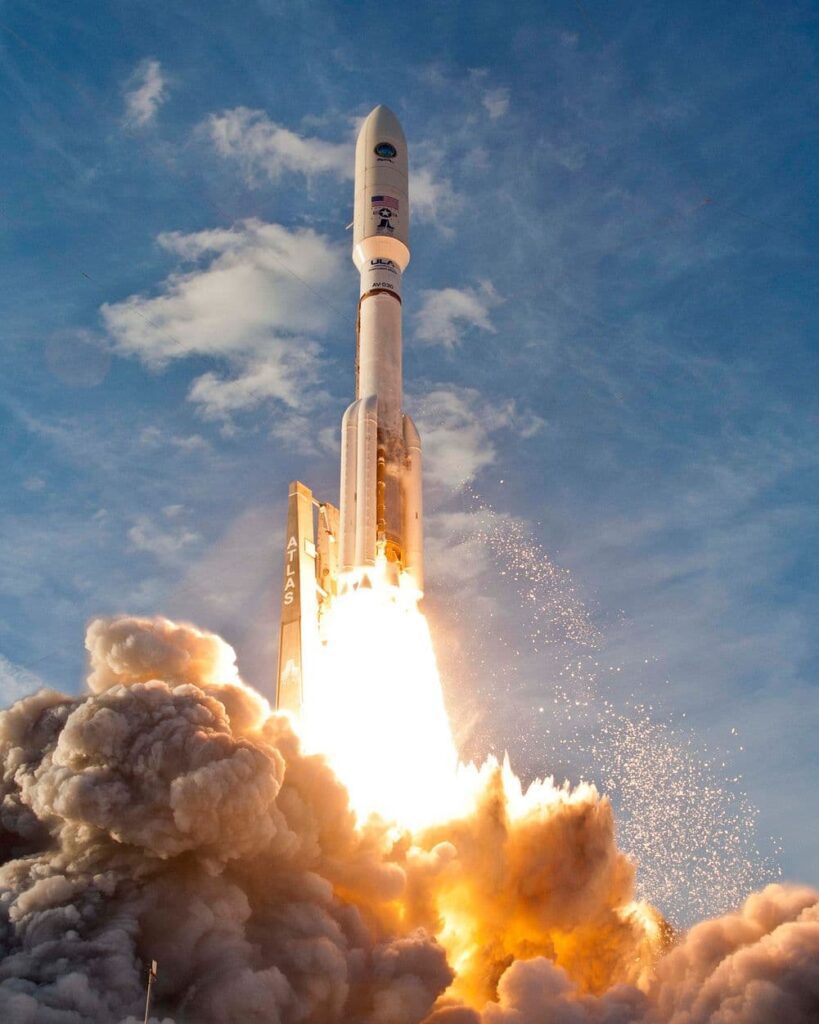 4. EPCOT: where a utopian community became a fun park for all
EPCOT is an acronym for Experimental Prototype Community of Tomorrow. If you're thinking that's an odd name for fun-filled theme park you'd be right. The original concept conceived by Walt Disney himself was to create a utopian community devoid of crime, unemployment and pesky vehicles which produced pollution.
The experimental community quickly evolved in a theme celebrating people and cultures from across the globe and explores the magical wonders of science and technology. Theme park rides include classic favourites themed on Frozen or the hilarious Remy's Ratatouille Adventure or the breathtaking exhilaration of Guardians of the Galaxy rollercoaster. A Beauty and the Beast ride takes you into the mysterious world of storyteller Angela Lansbury while a virtual hang gliding adventure takes travellers on an exhilarating airborne global soiree. Nemo and his maritime pals feature on a jaunty underwater experience without all the peskiness of getting wet.
5. "Congratulations, you are being rescued" at Disney's Hollywood Studios
In a galaxy far way at Disney's Hollywood Studios, you'll find an array of Star Wars Experiences (if you can ignore the presence of the Orlando city skyline as a spoiler) where you'll go down a rabbit hole of outer other-world adventures of the galactic kind. Star Wars: Galaxy's Edge where you'll be immersed deep into legendary Star Wars stories on an interactive adventure. Even if you're not a Star Wars fan (confession time: I'm not and have no clue about who the characters are).
But Disney's Hollywood Studios is not just about outer-galactic thrills. There are a host of thrilling and family-friendly rides, attractions, restaurants, cafes and parklands. If you can't find something to suit your fancy at Hollywood Studios you're probably not trying hard enough.
In the words of K-2SO in Rogue One: a Star Wars Story, 'congratulations, you are being rescued." Enjoy the ride!
6. Fly on a zipline with 'gators
Ziplining is probably not the first thing you think of when you think of alligators (if you give them any thought at all). But after visiting Screamin' Gator Zipline at Gatorland and you won't be able to think of anything else whenever a gator pops up in your social media feed or on TV. Gatorland is the unofficial alligator capital of the world with thousands of alligators, crocodiles and many other reptiles in the park. If you've seen Indiana Jones and the Temple of Doom (is there anyone on the planet who hasn't??), you'll possibly recognise some of four-legged A-list reptilian stars ziplining above the gators offers a unique perspective to see these prehistoric creatures.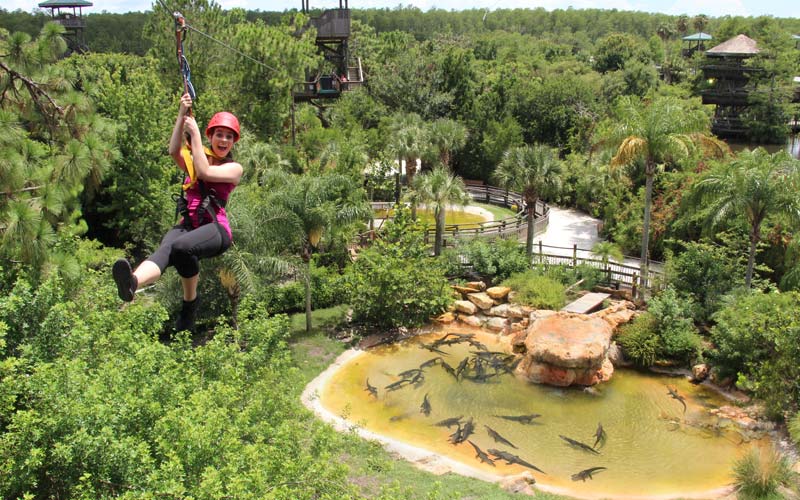 With glitzy, gaudy and garish theme parks hogging the spotlight in Orlando, you could be forgiven for thinking the city has no classic arts culture. Think again. The Charles Hosmer Morse Museum of American Art is noted for its fine collection of art nouveau, including a significant collection of works by stained glass artist Louis Comfort Tiffany. Amongst many outstanding exhibits is a restored Byzantine-Romanesque chapel interior complete with exquisite leaded glass which Tiffany designed for the 1893 World's Columbian Expo in Chicago.
The Downtown Orland precinct is the hub of the city's arts precinct with the Dr Phillips Center for the Performing Arts the venue for some of Florida's most exceptional performances.