Virginia | USA
Hotel Review: Hotel Roanoke
Hotel Roanoke is a grand historic hotel of centuries-old elegance where celebrities, United States of America Presidents & Miss Virginia pageant queens stay when in Virginia. Long the destination of choice for holiday makers seeking the coolness of the Blue Ridge Mountains during Virginia's summers Hotel Roanoke exudes elegance across its historic panelled lobby.
LOCATION - Where you'll stay
The Hotel Roanoke has occupied prime position in the city of Roanoke Virginia for almost 150 years. Known affectionately as 'the grand old lady on the hill', the elegant hotel is exquisitely preserved, with its stories of hosting distinguished guests and dignitaries almost as interesting as the hotel itself. The first Hotel Roanoke opened its doors in 1882 beside the railway line when the city then known as Big Lick and was the headquarters for Norfolk & Western Railway.
The hotel quickly became popular with travellers, with businessmen and out-of-towners flocking to the grand hotel to enjoy vacations in the cool mountainous climate. Deep, shady verandahs draped with flowering wisteria vines protected guests from summer sunshine. Since the 1950s the hotel has hosted the annual Miss Virginia pageant along with United States Presidents amongst many celebrated guests.
The city was an important junction for the rail line (indeed, it still is), in the foothills of the Blue Ridge Mountains and the Appalachian Mountains whose spine runs the length of North America. The famed 3,540km/2,200 Appalachian Trail for hikers passes north of Roanoke while the Blue Ridge Mountains are dotted with walking, running, mountain biking and horse riding trails. The Blue Ridge Parkway is a scenic drive which passes through Roanoke between Afton Virginia and into North Carolina where it ends at Cherokee in the Great Smoky Mountains National Park.
ACCOMMODATION - Where you'll sleep
The luxurious Hotel Roanoke has over 300 recently renovated rooms and elegant suites to choose from. Lead-in room categories start with a Queen/King/Twin room which have a work desk, complimentary wi-fi, side tables and wardrobes along with a large oversized sitting chair with an ottoman. Corner rooms are slightly larger.
My room was a King Room on the second floor which had a leafy outlook over the garden with the Mill Mountain Star atop Mill Mountain visible in the distance. A marble bathroom with step-in shower and large vanity, antique wardrobe and plush upholstered chair with ottoman along with a large work desk made it a very comfortable home-away-from-home for six nights.
Executive Floor rooms are similarly furnished and come with the added inclusion of access to the private lounge and added amenities such as robes and slippers.
Junior Suites have a separate living room with sofa bed, which connects to a bedroom. Larger Parlor Suites and Premium Suites have full sized living rooms with dining areas making them idea for entertaining small groups. If you're full cashed up and ready to spoil yourself, book the two-bedroom Penthouse Governor Suite with its own fireplace, dining room and kitchen along with a rooftop terrace.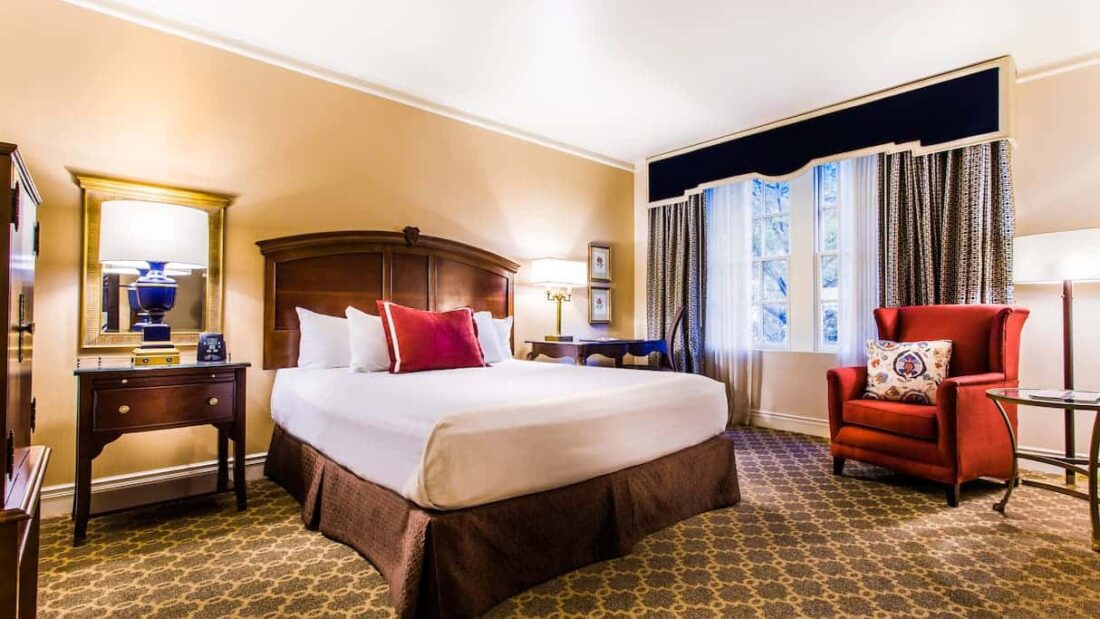 ACTIVITIES: What you can do at Hotel Roanoke
The gardens of the Hotel Roanoke are extensive and meticulously manicured. Walk through the gardens to get to the outdoor swimming pool and heated hot tub. Work out in the adjacent gym or check into the Spa for a treatment. Body scrubs, facials and massages are a specialty in the Spa which utilises organic, nutrient-rich seaweed based OAEA products.
A complimentary shuttle service is available to take guests to any place they would like to go within the city centre, as well as to and from the airport. Though the hotel has easy access to downtown Roanoke via the elevated walkway across the rail lines, the shuttle service is particularly valuable after an exhausting day walking around the galleries, museums and parks of Roanoke.
Museums and galleries within walking (or shuttle) distance that are well worth checking out include Virginia's Museum of Transportation, O Winston Link Museum, Roanoke Pinball Museum, Taubman Museum of Art, History Museum of Western Virginia and Marrison Museum of African American Culture.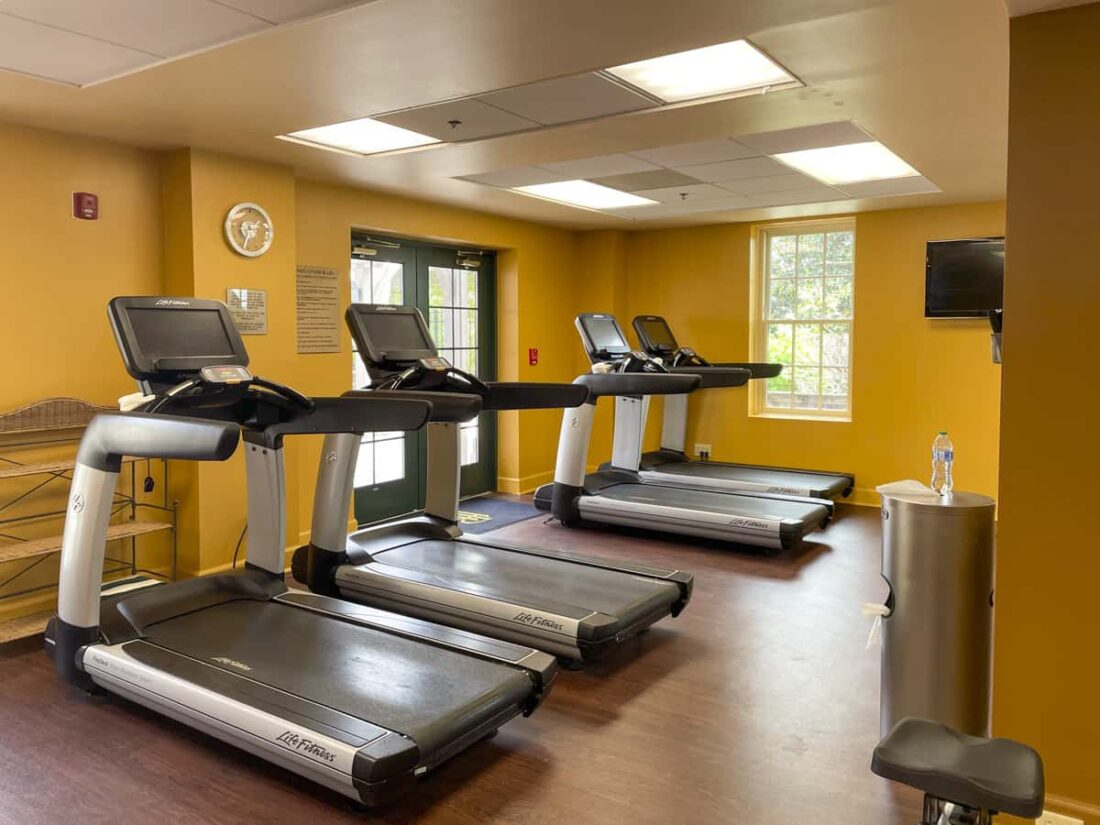 RESTAURANTS & BARS: Where to eat & drink at Hotel Roanoke
The Regency Room is Hotel Roanoke's signature restaurant with its glamorous setting and antique furnishings softened by potted palms. Southern USA's staple grits are given an upmarket twist served with shrimp, old bay butter and creamy cheese. The Regency Room is open for breakfast and dinner with dining on the veranda a popular option during summer.
The 1882 Pine Room is a bistro style restaurant adjacent to the stylish 1882 circular bar with its galaxy-painted ceiling and subtle lighting. Burgers and hearth-fired pizzas are popular accompanied by a ever-changing cocktail menu with an astounding selection of drinks. Channelling local hero railroad photographer O Winston Link is the Hotshot Eastbound cocktail with vodka tinted with hibiscus, or try the Stone Mountain Mule, inspired by the fullness and vibrancy of summer.
EXPLORE: What's in the local area
The Blue Ridge Mountains are a popular drawcard for hikers, mountain bikers and day trippers wanting to picnic lakeside amongst nature.
Roanoke Mountain Adventures has outdoor gear for hire or purchase, including mountain, electric and road bikes, camping equipment and clothing. Roanoke is a bike-friendly city with plenty of trails through parklands, alongside streams and all the way to Mill Mountain with its famous Star overlooking the city. 
America's premier Women's professional cycling Team TWENTY24 are based in Roanoke, training year-round to add to their already bulging trophy cabinet.
My visit in May was timed to coincide with a trail marathon called Conquer the Cove run by local adventure outfit Mountain Junkies. Along with the 42km/26m marathon, there's also a 25km run, which is the most popular distance through stunning forest trails around Carvins Cove. 
Visit Black Dog Salvage for one of the most extraordinary recycling store you are likely to see. Selling an eclectic collection of upcycled, recycled and unrestored items of all descriptions, from books, homewares, household building materials, art and gifts, it's a collectors dream store.
Approximately one hour out of Roanoke is Eupepsia Wellness Resort, an award-winning health retreat of 256 acres in an idyllic country setting surrounded by rolling hills and lush farmlands. The retreat is based on Ayurveda science and is an excellent add-on to a stay at Hotel Roanoke with its therapies centred around fresh farm-to-table cuisine, massage, yoga and relaxation therapies.
Fiona Harper travelled as a guest of Visit Virginia and Hotel Roanoke.