Let's face it, running a marathon is hard, no matter how pretty the scenery is.
Some of the world's most beautiful cities are recognisable by their bridges.  The scarlet struts of the Golden Gate Bridge are synonymous with San Francisco. Venice's Rialto Bridge rivals Paris' Pont Alexandre III. Though I think Melbourne gives both of them a run for their money with stunners like ancient Princes and funky Webb as well as the unmistakable statement of the Bolte Bridge (here I am, over here!).  Sydney is universally recognised by its Coat Hanger, as is London with its Tower Bridge.
Running across the Auckland Harbour Bridge
Pedestrians are often given the short end of the stick though as most are designed primarily for vehicular traffic. The well-travelled folk at Lonely Planet rate Auckland Harbour as the country's top visitor attraction so it's a pity that pedestrians are banned from its Harbour Bridge for 364 days of the year.
Oh sure, you can jump off it with a bungy cord strapped to your ankles if you're game. I'm not. But don't try and walk (or heaven forbid, jog) between the north shore and the CBD. No, if you've a desire to tramp (as the Kiwi's say when they mean hike) across the 1,000 metre span of asphalt you'll need to run a marathon, or at the very least a half marathon. The only day the bridge is open to foot traffic is during the annual Auckland Marathon starting from pretty Devonport waterfront on the north shore.
Which is how I found myself at the crest of the southbound 'clip on' lane 16 km into a 42.2 km run looking down upon the City of Sails that I'd called home 18 years ago. I'd fallen hopelessly in love with an Aucklander whilst sailing in Darwin and joined him in New Zealand rather impulsively when he later returned home. No matter that I was recently married, nor that I had a home, a much loved dog, friends, family and my own yacht back in Australia. All-consuming, heart stopping, breathless love knocked me off my feet and I was powerless to do anything beyond follow my heart.
Running a marathon: 26km to go.
Both passionate sailors, we raced and cruised the Waitemata Harbour below me, fuelled by a yearning to sail together wherever the prevailing winds took us. At the risk of offending Sydneysiders who lay claim to the finest harbour in the world I beg to differ: Auckland is a serious contender. Particularly when explored by sea, but as I now appreciate, equally spectacular from the perspective of a marathoner.
Sitting centre stage in the Huaraki Gulf, Waiheke Island peers out from behind the perfect volcanic cone of Rangitoto Island – a landmark readily identifiable with Auckland.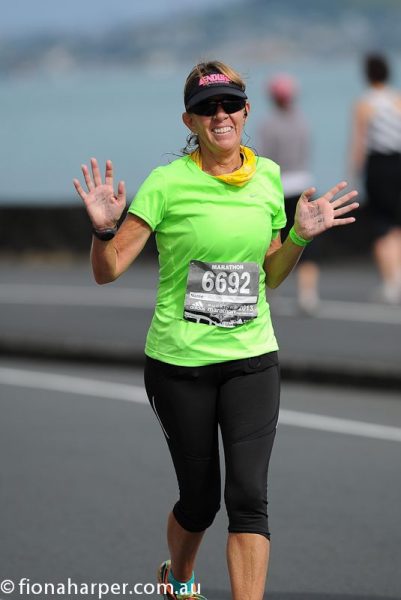 Barrelling down the bridge's off ramp (blessed downhill relief!) it's hard to miss the largest marina in the southern hemisphere, home to countless booze-fuelled yachty parties when Westhaven Marina was my stomping ground. Sailors and rum go together like wine and cheese but the only drinks I'm thinking of as I run past familiar sail lofts and chandlery stores is where the next Powerade-fuelled station is located. Roadside, muscled young men in traditional dress stomping out the Haka with all it's tongue poking & wide eyed drama make me smile, reminding me of the city's strong Maori heritage.
Viaduct Basin has changed much since I was here last, thanks mostly to the Kiwi's bringing home the America's Cup in 1995 then again in 2000, much as it did for Fremantle back in 1983. The downtrodden old port has been transformed into a funky precinct bursting with waterside restaurants, cafes and apartments along with my hotel of choice, the Sofitel Viaduct Harbour which is conveniently located at the 21 km mark. It's tough to run past it knowing that a king sized bed, bathtub and delectable room service could so easily be mine again should I veer a mere five metres from my route. It's even tougher the second time I scoot past, fired with adrenalin with the finish line in sight with almost 42 km behind me.
Leaving the CBD behind, my 3,000 fellow marathoners and I continue our waterfront slog along Tamaki Drive, the glorious harbour dotted with yachts on our left, Hobson Bay marina on our right. Boats bobbing on moorings tantalise me with memories of sailing, gin and tonic in hand, bound for a deserted anchorage somewhere in the Gulf. We pass through bayside suburbs of Mission Bay, then finally trendy St Helliers. The waterfront café strip shaded beneath far reaching limbs of Pohutukawa trees is our our turnaround point before returning to the CBD and the finish line.
Running a marathon: 10 km to go
Seeing families lingering outside Kelly Tarlton's Sealife Aquarium I'm seriously tempted to pull up a cramp-relieving chair and smash an ice-cream or five. I'm seriously questioning my sanity and physical limitations the second time I run past it. Or more likely shuffle,  as agonising calf cramps test my pain threshold. It's starting to get ugly.
Running a marathon: six km to go
A cacophony of Taiko drummers whip their bodies into a well-timed frenzy as we enter the CBD. Quay Street, where I boarded a ferry to Devonport hours ago pre-dawn is now throbbing with travellers embarking for destinations unknown. Inhaling the delicious aroma of frying onions from a street side cart I almost swoon with hunger. I'm ravenous. I'm also completely sick of sucking on sickly sweet energy-infused gels that have kept me going for a little over four hours.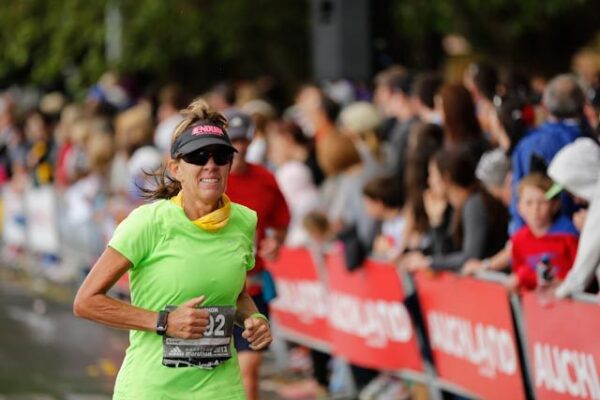 Running a marathon: two km to go
At the bottom of Queen St last night's party goers mingle with supporters lining the streets. The last time I was in Auckland I was one of them, rolling out of bars pre-dawn tottering on heels, reeking of smoke and alcohol. How things change.
Passing the Sofitel again, there is less inclination this time to quit and retire ungracefully to my bed as I surge with the exhilaration of success. With the harbour bridge a distant memory and the finish line in sight I'm more inclined to call into Sabrage Bar for a celebratory champagne. Which is exactly what I do later as part of my unconventional recovery strategy. But not before I check into SoSpa for gentle ministrations from talented masseuse Rona and her soothing hot greenstones.
Completing and running a 42.2 km marathon is as much to do with what's going on in your head as your legs. Running non-stop for more than four hours provides ample thinking time. Wise multi-marathoners often say that a marathon doesn't start until the 32km mark. Sure the last ten km's require strong legs and a fit body but an even stronger determination is required to clutch that coveted finisher's medal.
Unexpectedly I burst into tears after crossing the finish line of the Auckland Marathon. I'm so relieved to have achieved my goal, despite being well outside my 'dream time'. But perhaps too the emotions of running through a city in which I had invested so much passion has also played its part.