PORT LINCOLN | SOUTH AUSTRALIA
HOW TO SWIM WITH TUNA & NOT END UP ON THE MENU
Fiona Harper takes her life in her hands swimming with Giant Tuna being primed for the Japanese sashimi market.
Giant Tuna are harvested in the Southern Ocean near South Australia's Port Lincoln, with most destined for Japanese dinner tables. But before they're bound for the dinner table swimmers can get up close and personal with these hungry predators of the deep sea.
The sea erupts into a feeding frenzy & I'm in the thick of it
 Slipping into the deep green ocean a few miles offshore  from Port Lincoln in the Southern Ocean I'm enclosed by a circular net approximately 40 metres in diameter. Giant tuna are nowhere to be seen. In fact, the ocean seems devoid of any marine critters. I'm the only swimmer in the net and seem to have the entire 'pool' to myself. 
So far, so good.
Gently buffeted by ocean swell, I'm grateful for the protection the net provides as these waters are known to house some of the most ferocious creatures in the sea. Great White Sharks live here, making me just a little nervous, though I know I'm safe within net which forms the tuna enclosure.
Soon however my attention is drawn to the sea below which has suddenly erupted into a boiling frenzy of splashes, fins and tails. The water explodes into a feeding frenzy and I'm in the thick of it. I feel like I'm in a horror flick as those terrifying scenes from Jaws flash through my head.
I tell myself to stay calm. Then, I take a deep breath, fill my lungs and my snorkel with great gulps of  air and I duck my head underwater to see what the heck is going on. The giant tuna have arrived and I literally squeal with  excitement in my snorkel.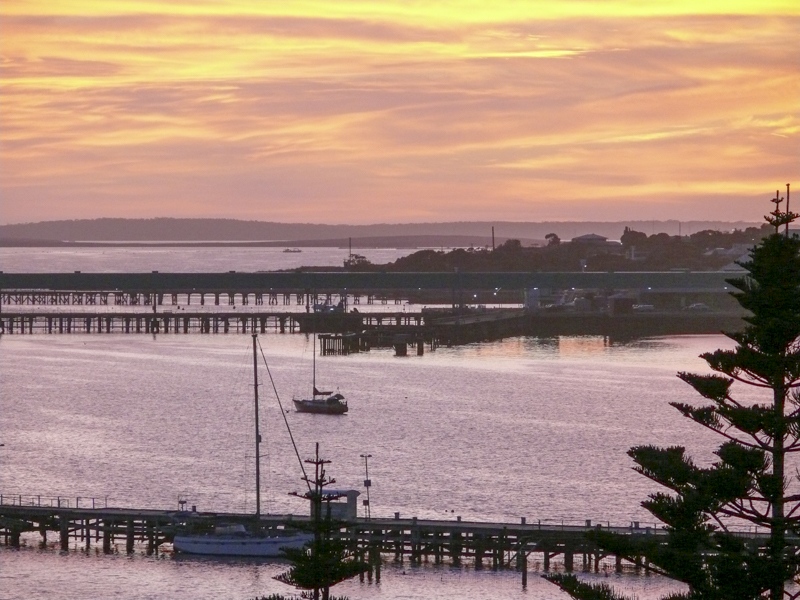 Swimming with giant tuna is not for the squeemish
I confess I was less than thrilled when I saw 'tuna swimming' on my itinerary while visiting South Australia. Sure, I've swum with dolphins, turtles, sea lions, even sharks. But tuna? My first (nonsensical) thought was 'how do they get the cans to float?'
My ignorance was quickly dispelled within minutes of stepping onboard Adventure Lady, a 14m purpose built vessel, at Port Lincoln Marina. Captain Matt Waller loudly declared that he 'loves eating tuna, catching tuna and talking about tuna,' leaving no doubt about his passion for these fish before launching into a fascinating introduction into the tuna fishing industry. It's a lucrative industry that sees the Port Lincoln community home to the highest population per capita of millionaires in Australia.
Beneath the surface is literally a sea of tightly packed fish darting swiftly and seemingly effortlessly just beyond my mask. Knowing that the Southern Bluefin Tuna never stop swimming, reaching speeds up to 70km per hour, it's somewhat unnerving to be in such close proximity to these enormous fish. Some of them are almost as large my own 55 kg frame. Momentarily I notice a dead pilchard lob from above, which lands in front of my mask. I have just enough time to register its presence before it disappears in a blur of razor sharp teeth amid deep blue flashes reflecting sunlight on a rotund, streamlined body. A Southern Bluefin Tuna, commonly caught weighing in at over 100kg and up to 2m in length, snatches the fish in its gob as it whizzes past, leaving behind a turbid stream of bubbles.
Save
Save
Save
How big are giant tuna? The clue is in the name
Having been pre-warned of the size and speed of the tuna, I'm still startled enough to inhale a mouthful of water as I gasp with surprise the first time it happens. Others in our group who have stayed on the floating pontoon above are dangling pilchards from their fists or lobbing them into the ocean around me. Being in the water is unsettling even though it's perfectly safe. It's fascinating being immersed in such a captive environment. Who knew that tuna could be so interesting? Or so large! 
Save
Save
Save
Thankfully I survive the encounter unscathed and with a newfound respect for these farmed fish that are actually quite beautiful. Port Lincoln fishermen steam more than 180 km offshore to catch Southern Bluefin Tuna, much of which is destined for the Japanese market. Live tuna are herded into floating nets and towed back to the waters surrounding Port Lincoln, a journey that can take up to five weeks. From there they are fattened up in farming nets just like the one I've emerged from, until they are ready to be harvested and exported.
You won't need to travel all the way to Japan though to savour southern Australia's delights. Award winning Del Giorno's Cafe Restaurant on the Port Lincoln waterfront, just down the road from the Port Lincoln Hotel, has a menu that seafood lovers will relish. Though there is a thriving fish cannery in town, expect the freshest produce harvested from the diverse Eyre Peninsula, including wines produced locally like a sassy Sauvignon Blanc or two.
Save
Save
Save