Where to see cassowaries at Mission Beach, Etty Bay and other cassowary habitats of north Queensland.
Cassowaries are one of Australia's most spectacular (sorry emu's you need to lift both your game and your colour palette), and one of only two of our flightless birds. Found in small pockets of Wet Tropics rainforest of north Queensland, the world's third largest bird is an endangered species. Us humans are their biggest threat.
It's hard to imagine that a bird that can weigh 60kg or more and stand taller than 2m could just disappear from the planet. With less than 4,000 cassowaries left alive, it's a very real possibility.
Read on and you'll find out where to see cassowaries around Cairns and north Queensland
A striking looking bird with a body cloaked in glossy black plumage,  adult cassowaries have a significant casque, or helmet, on their heads and drooping red wattles that dangle like a string of beads from vibrant purple and blue necks.
The jury is still out on the purpose of its casque, but as it continues to grow throughout a cassowary's life, it's a reasonable indicator of a bird's age. Research indicates it may also assist cassowaries in "hearing" the low vibrating sound made by other cassowaries. The casque is spongy inside a firm outer casing, so that it may also  act as a kind of shock-absorber that protects the bird's head when  pushing through the dense rainforest it inhabits.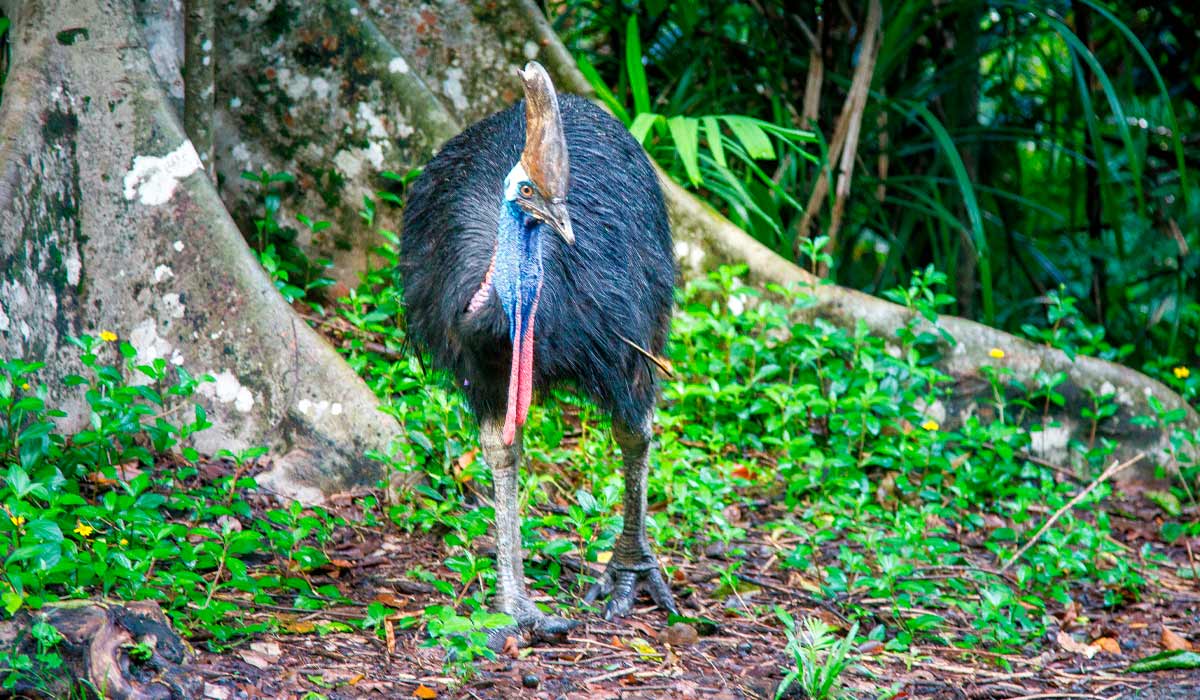 Cassowary habitats
The two main regions to sight cassowaries in the wild in north Queensland are around the Mission Beach area and the Daintree Rainforest at Cape Tribulation.
But cassowaries roam far and wide, foraging in forests to satisfy voracious appetites for fleshy fruits found in rainforest, melaleuca swamps and woodlands. Sometimes seen on beaches of tropical north Queensland, they mostly use these open areas to move between food sources.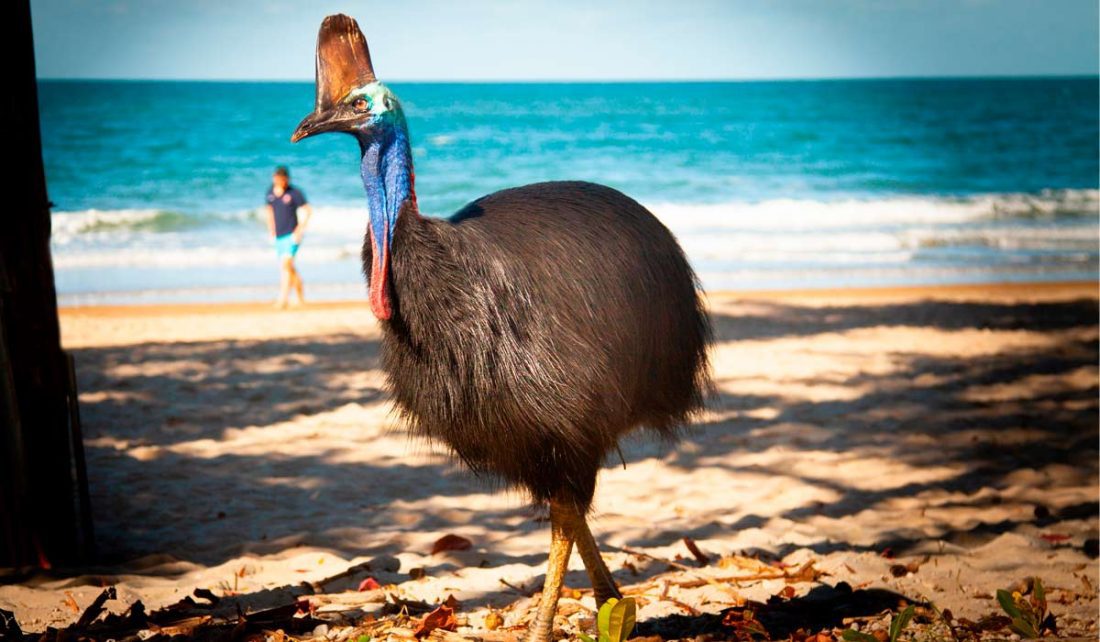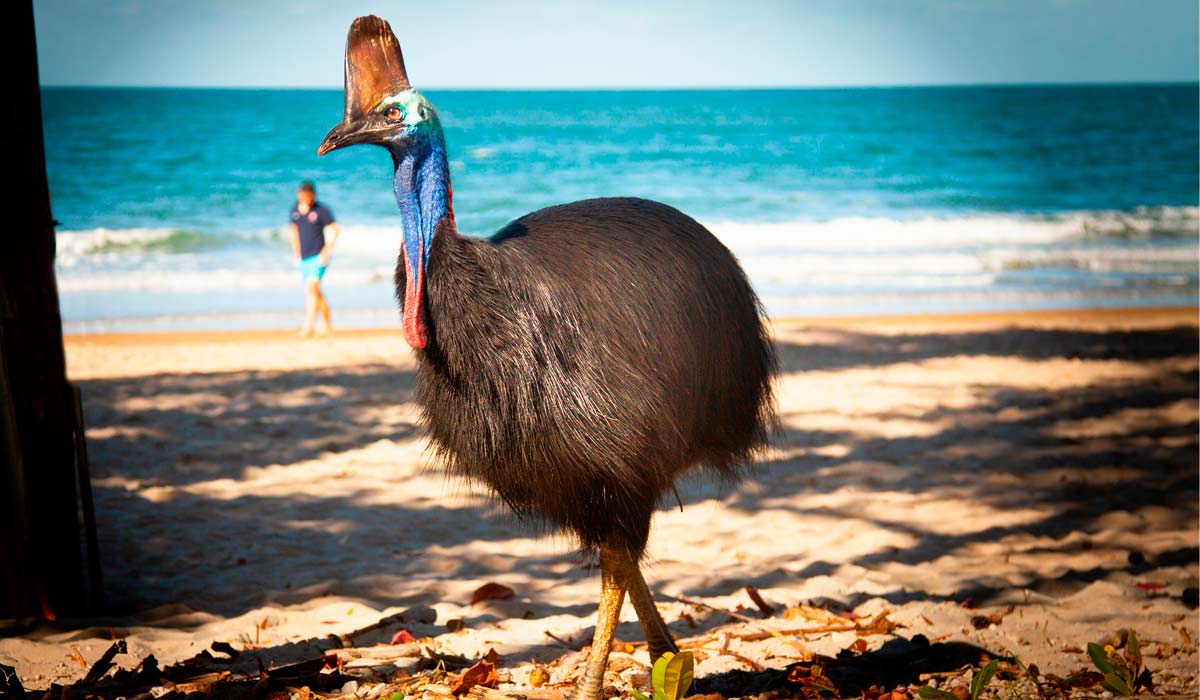 Known as rainforest 'gardeners', cassowaries swallow fruit whole, digesting the pulp and passing the seeds in large piles of dung, distributing them over large areas throughout the rainforest. Cleverly, they revegetate their habitat while also devouring it! 
Some rainforest seeds are reliant on the cassowary's digestive process to help germination. Cassowary scat is humongous and can hundreds, if not thousands of seeds. A ready-made fertiliser, the dung helps many kinds of seed to grow into the rainforest that makes the Wet Tropics unique.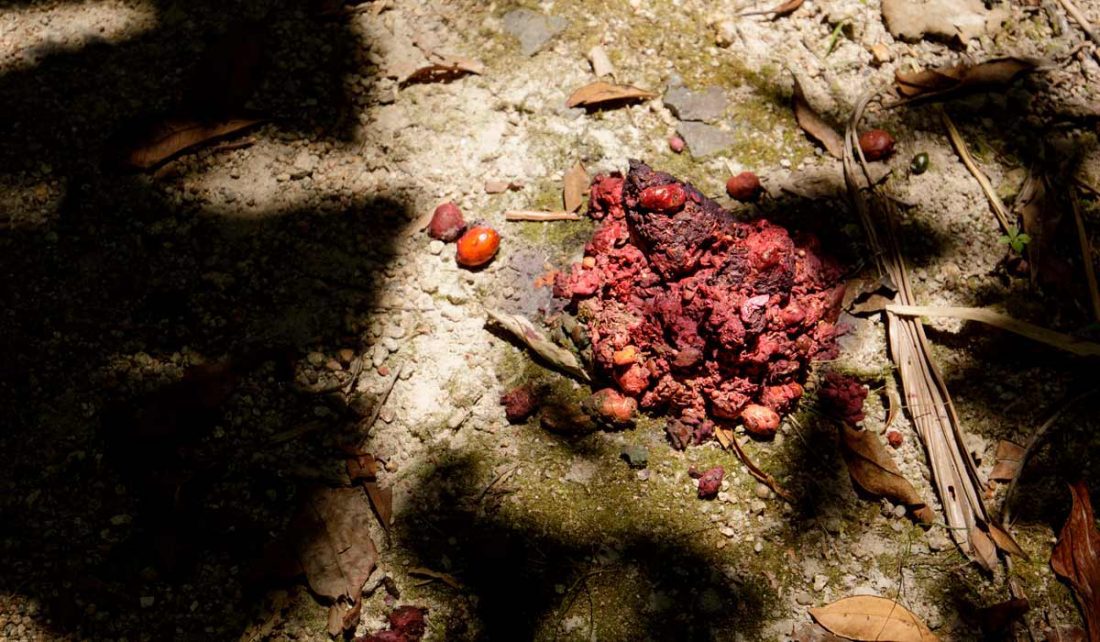 Where to see cassowaries at Mission Beach
Mission Beach has four small residential beachfront communities separated by conservation zones designated as wildlife corridors to allow cassowaries to move freely within native forest.
It's not uncommon for residents to see them pop up in their gardens or along the road verge. The waste transfer station is a common place to sight them, as is the nearby walking track that links Wongaling Beach and South Mission Beach. 
Other common spots for sightings are either side of the main road into Mission Beach, the grounds around Beachcomber Coconut Holiday Park at South Mission Beach, and the forest area around Licuala Rainforest Walk. Bingil Bay has a healthy population too – pop into Bingil Bay Cafe and the staff will likely know about the most recent sightings.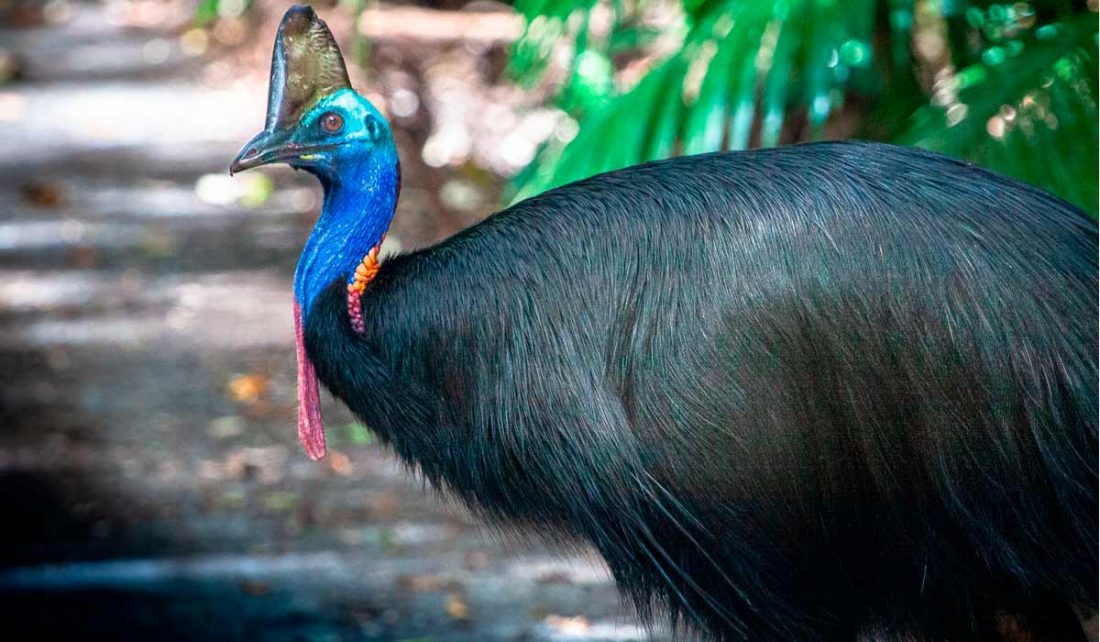 Threats to cassowaries
Vehicle strike and dog attacks are just some of the threats cassowaries face. Roads around the Mission Beach area have reduced speed limits to help prevent accidents as cassowaries are forced to cross roads when moving between forest areas. Sadly, not all drivers respect the vulnerability of the species and road accidents are too common.
Adults with chicks face particular threats as the young ones are oblivious to the dangers of speeding vehicles.  Local residents (mostly) take much pride in their flightless residents and there's a local movement to help preserve and protect this important species.
Mission Beach Cassowaries Facebook page acts as an unofficial record of sightings with locals regularly posting photos and videos of birds seen. 
At the time of writing, Cassowary Coast Council has approved a helicopter landing facility which will impact cassowaries inhabiting an adjoining wildlife corridor, contrary to community sentiment. The beauty of Mission Beach is its natural heritage, peaceful ambiance and relaxed village lifestyle. It's a short-sighted decision to approve an aviation business in the heart of the coastal village with its significant visual and noise pollution.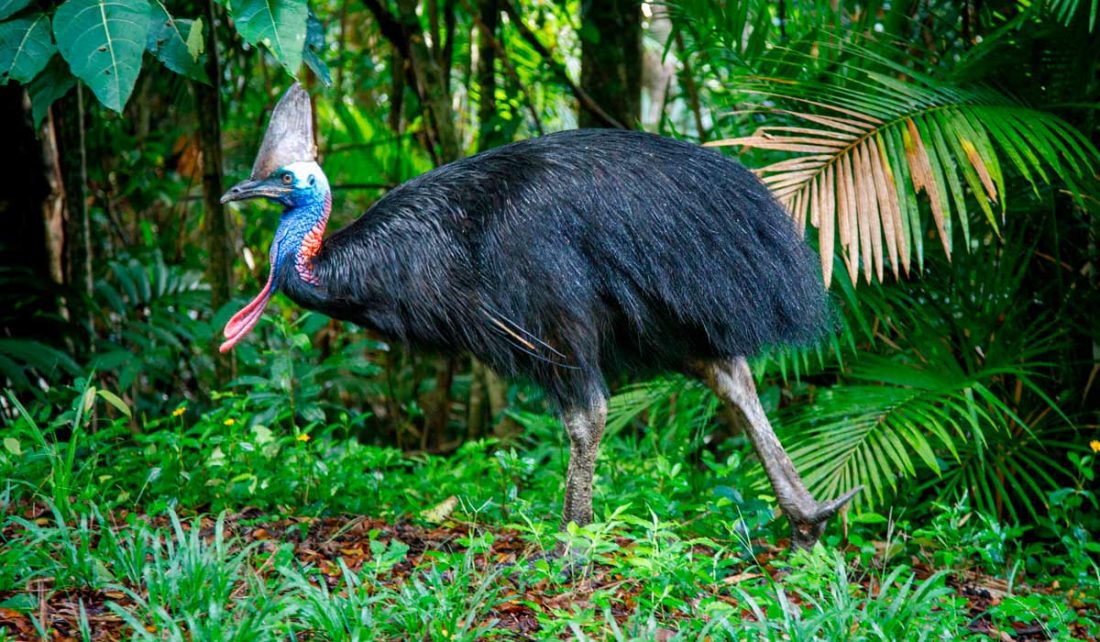 Where to see cassowaries at Etty Bay
There's a small population of cassowaries inhabiting the rainforest surrounding the small cove of Etty Bay, approx 30 mins north of Mission Beach.
Here, it's not uncommon to see cassowaries on the beach, poking around the beachfront caravan park or grazing on rainforest food on the roadside verge on the road into Etty Bay. Drive carefully on the winding section as you approach Etty Bay, as you may see cassowaries alongside this winding road.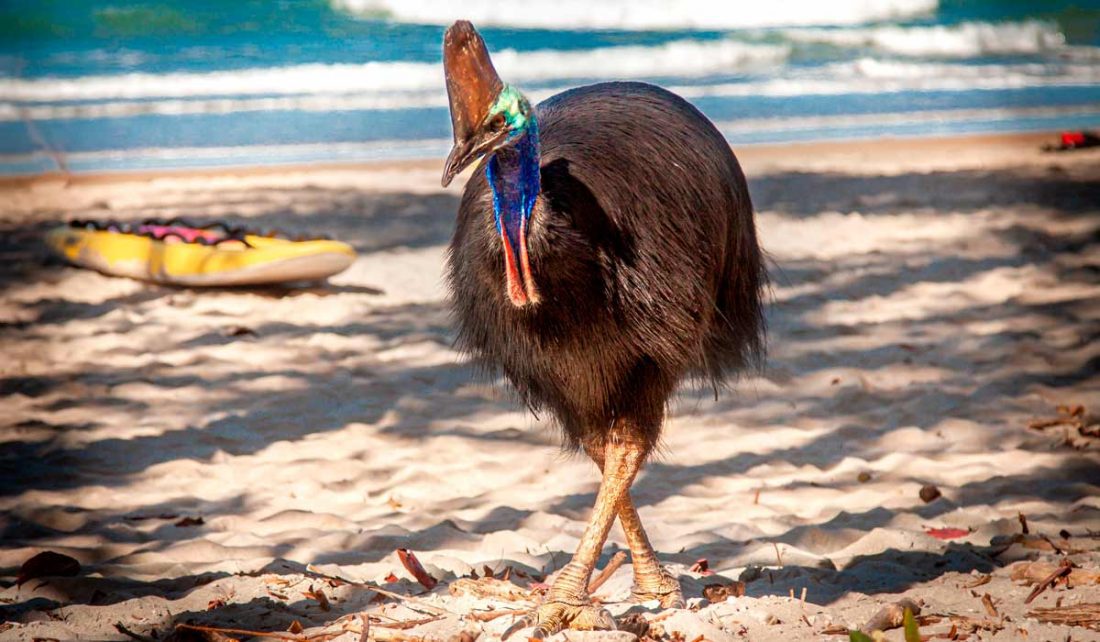 Where to see cassowaries at the Daintree and Cape Tribulation
Further north, beyond Cairns and Port Douglas, the Daintree Rainforest and the Cape Tribulation area is home to a population of cassowaries. With a reduced speed limit from the ferry crossing of the Daintree River all the way to Cape Trib, cassowaries are often spotted roadside.  
Drive slowly, wind down the windows and breathe in the pristine air filtered through one of the world's oldest living rainforests. 
Take one of the walking tracks along elevated boardwalks, such as the Madja Botanical Walk or Dubuji Boardwall to increase your chances of a cassowary sighting. Even if you don't see a cassowary, through interpretative signage you'll gain a terrific insight into the life cycle of Wet Tropics rainforest, mangrove wetlands and all its inhabitants, large and small.
Wild cassowaries often roam through the forest at the Daintree Discovery Centre, making the elevated boardwalks a prime viewing position, if you're lucky enough to be there when cassowaries are roaming.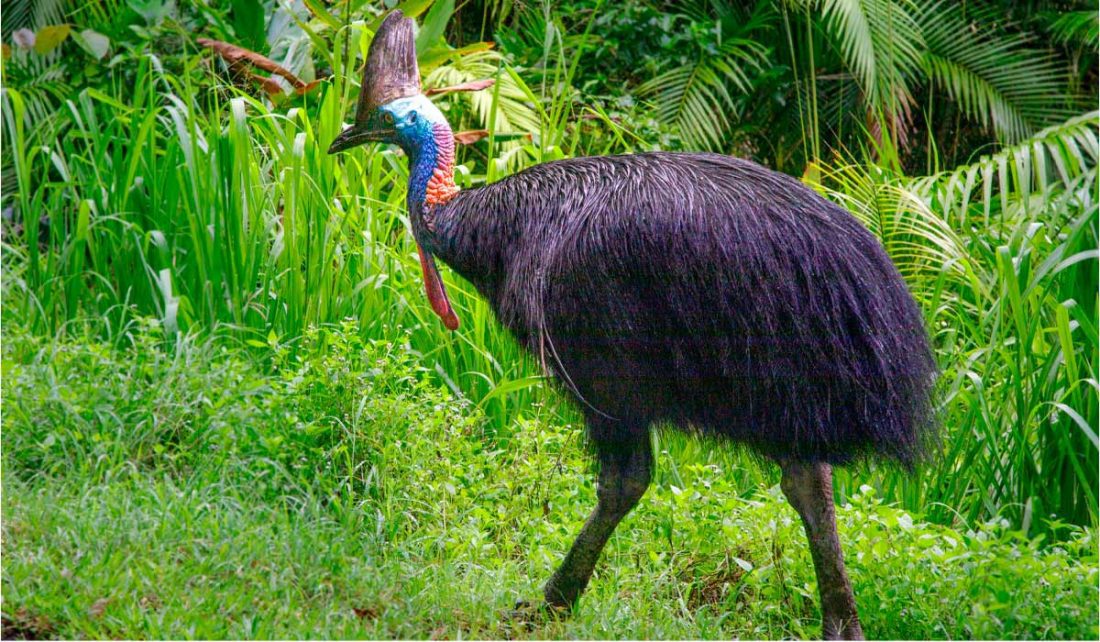 Have you seen a cassowary? Let us know in the comments below!