I don't recall the exact moment when my Cairns Ironman 70.3 dream began. But I know exactly when it fell off the rails. It was 6.15am on Sunday 12 June 2016. On the beach at Palm Cove. I lined up with four pretty conservative goals:
Don't drown
Don't fall off the bike
Don't fall over on the run leg
Finish within the 8 hour cutoff time
Goal #1 was far from certain given the physical limitations of a long-ago shoulder injury (I'd been classed as a paratriathlete because of it). I had no clue if goal #4 was doable. The other two were within my means.
The sea looked like a washing machine. It wasn't meant to be like this!  Instead of a gentle ripple-less blue the water was a mean dog-shit brown. It smelt even nastier. Waves taller than me (admittedly I'm not very tall) pounded the beach. A weak swimmer limited to breast stroke, swimming almost 2km was the last thing I felt capable of doing. Or wanted to do. As dawn broke the full extent of the challenge ahead loomed intimidatingly. Tears welled. Doubts surfaced.
I considered pulling out before I even started, telling Colleen my training buddy I didn't think I could do it. Her firm words of wisdom and support snapped me out of my self pity. 'Of course you can do it,' she said. 'You're tough. You did 3 marathons in 3 days, you can do this!'
She was right. I can do this, I told myself. It was what I needed to hear to change my mindset. Conditions were shithouse but I needed to pull myself together. I thought about how I would spend the day if I didn't race. The certain despondency & regret on the sidelines would be worse than swimming the bloody thing!
Lining up on the beach in our start corrals, others were equally apprehensive. We hugged. We shared words of encouragement. We smiled through our nerves. Then we slammed ourselves into that maelstrom of ocean on our way to becoming Ironman 70.3 competitors.
Well, actually most of my friends were women but there isn't a gender specific term for Ironman. And Ironwoman sounds like someone who works in a laundry.
Endurance events are as much about what goes on inside your head as the physicality of completing the distance. When I should have been training hard and focusing on my race plan I was travelling hither and thither, trying to fit in whatever training I could. Or not, as the photo taken in Indonesia above demonstrates. Having a good or a bad race can depend entirely on what happens in your head.
Petrified of having a panic attack mid-ocean, within a few minutes I went into a sort of meditative trance, concentrating only on the next buoy in my immediate sight. I didn't allow myself to think of anything beyond swimming to that buoy, counting each stroke to fifty then starting again. And again. And again. When my focus wavered I snapped back into the count. Eventually I made it around the 1.9km course without drowning. Though I was so freakin tense, when I tried to touch the sand with my feet both legs cramped up. Wallowing in the shallows buffeted by surf, unable to use my legs and with one arm virtually useless I called for assistance with my good arm. Lurching out of the water propped up by two lifeguards wasn't ideal. But the bloody swim was done.
Goal # 1 sorted!
I was deliriously happy, both to have survived and to have made it under the 60 minute cut off time. It was the last time I looked at my watch during the entire race. The rest was going to be purely for fun.
It mattered little that my bike was one of the few left on the rack as I transitioned for the bike leg. The worst part was over, now it was time to enjoy the race. Riding out of Palm Cove with the street lined with supporters cheering I felt like a rock star. With 90km of riding ahead I was really looking forward to the ride northwards on one of Australia's sweetest coastal drives. Hugging the coast almost all the way to Port Douglas, with rainforest-clad mountains on my left, the Coral Sea on my right and a fresh tailwind up my butt it was an absolutely wonderful ride. Even sporadic squalls and horizontal rain couldn't dampen my joy.  For about an hour and a half I reveled in the ride, mentally looking no further ahead than the next landmark on a road I know so well. Even the climb to Rex Lookout, where the photo below was taken, didn't phase me. My mental game was on!
Turning for home and heading back into the wind I quickly began to understand the real challenge of completing an Ironman 70.3. Horizontal rain and squally wind did their best to wipe the smile off my face. It was replaced with a grimace as I turned left from Yorkeys Knob to face the full force of 25kn headwinds that whipped through the canefields. At stages my pace slowed to an embarrassing 15 kmh as I talked myself through the final stages of the ride into Cairns. The upside was that  at that pace I wasn't going to break anything if I fell off.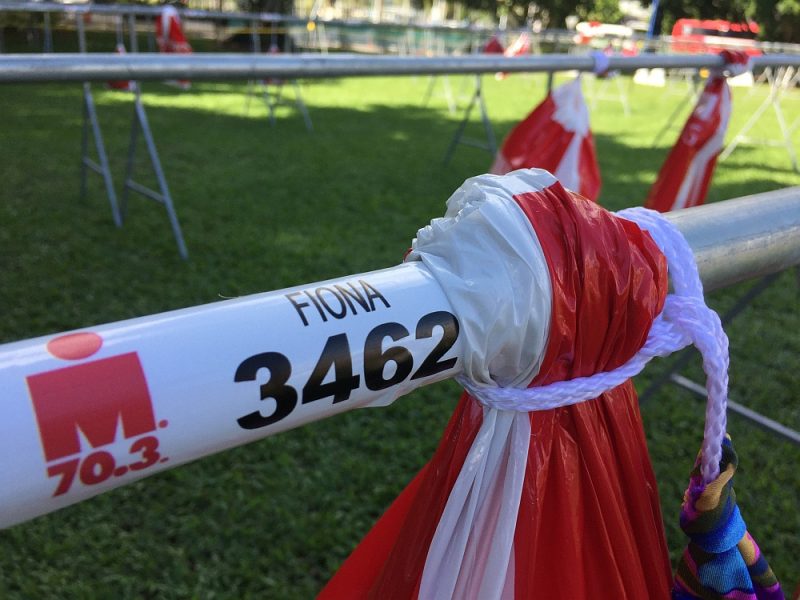 Riding into Cairns and along the Esplanade that rock star feeling returned as crowds lined the rain-soaked street. It was a little disconcerting to see so many athletes already on the run course and way ahead of me before I reminded myself it didn't matter. This was a race purely for me: the only person I was competing against was myself and my truckload of self- doubts.
Goal # 2 accomplished!
Running out of transition I forgot entirely that running off the bike was meant to be hard. I was so relaxed  I stopped and chatted to running buddy Heidi for about 5minutes in transition. My legs felt fresh and light. Actually my whole body felt so good I enjoyed most of the 21km slow trot around the Esplanade.  I went into the zone, thinking about nothing more than the next 2km, still not allowing myself to think about the finish line. Even knowing that the run leg was my strongest the finish was still unfathomable. Those screaming hysterical doubts may have been placated to a gentle roar but they were persistent little buggers. Seeing friends both on the course and cheering madly from the sidelines was enough distraction to forget about how far I still had to run.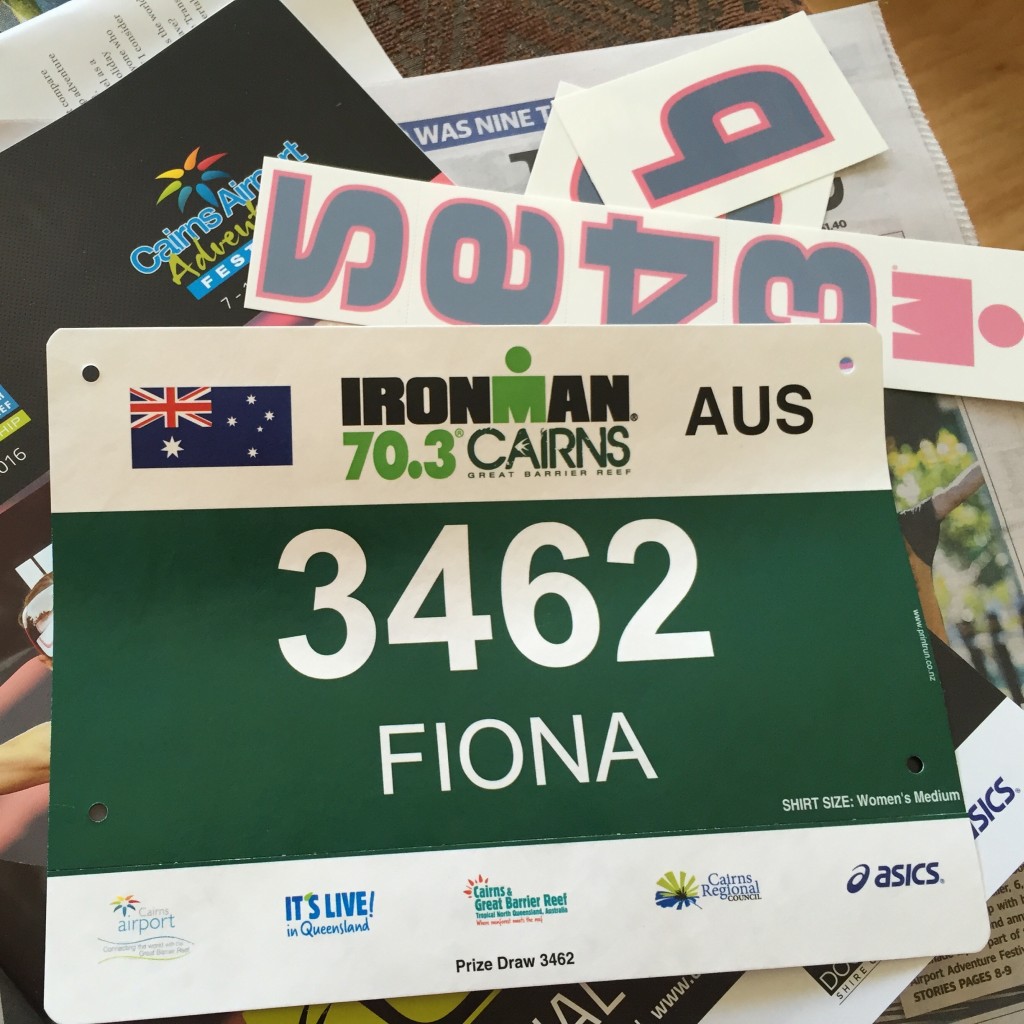 'Just 2km, just 2km, just 2km' was my mantra for two and a half hours. I still had no idea of my time with goal #4 forgotten amongst the cacophony of white noise in my head. Time became irrelevant: all I cared about was running to the next drink stop and pouring water over my head. Finishing was a vague destination somewhere in the distant future that I didn't care to think about. I was having too much fun high-fiving kids, scoffing lollies from random strangers, grinning foolishly at photographers, waving stupidly at friends.
As an athlete who has trained hard for an event there are few more exhilarating moments than running down the finish chute surrounded by unknown lunatics cheering wildly. With the race in the bag and the commentator announcing those wonderful 'You are an Ironman' words I saw my training buddy a few metres from the finish. I didn't know then that Colleen had smashed her race with a podium finish in her category. Tears welled again as we hugged, both deliriously happy.
Goal # 3 in the bag.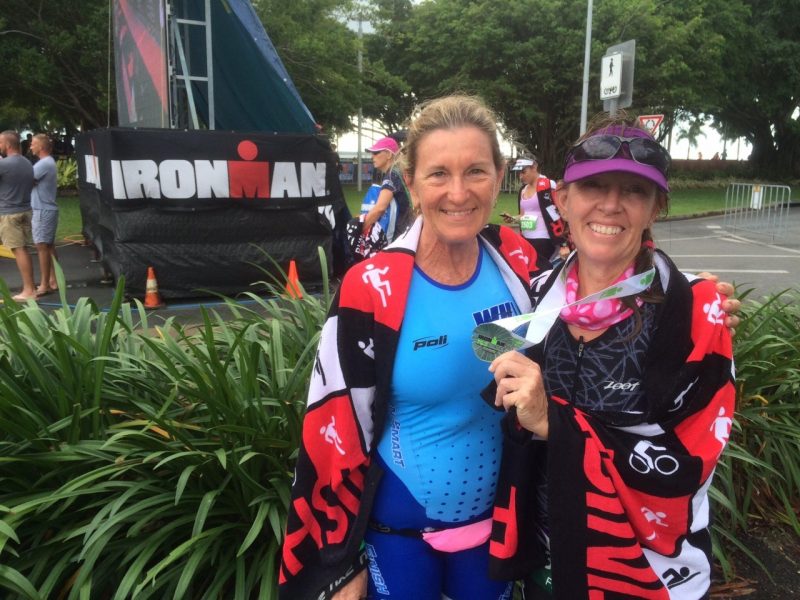 It finally registered that I was going to finish. Crossing the line I felt oddly unemotional. Usually I burst into tears, or at the very least, have a quiet sob as emotions are unleashed. I think because I was so relaxed on the course (after the swim of course!) I felt none of the usual finish line tension release because I had so few expectations. The intoxicating post-event high however lasted for weeks. I could barely wipe the grin from my face.
It wasn't until later that I remembered that coach Bill was right beside Colleen at the finish, but in the euphoria I barely registered his presence. Bill was instrumental in the early part of my swim training,  having none of my self-doubt bullshit. 'You'll be right,' he said countless times, giving me invaluable advice on becoming an efficient breast stroker. The humiliation of being a lone breast stroker in a tightknit squad of freestylers however eventually wore me down so I swim-trained predominantly solo.
But in the end, it was what was going in my head that allowed me to finish what I started. Just like running a marathon, even 3 of them in 3 days, anyone can train their body to complete an Ironman 70.3. Physical limitations or disabilities, call them what you will, it matters little. It's my stubborn, determined, 'f@*k you I'm going to do this!' mindset that got me across the line. The body was simply a carrier for the message. Anything really is possible.
7 hours 10 mins 47 seconds: goal #4 quietly smashed out of the ballpark.
Would I do it again? Recalling that swim leg and the distress I felt prior, my body says no. My heart? Well, it's always been a bit of a marshmallow… And to be fair, it was hands down one of THE most amazing races I've entered!
Have you ticked off a challenging goal or achieved something fabulous despite self-doubt? Please share in the comments below!