Cruising Indonesia beyond Bali on a traditional phinisi sailing ship we see Komodo Dragons, swim with manta rays at Manta Alley and chill out onboard as we gently sail past Indonesian islands.
'This is the best day of my life!' declares Sarah, spitting the snorkel from her mouth, an infectious grin lighting up her entire face. 'We've swum with manta rays and walked with dragons and it's not even lunch time!' she enthuses as we tread water in a swiftly flowing channel of water known as Manta Alley.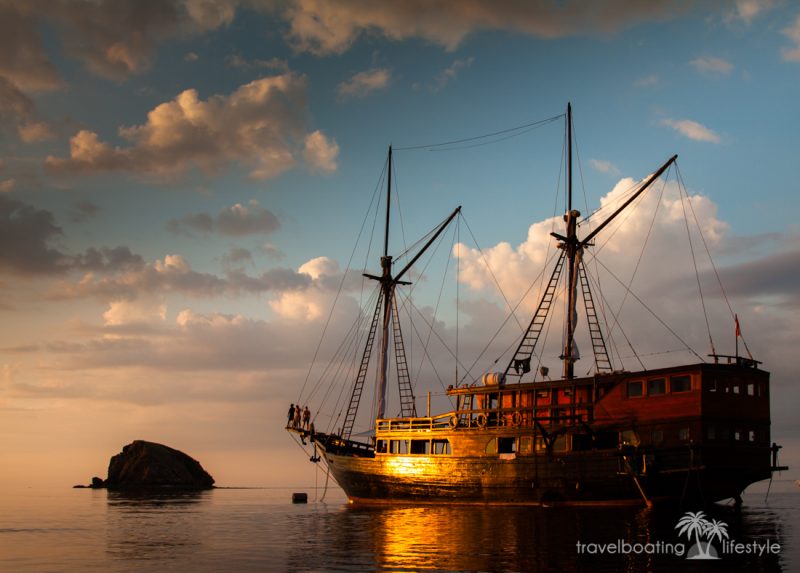 It's our second day cruising with Indonesian Island Sail and we're  looking for mammoth manta rays that inhabit Makassar Reef in the Indonesian archipelago east of Lombok. Cruising on traditional Indonesian phinisi Al iikai, we'd anchored in the channel the previous day, launching ourselves into the water a number of times on a relaxed drift snorkel to look for mantas. We spotted just one of these elegant creatures as it briefly emerged from the depths. Today however is a different story. We've hit the manta jackpot.
Five manta rays circle mouth-to-tail a few metres below as we hover on the surface ogling them through our masks. The largest has a wing span about the length of a small bus while the smallest is more Mini Moke-sized. Paddling fiercely against the current to maintain our position above the manta rays, their cavernous mouths rimmed by protruding cephalic lobes seem large enough to swallow a small human. There's little chance of that however as they prefer microscopic plankton. Despite their intimidating size they're harmless to humans.
Unlike the Komodo dragons we'd seen earlier. Dragons are presumed responsible for the disappearance of humans whose whereabouts remain unknown. These formidable lizards are the star attraction on a guided tour at Loh Liang on Komodo Island. Known as ora by locals, Komodo dragons are found on Komodo, Rinca and Padar Islands as well as the west coast of Flores Island. The world's largest lizards weigh in up to 100kg and anything up to 3m in length. They're carnivorous consumers and will eat anything: pigs, deer, carrion, water buffalo. Humans too. Equipped with a double-pronged ability to kill their prey they'll use their sharp claws and serrated teeth to disembowel their victim. If that's unsuccessful they've enough toxins in their saliva to poison their victim who will die a slow agonising death within 24hrs. Like I said, they're formidable creatures.
Looking a lot like oversized lace monitor lizards found in the Australian bush, our guide Juridan keeps these fearsome reptiles at bay with a forked stick. He describes how adult females cannibalise their young during times of famine. It's no wonder that juveniles leave the nest as soon as they are able to fend for themselves – survival is a strong motivator!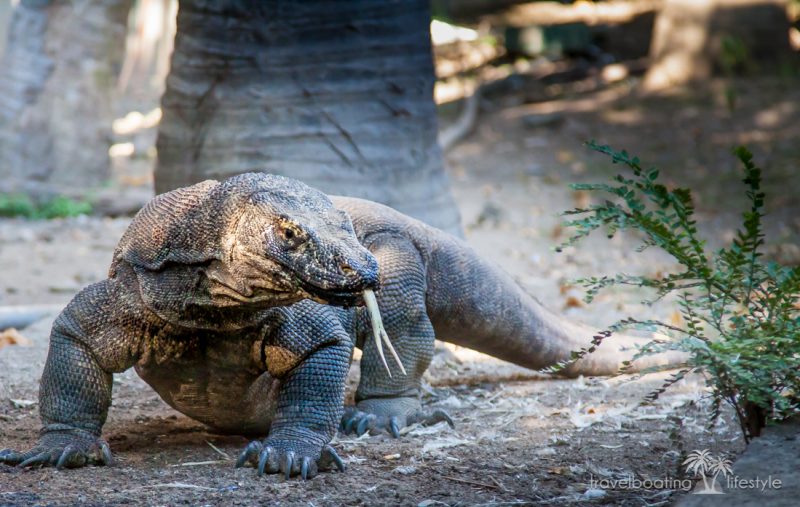 While dragons, which are adept swimmers, attract much visitor attention in these parts thanks to a national park system that regulates and promotes visitation, the real star is the underwater marine world. The currents that swirl through these waters provide a rich source of nutrients that enable coral and fish species to thrive. Cruising through waters as clear as gin, our black -hulled 'pirate ship' Al iikai provides an ideal base to explore the marine world.
Built using traditional methods by hand on a beach in Sulawesi, Al iikai, which translates into Queen of the Sea, could equally refer to this striking vessel as to its Aussie expat owner Amanda Zsebik. Growing up in Rose Bay she learnt to sail as a teenager, instilling a lifetime love of the sea and its environs. Her enthusiasm is infectious as she encourages guests into the water.
Purchasing Al iikai in 2013 almost by accident, Amanda had been living in east Bali for a number of years running a resort. Coaxed by a friend to inspect Al iikai she describes a vision where she 'saw my feet sink into the timber deck. I immediately felt an affinity for Al iikai and made the decision right then to buy her. It just felt right,' she says, blue eyes crinkling in pleasure at the memory.
She immediately stamped her style onboard which is evident in personal touches like aromatic infusers that give the boat a spa-like aroma, quality beds and linen, plump pillows and daily room servicing. As Cruise Director she's a generous, caring host who embraces her guests with warm hospitality.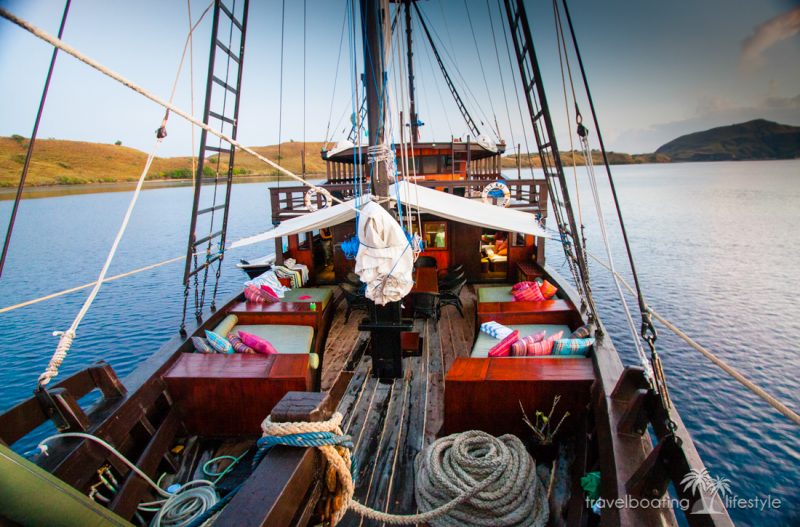 Amanda gutted and rebuilt the 37 metre phinisi, converting her into a gentile floating luxury hotel. Al iikai accommodates 16 guests in air-conditioned staterooms with ensuite bathrooms and plush queen-sized beds. Upper deck cabins are bathed in natural light pouring in from large windows while lower decks have traditional portholes. The large foredeck with its shade awnings, plump-cushioned sunbeds and 12 seater dining table is the social hub of Al iikai. It's the perfect place to relax between snorkelling and shore excursions, eating, reading, chatting or dozing.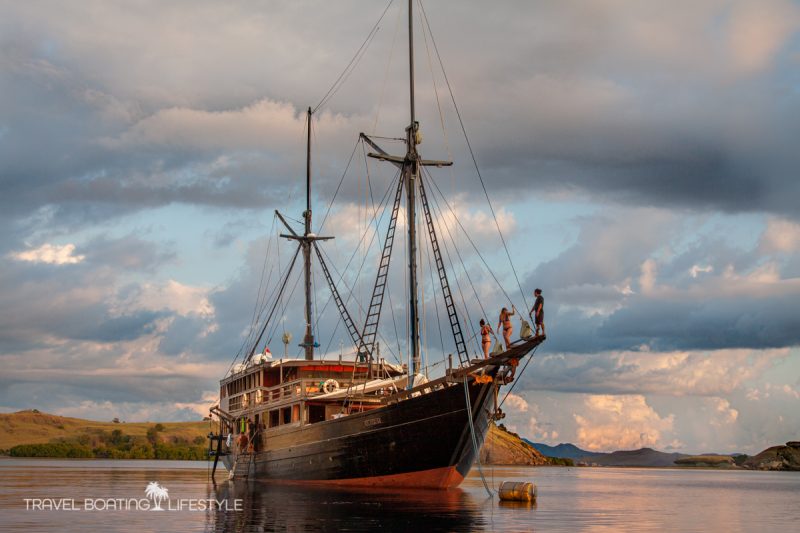 Most days start with a pre-breakfast swim, jumping over the side from the bowsprit for the daring, or from the boarding steps for the less brave. Water activities dominate most days in between island hopping. A serial snorkeller who is so at home in the water she may well have a set of gills concealed beneath her sarong, Amanda has intimate knowledge of the best snorkelling sites. Determined by wind and tide, she guides us through an extraordinary underwater world. We drift silently past an endless carpet of dusky pink soft coral, tentacles waving gently in the current. Elegant batfish glide effortlessly and turtles forage on seagrass, unfazed by our presence. Bright orange clownfish dart in and out from their anemone habitats primping and preening for our cameras. Curious and endearing, some are barely bigger than a finger nail, others are the size of my hand.
Anchored on the northern coast of Sumbawa Island we visit the village of Wera where the sound of hammering rises above the dawn chorus of crowing roosters. Dominating the beach are timber boat hulls in various stages of construction. Much-respected Bugis seafarers who originate from Sulawesi are lauded as master shipbuilders. For generations they've been building boats without blueprints, sketches or calculations, constructing mammoth vessels by eye and instinct. The shape of each vessel's upswept bow and eventual hull line is determined by the shape of the log used for the keel, which is the first piece of the maritime puzzle. Planking is held together using wooden dowel plugs while gaps are caulked with coconut husk fibre hammered into place, swelling to minimise leaks once immersed in seawater.
While the men build boats the women of Wera are famously known for their colourful woven cloth. Crafted on hand looms passed down through familes, bolts of fabric can be purchased direct from the women's homes. I can't resist buying a bolt of these gorgeous fabrics which are used onboard Al iikai to cover cushions scattered on sun lounges and sofas.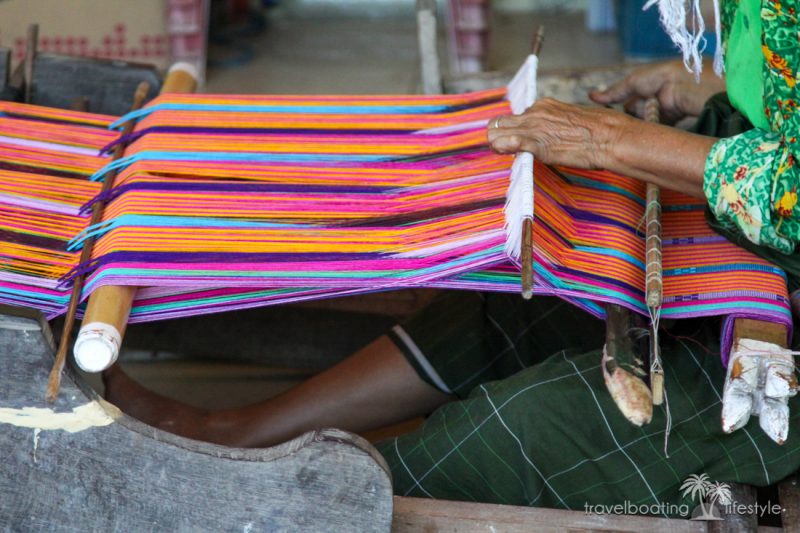 Returning to Al iikai, our black-hulled ship looks completely at home in these 'boat birthing' waters. Attentive Bugis crew welcome us back onboard with chilled towels and cold drinks before donning their seafarer caps and upping anchor. Bathed in a golden glow from a sinking sun we sail into the twilight, as relaxed and contented as our crew. Bound for island adventures eastwards it's easy to slip into a relaxed rhythm soothed by calm seas beneath balmy star-kissed nights.
More information about sailing beyond Bali
Indonesian Island Sail
Al iikai is a 37m luxuriously appointed traditional Indonesian phinisi with 10 crew and one Cruise Director. Cruises depart from Bali or Lombok with varying itineraries depending upon the time of year.
Pre or post cruise stay at Hotel Tugu Bali, Canggu