We wrote an article earlier this year about Storylines at Sea which is developing a concept for a residential cruise ship. Travellers get to live on a cruise ship and spend years cruising the world. Living on a cruise ship is an enticing retirement option but it's also appealing to digital nomads who can live and work anywhere – even a residential cruise ship!
We were invited to travel to the Philippines with Storylines as part of their future curated shore experiences, along with seven future residents who had paid deposits on a proposed residential ship that was to be refitted and launched mid-2020.
But things have changed since we first chatted to the Storylines in early 2019. Instead of refitting an existing cruise ship, Storylines at Sea recently advised plans to build a brand new ship instead. Storylines claims to be disrupting and revolutionising the cruise industry by creating a cruising lifestyle that is affordable and designed to attract sophisticated adventure-seekers who want to live full time on a cruise ship.
They are now accepting deposits for this new build. We understand that those who paid deposits for the refitted ship launching in 2020, have been rolled over to the new build launching in 2023. Which raises plenty of questions for those people who were no doubt downsizing property and lifestyle in readiness for moving onboard full time in mid-2020. If these 'Founders Circle' members, who have signed NDA's preventing discussion of purchase contracts, are feeling disgruntled, who could blame them?
Back in 2017 Storylines said "our first 2 ships are secured and set for delivery to us…"

Then in January 2018 Storylines was offering the opportunity to "purchase one of our 320 affordable cabin-condos on a modernized classic ocean liner…"
Can a cruise ship really be a 'green ship'?
Storylines say that their cruise ship will powered by LNG fuel and will be the "world's greenest ship" when launched, though few details are available about how this ship qualifies for such a claim.
There are even fewer details available for prospective purchasers.
Scheduled to launch in 2023, Storylines will welcome residents who will be live onboard and cruise the world full time. Reimagining the cruise ship experience, Storylines hopes to build a thriving residential community at sea that provides each member with the opportunity to live a onboard as part- or full-time owners.
"We're thrilled to finally be able to release the design of our new ship," said Storylines Co-Founder Alister Punton. "Storylines introduces what we see as the first of its kind experience in the market. This new vessel is designed to cater to the unique community we are offering and every aspect of the ship from the room layout to the culinary offerings and the spa to the itinerary has been thoughtfully planned out."
Initial renderings are simplistic and almost childlike in their likeness to a toy ship in a bathtub. We have requested further information from Storylines at Sea.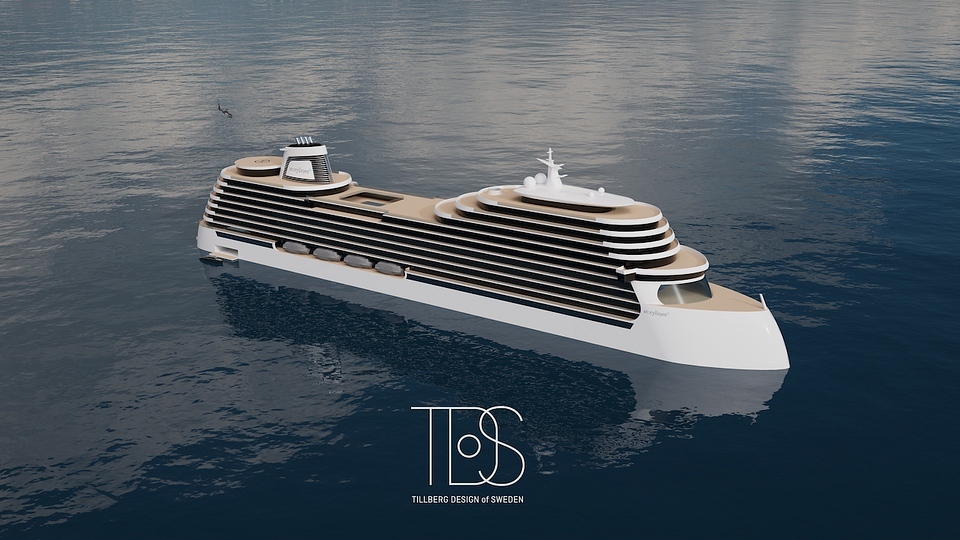 According to Senior Housing News this is not the first time that a company has proposed creating ships where older adults can spend their retirement years. Other projects have not come to fruition, but a key difference is that those ventures were proposing to build new ships, which is far more difficult and costly than converting existing ones, according to Punton, which raises questions about why Storylines has now decided to build a new ship.
When launched in 2023, Storylines aims to spend approx. three to five days in each port, with shore excursions like visiting the world's most expensive island resort, integrated into curated itineraries. Additionally, there will be educational and entertainment experiences, spa services that feature local elements, and a signature Chef's Table Market Gallery based on regional produce.
"Our aim is to disrupt and revolutionise travel and lifestyle options for citizens-of-the-world who appreciate adventure," said Co-founder Shannon Lee. "Our goal is to attract like-minded residents who, at varying stages of their lives—whether early retirement, digital nomads or families that are looking for new ways to enhance their lifestyle—to integrate global travel and cultural immersion as part of their life's journey."
Storylines residential cruise ship
The Storylines ship will feature 627 furnished residences ranging from USD352,235 to more than USD8m for a premium two-level penthouse suite. Owners will be able to rent out their residences available through the Storylines rental management program.
Positioned as the greenest ship in the market when delivered, Storylines' aims to balance sustainable practices with quality lifestyle and comfort for residents with the ship's unique design features that include:
• Green LNG powered with onboard power generation
• Water-level guest marina
Additional onboard amenities will include a micro-brewery, art studio, hydroponic farm and a smoothie bar.
Will Storylines at Sea actually leave the harbour? For the sake of those residents who have invested we certainly hope so. We watch this with much interest.