I didn't set out to run marathons through a pandemic. It just happened!  As the travel writing industry spiraled into freefall, I remained grounded in Cairns with a spanking new passport shut as firmly as Australia's international borders. Unexpectedly I had a lot more time on my hands, and, before I'd really caught my breath and processed what was happening, I'd run five marathons in seven weeks, along with countless half marathons that counted as training runs.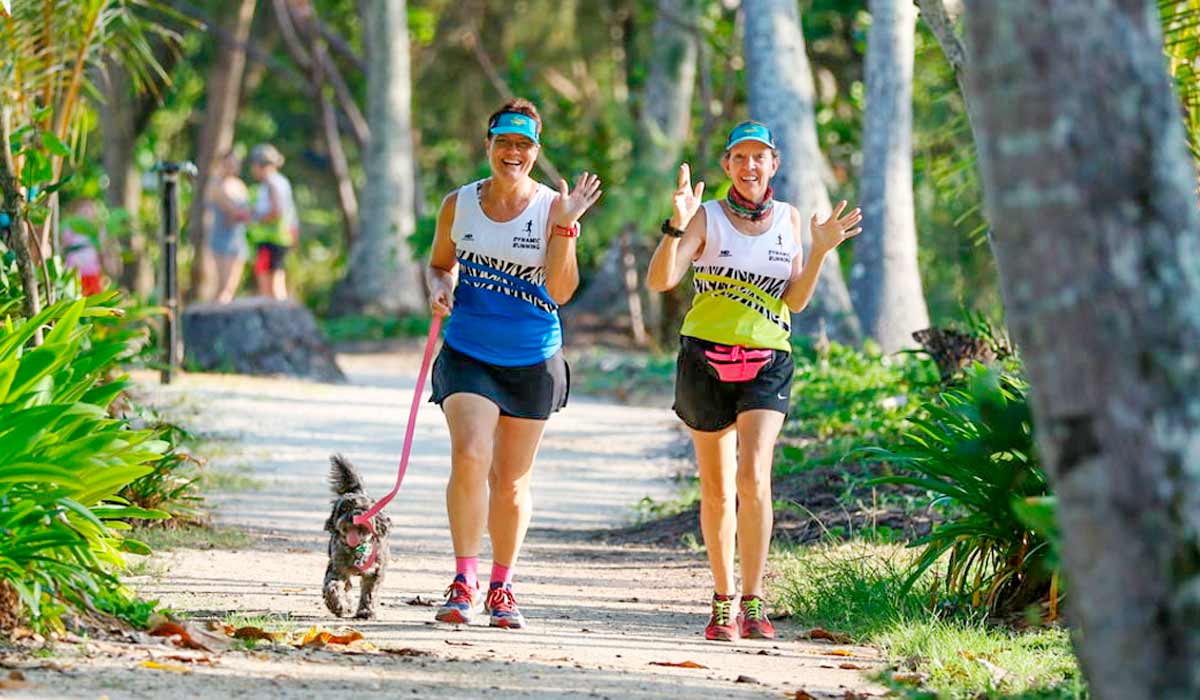 The title of Alan Sillitoe's short story, The Loneliness of the Long Distance Runner, has long been both an inspiration and a carrot-dangling menace. Ten years ago when I was training for my first marathon, then later the Paris Marathon, I found a respect for long distance runners that sustained me through excruciating long runs that hitherto had seemed impossible. I both loved and loathed the challenge of running further than I ever had considered possible. Running on my own also meant there were no witnesses to my lonely failures as I battled with the voices telling me I wasn't a runner and what the heck was I doing running anyway?
But running soon morphed into an addiction, with long-distance running the antidote for physical and emotional challenges I set myself. Like the former smoker I was who craved nicotine, I recognised the signs of the addict I had become. Running books were piled up next to the bed competing for attention with running shoes multiplying alarmingly by the front door. I gravitated towards friends who ran, planning weeknights and weekends around where, when and how far we would run.
Long distance running became the tonic for my gin, the yin for my yang, the reason I dragged my butt out of bed at 4am five or six days a week. While Silltoe's free-spirited protagonist used running as a physical and emotional escape from a dismal life, I quickly found long distance running exhilarating once I found my Dynamic Running tribe.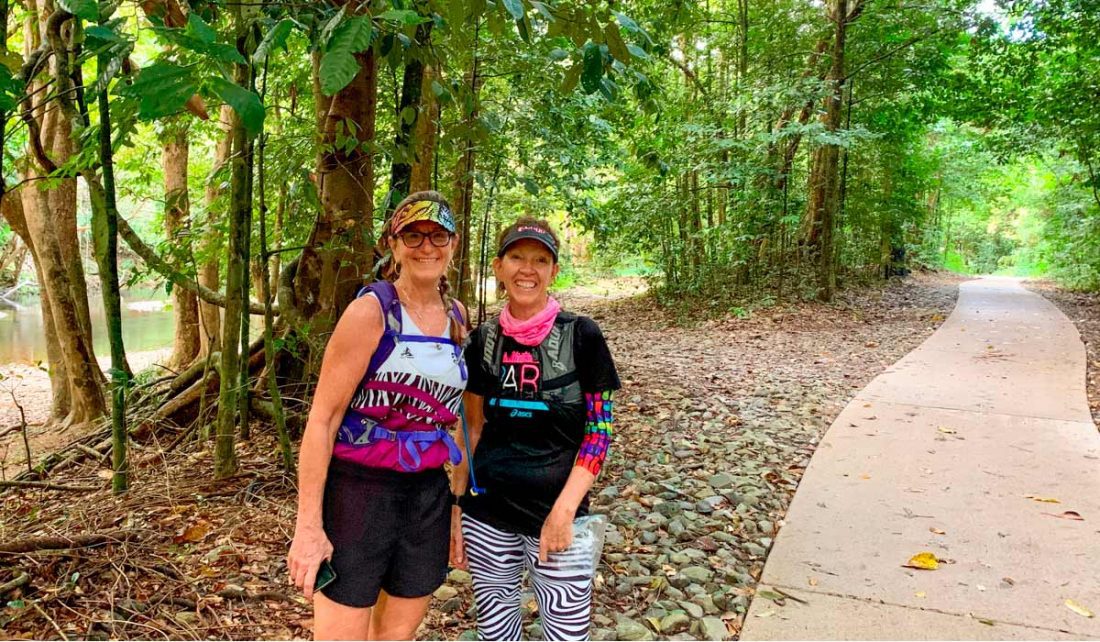 By the time Queensland slammed shut its borders in late March 2020, I'd scratched the red pen through work trips to Norway, India, Malaysia and a family reunion in Vietnam. In temporary accommodation having sold my house, my gypsy heart wasn't troubled by living out of a suitcase, while I remained hopeful that Greece and the Athens Marathon in November was still doable.
Unexpectedly with more time available, I ramped up my training plan. Days, weeks, months slipped by as the pandemic took hold and the world imploded . Cairns, already isolated from the rest of Queensland, wider Australia and the world beyond, with the airport firmly closed felt like a pandemic-free bolt hole. With family distanced on the other side of the country, and with Aussies implored to remain distant from all but our immediate household members, loneliness was unavoidable for those of us living alone. The introvert in me rejoiced in a world gone quiet. The social junkee part of me had never felt so alone.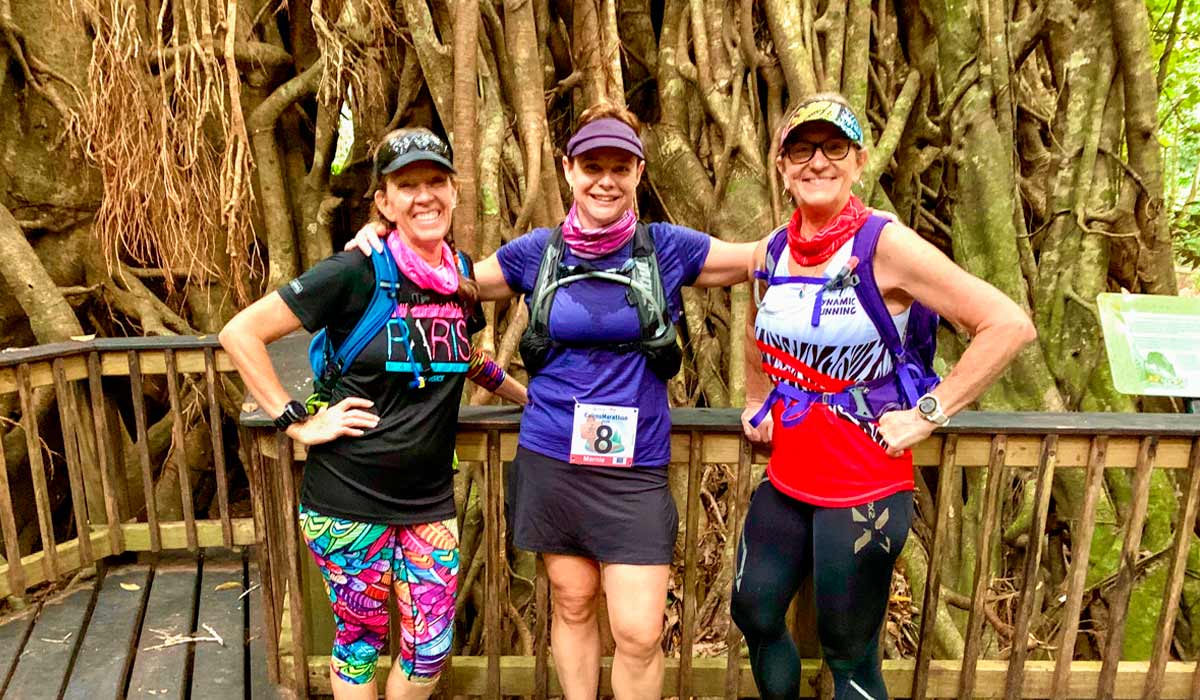 Running became my saviour, despite group runs and events being cancelled. Colleen and I had trained together for triathlons, marathons and multi-day mountain bike rides across Cape York. Now limited to two-person gatherings, runs with Colleen became my only social outing. Ever increasing the length of our runs to sustain the social connection we felt while running shoulder to shoulder, we signed up for a virtual event to run 42km in 42hours along with thousands of others across Australia.
Invigorated by the physical challenge along with the link with others running to combat social distancing rules, we then committed to the virtual Gold Coast marathon, enjoying the novelty of plotting our own 42km route across Cairns. Long distance running became my essential link to combat loneliness. It was nothing to run a half marathon before breakfast if it meant a couple of hours to chat and laugh and wave to other pairs of runners.
Running too allowed us to briefly forget the pandemic unfolding beyond our north Queensland bubble. Completely addicted once more to the endorphin high that runners know well, a couple of half marathons, 3 Marathons in 3 Days on one crazy long weekend and a virtual Weipa Marathon were soon in the bag, increasingly accompanied by other runners as restrictions eased.
Running five marathons in seven weeks helped combat the loneliness of the requirement to keep our distance from each other.
As we now see some parts of life to return to a new post-covid-19 normality, my addiction to running is once again under control. For now.
Though I don't think I can really hang up my running shoes until I've seen the ancient ruins of the Acropolis and run into Panathenaic Stadium to complete the Athens Marathon.
Greece in 2022, I've got my eyes on you.