Australia is the largest island in the world. Did you know that there are actually over 8,000 Australian islands dotted around this mammoth island continent? Many of these are perfect for an Australian island holiday escape!
But with so many options, where is the best place to start narrowing down your Australian island getaway? While there are plenty of islands that hog the tourism spotlight (like the 900 islands and coral cays on the Great Barrier Reef alone), here are some island holiday ideas you may not have thought of. We've also included a couple of Travel Boating Lifestyle's favourite islands.
Daniel Defoe wrote a fictional autobiography based on an English castaway named Robinson Crusoe, who spent 28 years on a remote tropical island.  While you probably don't have quite so much time, if you have a week or so, some of these islands might prove to be the perfect castaway destinations.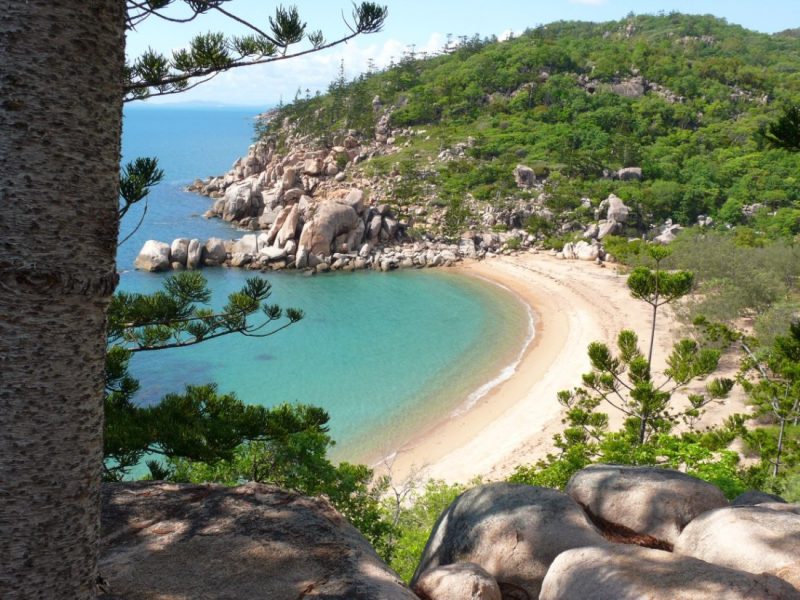 Woody Island – Recherche Archipelago (WA)
As with any Robinson Crusoe type experience, your journey will probably begin with a voyage across the sea, so let's start with remote Western Australian islands. Woody Island, one of 105 islands in the Recherche Archipelago, is home to 240 hectares of nature reserve. The islands are known for their gin clear waters and white sand beaches. Accommodation options include elevated Safari Huts, ground level Adventure Huts, or a campground with its own Campers Kitchen. Get there by boat from Esperance. Woody Island
Kangaroo Island (SA)
In 1802 hungry explorer called Matthew Flinders named Kangaroo Island after the animals harvested by his starving crew. Attractions for visitors today still include the prolific wildlife, but these days few are on the menu. There's also a historic Shipwreck Trail detailing 50 wrecks along 450 km of pristine coastline, ensuring there is plenty of escapist holiday properties for visitors to rent.  Get there by ferry from Cape Jervis or air from Adelaide. Kangaroo Island
 Flinders Island – Bass Strait (TAS)
Wild and windswept Flinders Island is for adventurers who enjoy a salty maritime air with a dash of history. Thought to have been part of the land bridge prior to the ice age, access is available by sea or air from Launceston.  Accommodation is mostly simple holiday cottages, but camping is also permitted, with many campsites right on the beach.  Flinders Island
Maria Island  (TAS)
Maria Island, on the east coast of Tasmania, with its historic penal colony ruins and rugged cliffs and mountains has basic accommodation (dorm style rooms, no electricity & gas powered hot showers) at the old Penitentiary at Darlington. Camping sites can be booked through Parks & Wildlife Service Tasmania. Ferry departs from Triabunna. Maria Island Walk or  Parks & Wildlife Tasmania
Gabo Island (VIC)
Gabo Island is well known to seafarers, just off the Victorian harbour of Mallacoota Inlet.  The island hosts Australia's second tallest lighthouse.  Erected in 1862, the elegant red granite lighthouse was fully manned prior to being automated in 1993.   Accommodation in the old lighthouse keepers' residence can be arranged through Parks Victoria. Gabo Island
Lady Musgrave Island (QLD)
Located 60km offshore from Town of 1770 on the central QLD coast, Lady Musgrave Island is a teeny (14 hectares in total) coral cay that barely rises above sea level. Home to breeding and nesting seabirds and turtles, the island sits inside a extraordinary lagoon that supports a vast marine ecosystem. This is a truly unique Great Barrier Reef experience, and one that is easily accessible for day trippers and overnight campers, with fast boat transfers operated by Lady Musgrave Cruises.
Great Keppel Island (QLD)
Named by Captain James Cook, he was initially unimpressed, describing the islands as having an appearance of barrenness rather than fertility. Castaways looking for seclusion and a gin clear ocean will find the Beach Shack appealing, beneath coastal sheoaks, and is just 39 languid steps to the high tide mark. GKI Holiday Village is another option. Ferry departs from Yeppoon. Gt Keppel Island Holiday Village and Gt Keppel Island
Hinchinbrook Island (QLD)
Hinchinbrook with its rugged mountain peaks concealing waterfalls amidst the lush rainforest and mangrove lined creeks is astonishingly beautiful. The entire island is National Park. The Thorsborne Track is a 32km challenging walk that usually takes 4-5 days. No facilities are available and trekkers must carry in (and out) all their own supplies and equipment. Hiker numbers are limited and must be pre-booked, along with ferry transfers, (QLD Parks & Wildlife) well in advance.  Hinchinbrook Island
Lizard Island (QLD)
Lizard Island is a continental island on the outer Great Barrier Reef. Most visitors stay at luxury Lizard Island Resort, but there are also campsites available (book with QLD Parks & Wildlife) in Watsons Bay. Terrific diving and snorkelling, game fishing along with white sand beaches and a sheltered lagoon are the main attractions. The hike to Cooks Look offers terrific 360 degree views. Flights depart from Cairns. The island is also very popular with cruising boaties who shelter from the prevailing south easterly winds in north facing Watsons Bay. Lizard Island Resort
Cocos (Keeling) Islands (WA)
Over 2700 km northwest of Perth and well out into the Indian Ocean lays Australia's most remote islands.  The Cocos (Keeling) Islands are the quintessential postcard tropical islands, complete with white sand, palm trees and obligatory turquoise lagoons. Expect to be mesmerised by the tropical beauty and casual lifestyle of the islanders, which revolve around the rising of the sun and the falling of the tide. Flights depart from Perth. Cocos Island
Dirk Hartog Island, Shark Bay (WA)
Located smack bang in the middle of World Heritage Listed Shark Bay, Dirk Hartog Island was the site of Australia's first recorded European landing.  Accommodation at the Homestead is located within the century old limestone shearers quarters. Travel by boat from Denham. Dirk Hartog Island
Dunk Island (QLD)
Once favoured by the rich and famous who were drawn to Dunk Island's sandy shores shaded by palm trees and an elegant resort with an enviable beachfront position, these days Dunk Island is more popular with campers and boaties. The island lies just offshore from Mission Beach, which is a two hour drive south of Cairns.
With the former Dunk Island Resort still derelict after Cyclone Yasi then Cyclone Larry ripped through the area almost ten years ago, subsequent ownership tussles have done little to firm up any prospect of Dunk returning to its former glory. Dunk Island in its heyday was a serious contender as a favourite island getaway for Aussies.
Inspired to take off to an island and escape the urban jungle and to find your own little piece of island paradise? Share your own favourite island paradise in the comments below.