Sailors know a thing or two about how to stay dry. It's often the difference between a really great day at sea and a crap one. What's really important is keeping things dry and free from the salt that permeates everything.  Especially those cruising sailors who live afloat full time, who have traded in their cars for dinghies and their handbags for dry bags.
Bouncing around in dinghies as we move between the yacht and shore, I've invariably got an iphone, ipad, a camera and a drone, as well as a purse and maybe a change of clothes with me. All of which I want to keep to dry and free of salt spray.
So when I saw Vioir Designs dry bag, which is designed by women sailors for women sailors I couldn't wait to get my hands on one. I road tested this splendid dry bag while sailing around Fiji for a couple of months, taking it on dinghy outings, hiking adventures, bus trips and provisioning excursions. It's even rocked up at a couple of luxury resorts I've been checking out and looking quite at home.
I am super impressed with it's durability and toughness. But what I like most is that it doesn't look like a clunky 'yachtie' backpack.' It could easily pass for a regular carry-all backpack that any traveller might own.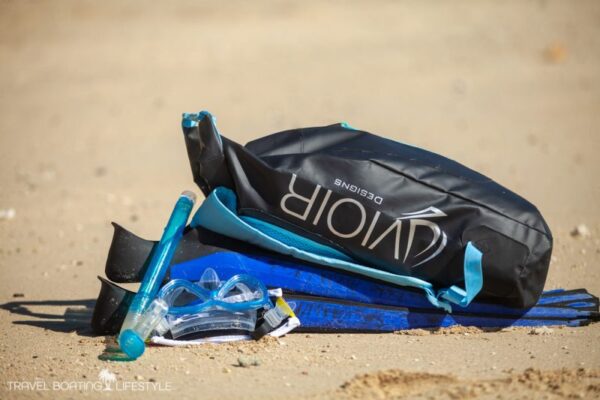 The dry bag is big enough to carry all the bits I need as a photographer, cruiser and tourist. But it's not so big that I stuff it full of so many things that it hurts my back to lug it around. It fits snugly across my shoulders. The top has a full width zip as well as a fold over sleeve to keep everything nice and dry. There's a quick access zip on the outside for essentials like my lip balm which travels everywhere with me.
I'm particularly fond of the styling. In matt black, it's trimmed with adjustable sky blue shoulder straps and zips. While it doesn't look too 'girly', it's definitely girl-friendly.
The Verdict: Highly Recommended
RRP: AUD70.00 Shop online
Well played Vioir Designs!
NOTE: Vioir Designs provided a review backpack. All opinions are my own.