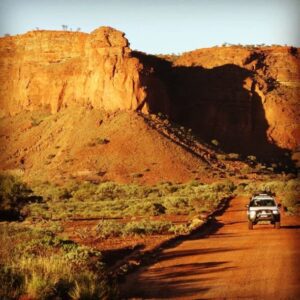 Have you ever dreamt about driving off into the sunset on a land-based lap of the country? Travel writer and photographer Lee Atkinson has just returned from a 10-month 40,000km road trip around the country, and is writing a book about it.
Featuring hundreds of beautiful images, The Big Lap is the pictorial diary of her journey with detailed captions telling the stories behind the images.
"We took the road less travelled whenever we could, camping in national parks and other wild places where few other travellers go," says Atkinson. "We found some truly amazing places and saw some wondrous things, and this book is the result, or at least it will be… a showcase of some of the most scenic spots in Australia.
"But what makes this different from all the other photo books out there is this one also tells you how you can get these out of the way places and has lots of useful planning information," she says. "So if you want to, you can follow in our tracks – as long as you don't mind getting off the tourist trail and leaving the crowds behind."
Atkinson has already had 12 travel books published, but she is self-publishing this one, using Australian-based crowdfunding platform Pozible.com to help raise the money needed to finance the printing and production of the lavish book.
"This book is different to all my other books: this one is personal," she explains. "Producing this book is not about selling zillions of copies and making money, it's about sharing all the wonder and adventure of a trip of a lifetime."
You can pre-order a copy of The Big Lap at the Pozible website. Check out more gorgeous images from The Big Lap below.