Arriving at Hobart's Constitution Dock after dusk when the waterfront pubs and restaurants are hitting their peak, I gratefully shed my wet-weather gear after seven days at sea. Feeling somewhat salt-encrusted and wobbly-legged I slip into shoreside clobber and head straight for a much-anticipated check-in at a Hobart icon, the Henry Jones Art Hotel.
I'm not disappointed. Stepping into the foyer, which is all exposed sandstone walls and timber trusses that provide a backdrop to large canvases, the hotel oozes elegant charm. Wandering the corridors of what used to be an old 1820's jam factory, artworks by Tasmanian artists appear in unexpected locations. Even my room, which retains a raw, industrial mood, softened with fine five star luxuries, and overlooks Sullivans Cove, has original artworks, many inspired by the docks beyond. I decide it's well worth debunking from the yacht and spending a night in such elegant surroundings. The enormous bathtub proves the perfect reward for completing a grueling Melbourne to Hobart passage. Sailing is terrific fun, but it sure is nice to arrive at a civilised port.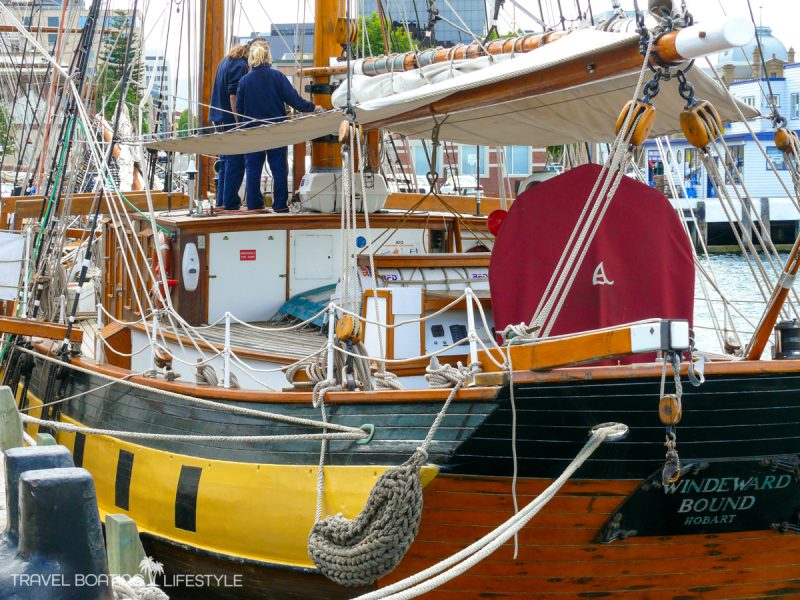 Sullivans Cove is a vibrant dockside precinct, within a whisper of the Hobart CBD, that buzzes with life day and night. There are enough bars, restaurants and seafood takeaways to satisfy the hungriest crew, and the curiously named Drunken Admiral is a good place to start. Though it's slightly overdone with nautical kitsch, it's an intriguing den of antiquity that I urge you to call into for a thirst-quenching ale while you admire the intriguing nautical paraphernalia. Nearby Elizabeth St Pier is home to Tavern 42Degrees South, which is all modern, funky furnishings and lighting and is a great place for an elegant tete a tete.  Fish Frenzy next door is not your usual fish and chippery. For a start, there's an eclectic selection of very reasonably priced Tasmanian wines and beers. Delights such as Malaysian style fish cakes and smokey fish chowder make this a standout amongst a bunch of seafood dining options. The location's not bad either, with dining tables adjacent to the berth of the imposing square-rigger Lady Nelson. If you opt for take-away, your meal will be presented in paper cones, concealed in an oh so elegant bag paper bag that cleverly supersedes traditional newspaper wrapping.
Wandering the docks, Mt Wellington at 1270m, dominates the skyline. I'm visiting in summer, and even at this time of the year, it's not unusual for a snow-capped peak to peer from behind the clouds. Hobartians say the mountain is a gauge for the mood of the town. When the mountain is concealed behind dark, low cloud, locals scurry inside to the warmth of their fireplaces. When the organ pipe chambers glow in the sunshine, the sidewalk cafes burst into life as the uplifting sunshine warms the air.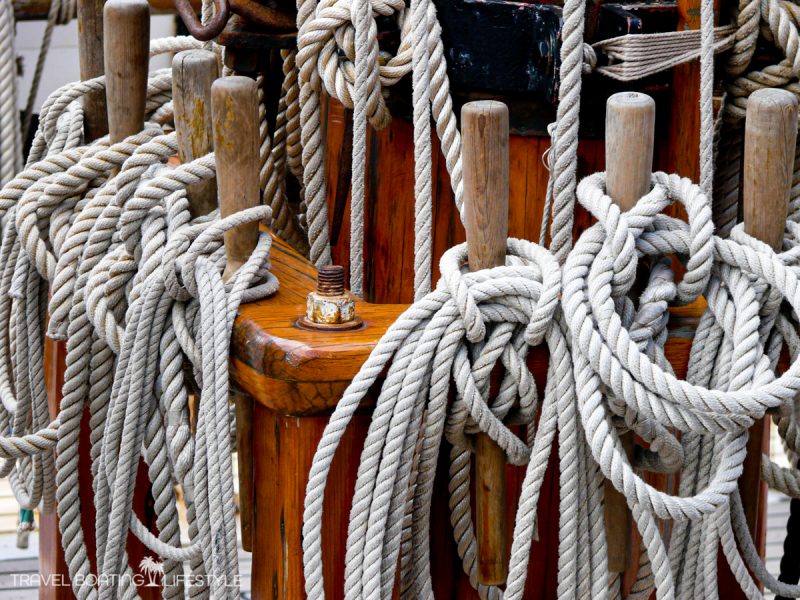 Down at historic Salamanca Place, you'll find cafes interspersed with superb galleries, including the aptly named wine lovers hangout, Grape Bar. Try and time your visit to include a Saturday morning to take in the famous Salamanca Markets. Skilled craftsmen, greengrocers and providores ensure it is one of the finest markets in the country. Do a little further exploring by climbing Kellys Steps towards Battery Point where you'll find more charismatic cafes and restaurants. Wandering the weathered streets of Battery Point, amid centuries old cottages that overlook the Derwent River, why not call into the Shipwrights Arms (known as the Shippies) for a cold beer and a terrific pub menu. Boutique style Salamanca Wharf Hotel opened late 2012 as a welcome addition to Hobart's charming waterfront precinct.
Further down the Derwent is the prestigious Royal Yacht Club of Tasmania, which welcomes visiting vessels to their upgraded marina. Co-host of the Rolex Sydney Hobart Yacht Race, RYCT has a very busy racing and social programme managed from their refurbished clubhouse, complete with an elegant waterside restaurant. Nestled in between the RYCT and Wrest Point Casino, is the Derwent Sailing Squadron, which has a fine tradition of sailing on the Derwent.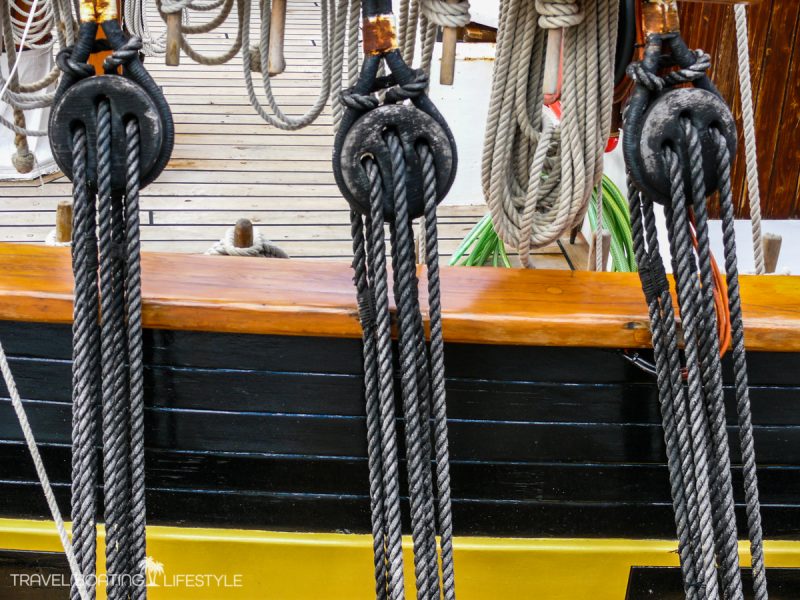 Across the Derwent, the eastern suburbs of Hobart offer plenty of smaller yacht clubs and marinas set in picturesque coves to explore. Kangaroo Bay is home to the Bellerive Yacht Club which has plans to upgrade its clubhouse, while keeping its traditional-style fixed pier marina.  Geilston Bay Boat Club is tucked deep into a wooded cove that is popular with moored boats. The Royal Motor Yacht Club recently completed extensive renovations to their clubhouse and marina, with Hobart's only floating fuel dock. Enjoy a drink in the bar here late in the afternoon as the sun sinks down behind Mt Wellington.
Tasmania's wilderness is less than a day sail away to the south with Bruny Island and the D'Entrecasteaux Channel just 15 nautical miles from Constitution Dock. Deep into the Huon Valley, Bruny Island can be exposed on the east coast to Storm Bay, while offering sheltered water cruising on its west coast.
But Bruny Island exploration will be postponed for another day. For now, as soon as I can  drag my weary body from the bathtub that is, it's downstairs and next door to the Drunken Admiral for a few cold beers and a heavenly meal presented on real crockery, on a flat, steady table.

Marinas around Hobart
Kings Pier & Constitution Dock marinas are both managed by TasPorts. Visitor berths are usually available at Constitution Dock by prior arrangment.
Wharf Street Hobart Ph 08 6222 6024
Royal Yacht Club of Tasmania extended their marina a few years back, replacing tired timber piers with modern floating docks. Visitors are welcome.
Marieville Esplanade Sandy Bay www.ryct.org.au
Established in 1926, Bellerive Yacht Club is a traditional styled club with its timber docks, and a strong yachting focus. Discussion is underway to construct a waterfront promenade and boardwalk
64 Cambridge Road Bellerive www.belleriveyachtclub.com.au
Derwent Sailing Squadron has a 130 berth marina, and is within an easy walk of Wrest Point Casino.
Marieville Esplanade, Sandy Bay www.dssinc.org.au
Motor Yacht Club of Tasmania has a freshly renovated clubhouse, new floating docks and the only floating fuel dock in Hobart. It also has stunning views across the Derwent to Mt Wellington.
1 Ford Parade Lindisfarne www.motoryachtclub.org
Events in Hobart and Tasmania
Ten Days on the Island www.tendaysontheisland.com
Hydro Tasmania Three Peaks Race (Easter) www.threepeaks.org.au
Targa Tasmania www.targa.org.au