It takes three days, including overnight stops in Brisbane and Honiara, three flights plus a hike and a boat trip across the channel before I finally set foot on Santa Catalina Island in Solomon Island's Makira Province. It's not quite the end of the earth but it sure feels like it. Like most of the Solomon Islands however, the journey is worth the effort despite the travel challenges.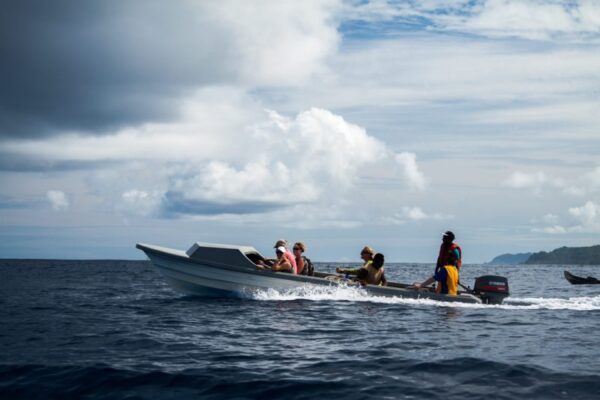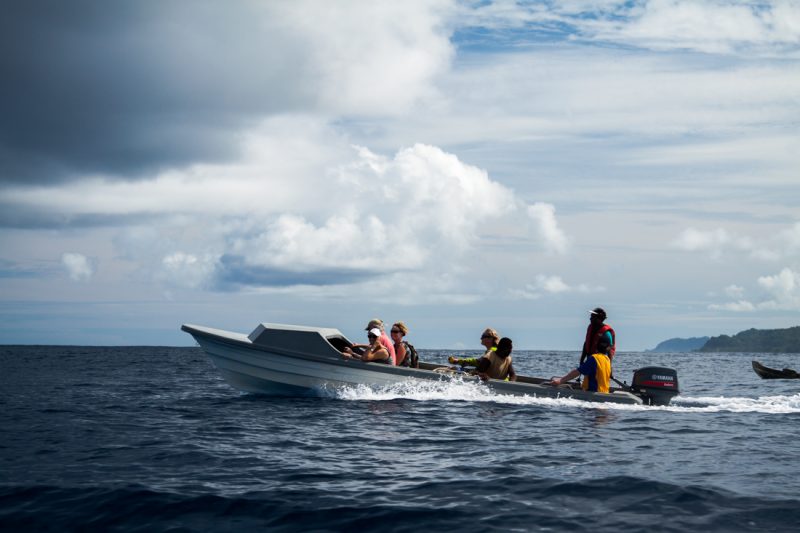 Conveniences we take for granted in the civilised world have not yet made it to these outer islands of the Solomons.  Meals consist predominantly of root vegetables: yam, yam and yam (translated into bland, bland, bland). For variety there's pumpkin, taro and pana. Bananas are in abundance. Electricity, running water and flushing toilets are non-existent. Water is sourced from wells in order to wash bodies and toss into newly installed porcelain toilets. These few toilets are often communal, though many villagers prefer to do their ablutions on male and female designated beaches where waste is washed into the sea. Well-to-do villagers like my host family power a bare light bulb utilising a small solar panel. What villagers lack in facilities they make up for in friendship. Smiles are offered freely and strangers are welcomed warmly into village life.
Don't even think about trying to connect to a mobile cell service. Wifi? You're kidding. The world wide web is yet to make it to this part of the world. My hosts Joash and Greta know that the internet exists though: they've heard about it from their son who is studying commerce at university in Fiji.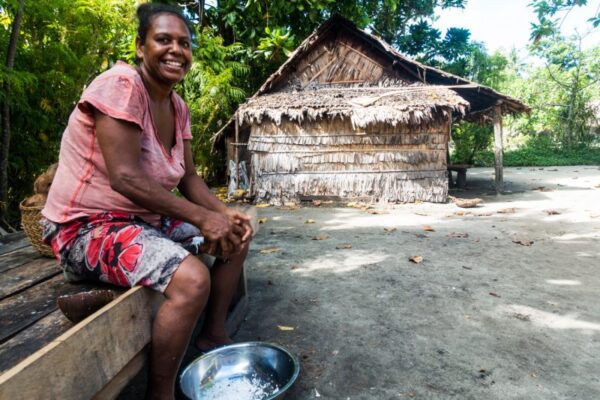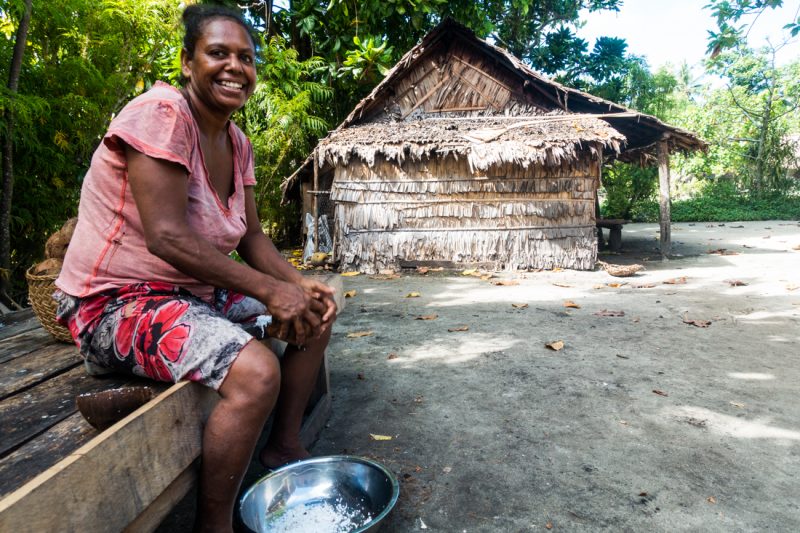 Joash and Greta have opened their home to visitors like myself, sharing their meagre facilities with a strange white woman who's backpack is filled with inappropriate knee length shorts and trousers. My wardrobe is my first mistake. Trousers are terribly offensive to village elders. Short, demure skirts (of which I have none) on the other hand are totally fine. As soon as I land on the beach stalwart elder Margaret rushes forward to wrap a sarong around my calf-length cargos. Unlike other Pacific islands where knees and shoulders should be covered, on Santa Catalina Island it's my butt that seems to be the issue. Or, to be blunt, my thigh gap. At least I think that's the offending body part: I never quite get to the bottom (pun intended) of it. However, reluctant to offend and despite the oppressive heat, I duly wrap a sarong around my hips over my trousers whenever I leave my hosts house. But I suspect I'm still non-compliant as Greta frowns and fusses over its placement.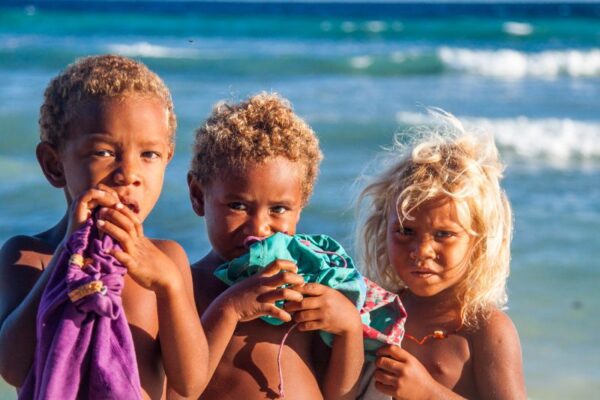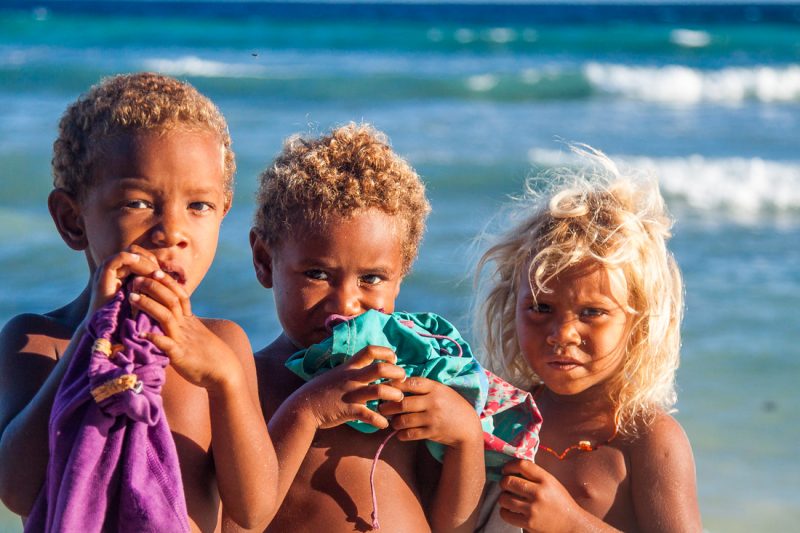 I've come to Santa Catalina Island in Makira Province in the south east of the Solomons archipelago to join the annual Wogasia (pronounced Wog-arse-ee-ah) Spear Festival celebrations. This annual festival is held at the end of May or early June depending on stars and tide, to celebrate fertility, friendship and the promise and hopes that the new yam crop brings. It's the biggest event of the year in these parts and everybody gets involved.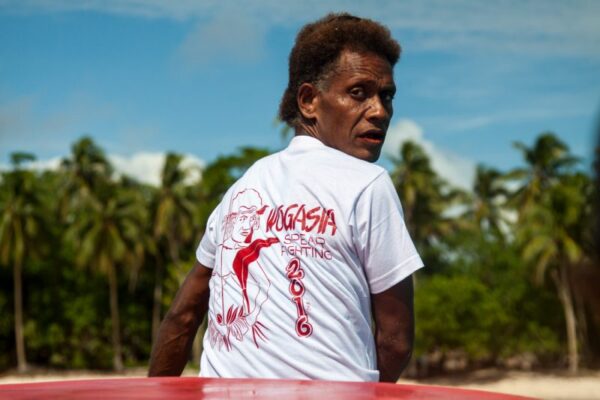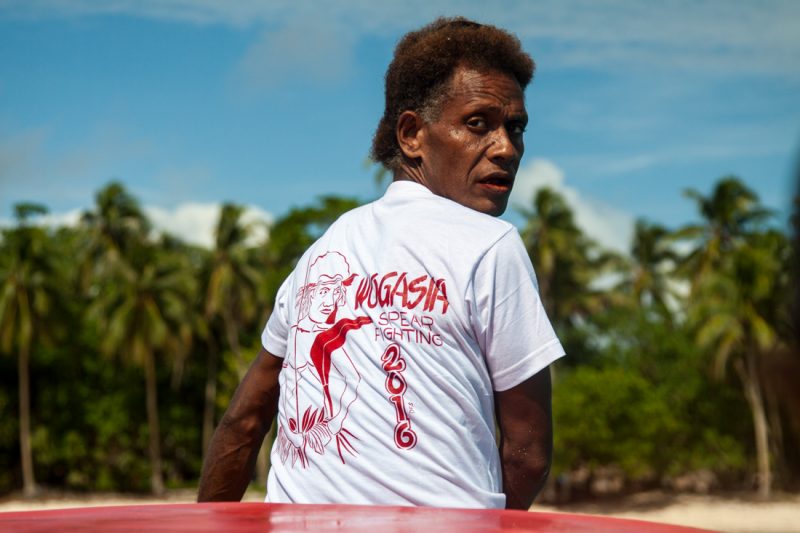 'We'll go up the mountain at 9 o'clock,' Greta tells me one morning after breakfast of dry biscuit and black tea. The timing however is irrelevant as no-one has a watch except the handful of white-fella visitors. I  end up spending a lot of time waiting for things to happen. I don't realise until it's almost time to leave, but by virtue of visiting during this significant festival I'm initiated into the tribe of my hosts. By the time I leave five days later I'm ostensibly related to half the island.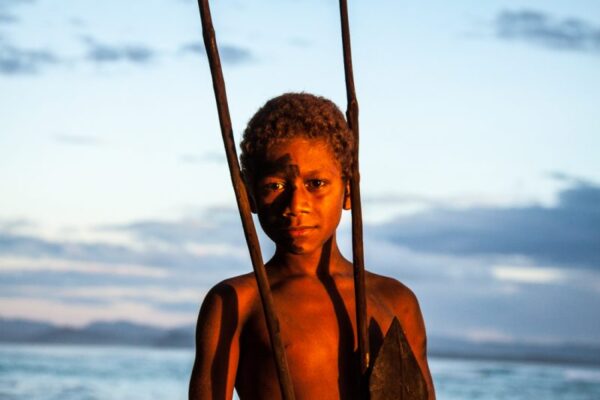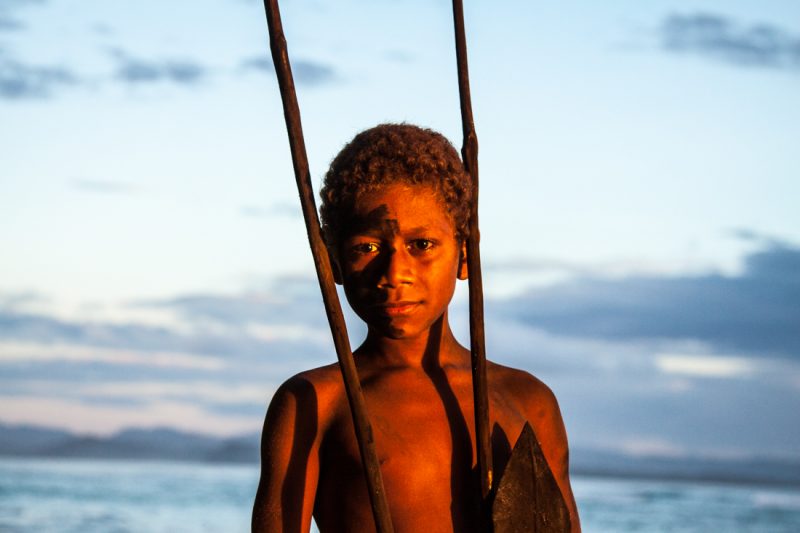 Celebrations kick off with the blowing of conch shells after midnight, followed by villagers running through the village fiercely beating the ground while dodging flaming coconuts husks, offal and foul-smelling concoctions tossed by those with scores to settle. It's the beginning of a long sleepless period that lasts almost two days – sleeping definitely cheating during Wogasia!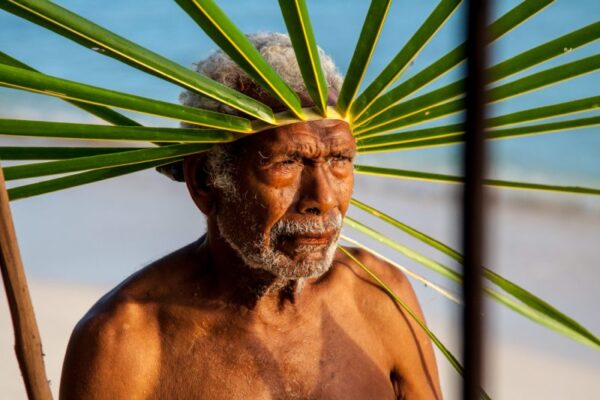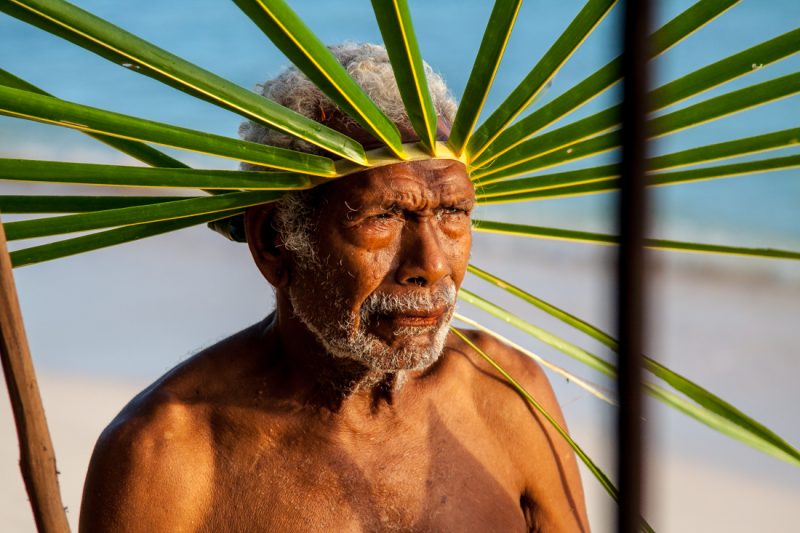 At dawn the first of two tribal spear fights begin. Opposing tribes hurl spears at each other to settle grievances for past wrongs, cheered on by villagers rooting for their loved ones. Later in the day the second fight is escalated after villagers descend from the mountain with men and boys painted in full tribal gear and women wrapped in costumes made from banana leaves.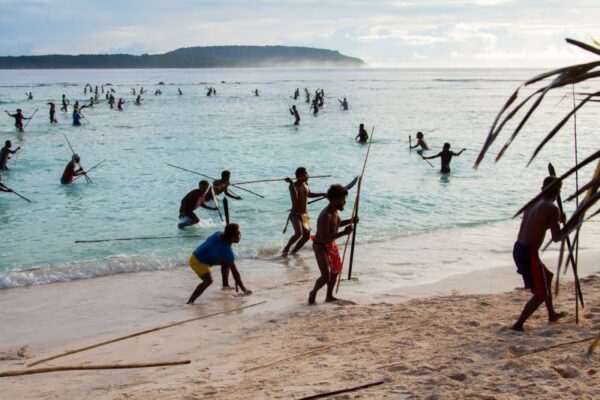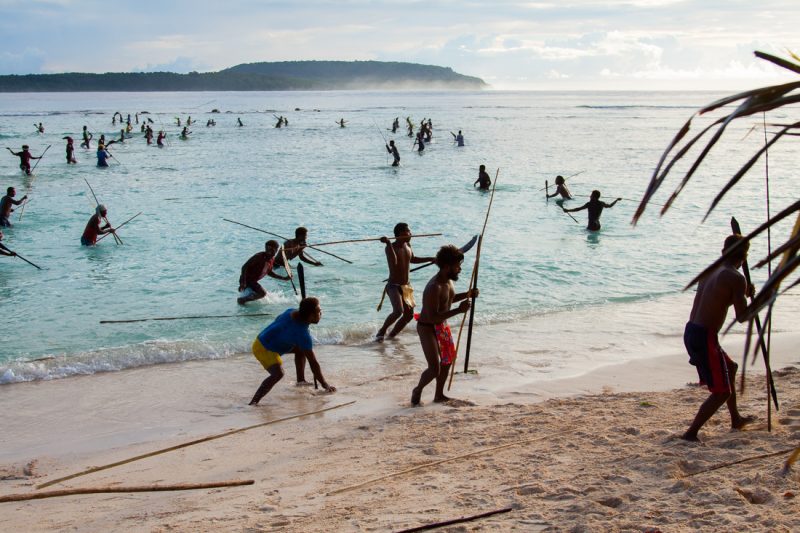 Boys and men blow conch shells in an increasingly frantic manner while others dance and chant, spears and shields poised, as they run through the village. Reaching the beach, festivities reach a climax as conch shells are handed over to women who run into the sea to cleanse the shells before starting their own cacophony of conch blowing. Finally it all makes sense to me as I understand the connection between all the activities over the past few days. It's quite emotional and a tear springs to my eyes as I watch ladies clamber to claim a shell. Spears are tossed into the ocean symbolising settled grievances as bad spirits are carried away on the outgoing tide along with discarded spears.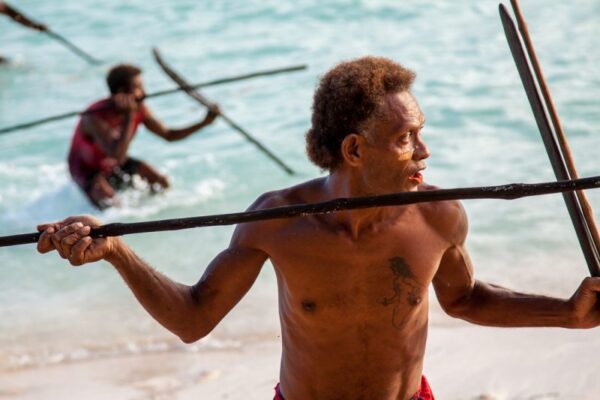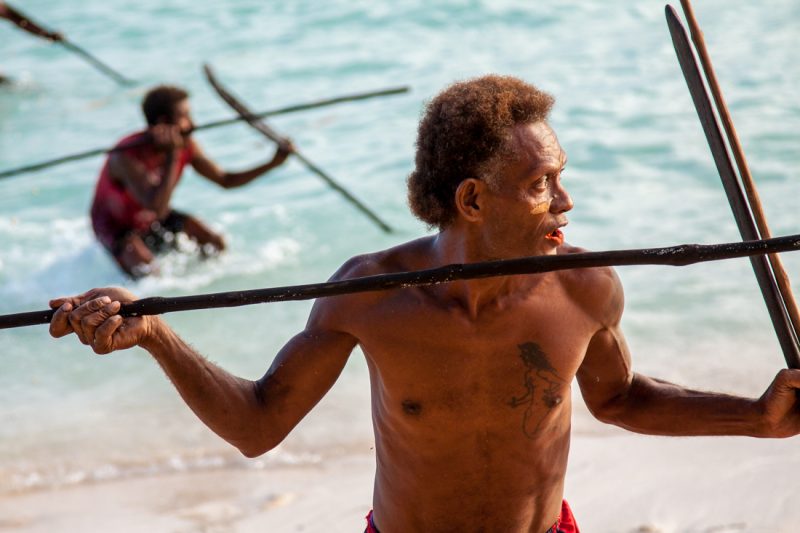 Then it's time to celebrate family, friendship and the promise of a new yam season as visitors are welcomed as new tribal members. We're now family! We share a communal pudding and fish feast cooked by mothers and wives over open fires. Sharing village life with homestay hosts on a small island devoid of tourism infrastructure, visitor numbers are strictly limited. Don't let that deter you though – living with the village people is a rare opportunity to enjoy low impact grassroots travel.
Fiona Harper was a guest of Solomon Islands Visitor Bureau