There is one sure way to avoid the ever-increasing crowds at your favourite tropical anchorages – boating Bruny Island! Avoid the annual flotilla to the northern tropics and head south into the high latitudes of Tasmania instead (well as high as they get in Australian waters).
You can't get much further south than Bruny Island, on Tasmania's south east coast, without needing a passport. Here you will find the kind of uncrowded anchorages that northern cruisers can only dream of. Boating Bruny Island: think of a cool place of peace and tranquillity where the only dawn sounds you'll hear are the gentle twitter of birdsong, where mist rises up the valleys to the snow-capped mountains. Where sweet orchard aromas permeate the air. And when civilisation does beckon, there are vineyards, cheese makers, chocolatiers, apple orchards and berry farms all within a languid days' sail away. Did I mention the seafood? Tasmanian fishermen sell some of the best scallops and salmon on the planet.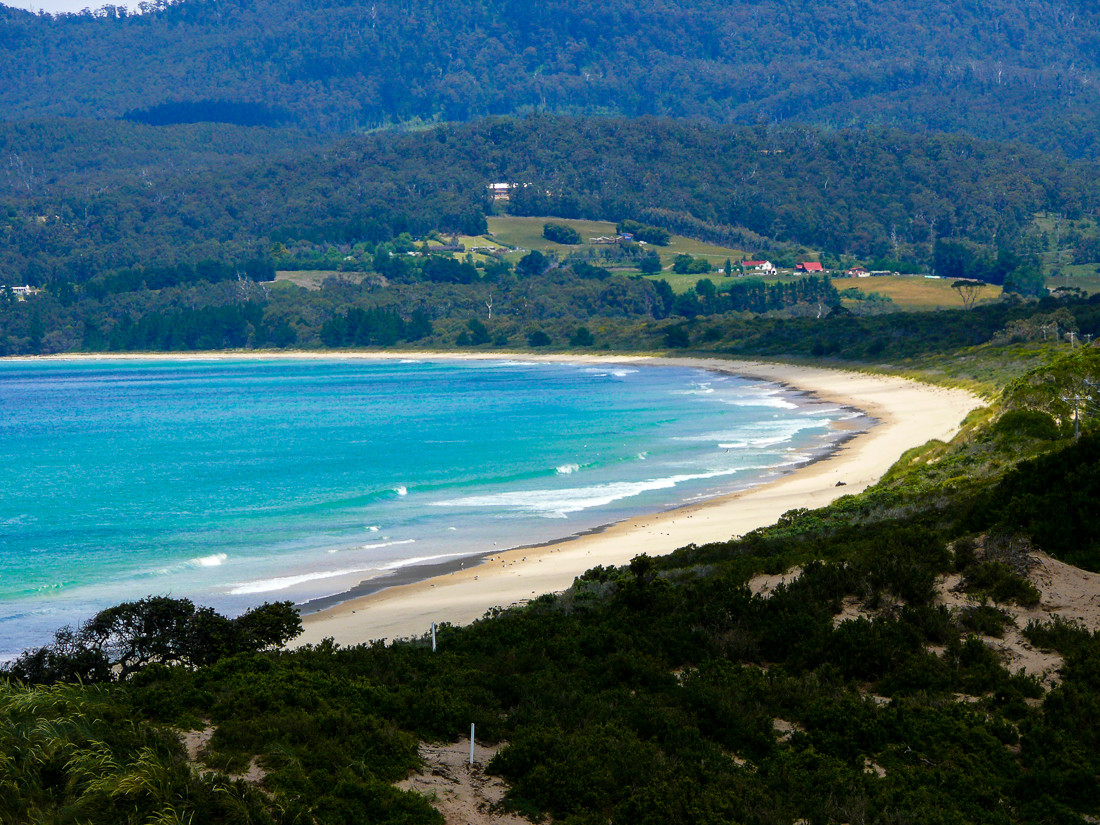 Boating Bruny Island
Tasmania's east coast has a plethora of good cruising grounds for those prepared to make the crossing across the 'ditch'. And the D'Entrecasteaux Channel and Bruny Island are one of the best. Racing down to Tassie in the annual Rolex Sydney to Hobart is the obvious way to get there, but it's not the only choice. A more leisurely voyage may be organised by The Cruising Yacht Club of Australia.
If you're really stretched for time (and bravado – let's face it, Bass Strait can be intimidating), why not fly down there and charter a bareboat instead? Yachting Holidays in Hobart offer a bareboat Beneteau Oceanus 411 for around $600 per day (check website for latest specials).
As with any cruise, weather and tide should be considered well before heading out, though tidal range is generally around 1mt, with a maximum range of 1.5m during spring tides. According to Cruising Tasmania author J Brettingham-Moore, Tasmania's weather is largely controlled by the passage, from west to east, of low-pressure systems. During the summer, which is the best time to cruise, the cold fronts associated with these systems generally pass south of Tasmania, causing predominantly westerly winds. Brettingham-Moore quotes a soothing statistic to ease a cruising sailors anxiety levels: during summer and autumn, winds in excess of 35 knots occur less than 4% of the time. Poor holding weed and kelp beds are the main anchorage hazards to be aware of.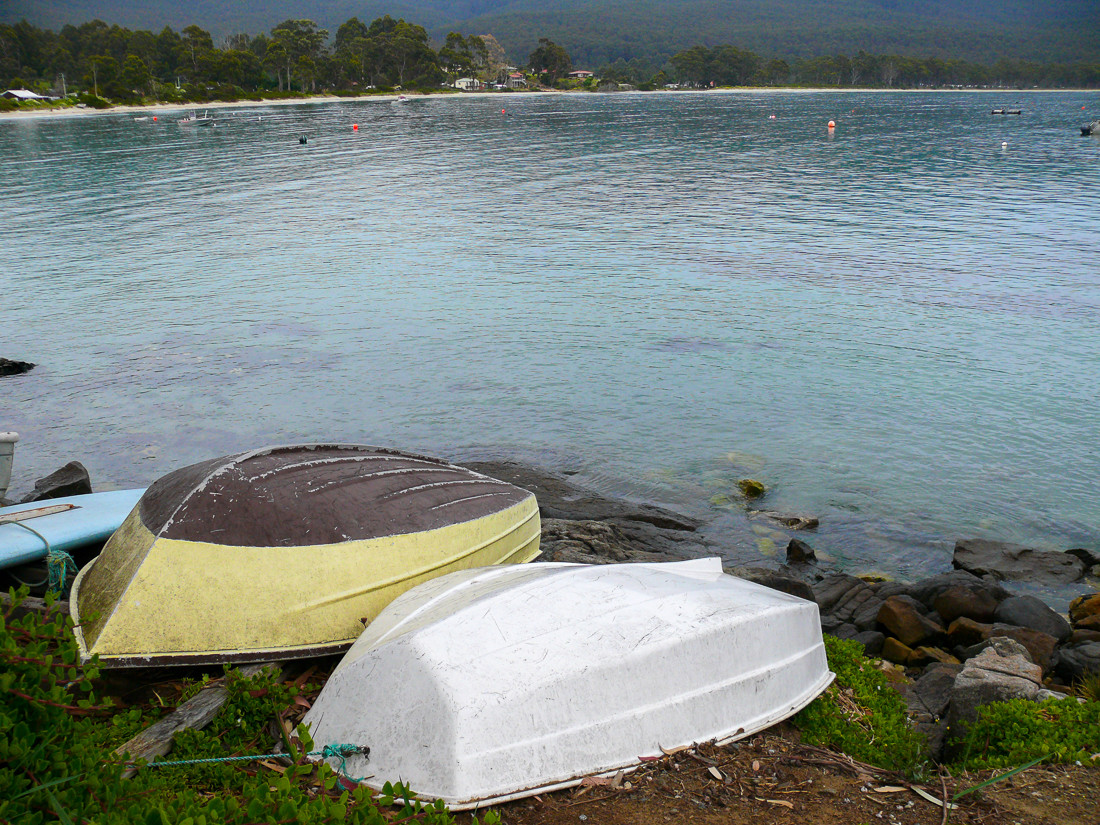 Weather reports are broadcast on HF radio from the Bureau of Meteorology, with the dulcet tones of 'Mechanical Mike's' computer generated voice broadcast every four hours. Warnings are given on the hour. Local Coastguard Stations can probably give a more personal forecast, or check with Coast Radio Hobart for the latest broadcast frequencies and times.
With any southern Tassie exploration, your voyage will almost certainly start from Hobart. The Hobart waterfront is a crew's paradise with bars, restaurants and enough seafood restaurants and takeaways to satisfy the hungriest crew. Try 42 Degrees South for a funky drinks venue and Fish Frenzy next door for excellent fish and chips, both on Elizabeth Pier. But paradise beckons further south so I encourage you to head south before your crew get too comfortable. Don't forget to call into the Harbour Lights Cafe, next door to Peter Johnston Chandlers, to pick up some scallop pies before you depart. They're the perfect sustenance for a hungry crew while you meander down the Derwent River. The great thing about cruising this area is that the distances are small; it's less than 15nm from Hobart to the northern entrance to the D'Entrecasteaux Channel.
Before you reach the Iron Pot you'll need to decide if you're going to circumnavigate Bruny Island clockwise or anti-clockwise. Plan to cruise the east coast in the most favourable, light conditions. Storm Bay is so named for good reason, though you're in good company here with some legendary navigators having passed through in the late 1700's. No matter which way you go, you'll be spoilt for choices, with almost every anchorage offering spectacular views of the dramatic wilderness of Hartz Mountains peeking over the lower ranges.
Boating Bruny Island Anchorages

The best anchorages on the east coast are in crescent shaped Adventure Bay, with shelter available in the northern and southern most corners. There's an astonishing daily show at dusk as fairy penguins waddle ashore to their rookeries burrowed into the dunes at the narrow neck that divides Adventure and Isthmus Bays. Climb the steps to the lookout, which offers a stunning view south along the isthmus. Aptly named Quiet Corner is the most popular anchorage with good protection from NW to S in gin clear water. From here it's a short walk along the beach, past the memorial to Tobias Furneaux who discovered Adventure Bay in 1773, to the township in the SE corner. At Adventure Bay you'll find a General Store selling fuel, gas and other essentials. Plus there's the licensed White Wallaby Café right next door. Walk a little further along the beach and you'll also come across Captain James Cook's landing place just past the jetty.
Rounding Tasman Head and the outlying Friars Islands (beware of strong currents here), Cloudy Bay opens up to the north. Anchorage is possible on the eastern side at Cloudy Corner, but is not suitable in fresh W winds. In these conditions The Tasmania Anchorage Guide suggests Mabel Bay on the western side of Cloudy Bay. Enjoy the uninterrupted view of the Southern Ocean from Cloudy Bay: there's nothing except the odd iceberg between here and Antarctica.
If it's forecast to freshen from the west, an even better option is to carry on past Cape Bruny with it's historic lighthouse and head for Southport (on the 'big island') where shallow draft vessels can navigate the Lune River, a location regularly featured in Tasmanian Archibald Prize winning artist Geoff Dyers work. A monument at Southport Bluff commemorates a shameful episode of the convict era, when a transport ship was wrecked and guards refused to release convicts from their shackles, allowing all to drown.
With that sobering thought in mind, the alternative is to head south into Recherché and Rocky Bay. Here you'll really feel like you've anchored in the wilderness with towering peaks that are often snow capped even in summer, concealing the sun from early afternoon onwards. This is the last real protection for those making the dash westwards to Port Davey and Bathurst Harbour on the southwest corner of Tasmania. But that's another story for another time.
The D'Entrecasteaux Channel starts just north of Southport and from here you'll need to make some tough decisions. If you stay with Bruny Island and head north around the top of Partridge Island, the U shaped Great Taylors Bay penetrates deep into the south and offers protection from all wind directions. Continuing north along Bruny, you'll come across delightfully named anchorages like Isthmus, Missionary, Quarantine and Sheepwash Bays. The township of Lunawanna is waterside at Little Taylors Bay, though it's depth discourages deep keel vessels. Which is rather a shame because the pub here is the old-fashioned kind with friendly service and delightfully hearty meals at old-fashioned prices. Think juicy lamb shanks (plural not singular) with red wine jus on a bed of mash for under $20.
Barnes Bay in the north is actually about seven bays, and is the destination for the annual Barnes Bay Regatta held in April. This is a convenient anchorage, as is Apollo Bay, if crew are catching the ferry to or from Kettering.
But if you visit the D'Entrecasteaux Channel and just cruise the Bruny Island side you've actually done yourself a disservice. Take a little more time to explore the mainland anchorages. While a little more populated than Bruny, you'll find mirror-like waterways that reflect the mist covered valleys. You'll also discover marinas tucked away in deep water coves and waterfront restaurants serving up quality local produce. Navigable all the way to Huonville, with appropriate caution and local knowledge, the Huon River meanders past Kermandie Marina and the Wooden Boat Centre, where students study for a Diploma in Wooden Boat Building. While you're there take a moment to inhale the intoxicating aroma of 1200 year old Huon pine. Which is really what cruising southern Tassie is all about.
Bruny Island area marinas
Visit the Marinas Guide for a complete directory of Australian marinas.
Kermandie Marina is located on the Huon River at Port Huon, and accessible by a marked channel. With floating docks and a future haul out facility, there's an indoor heated swimming pool next door. The art deco styled Kermandie Hotel overlooks the Huon River and marina, serving breakfast lunch and dinner, plus there's the Riverview Gallery & Wine Bar, specialising in Tasmanian wine.
Huon Hwy Port Huon www.kermandie.com.au Ph 03 6297 1052
Oyster Cove Marina is positioned deep into Oyster Cove at Kettering. Fuel is available, plus there's a rigging shop selling some chandlery items. Look out for the red container behind the marina office; it's the clubhouse for the Kettering Sailing Club. They hope to move into more salubrious premises as part of the planned waterfront improvements.
Ferry Rd Kettering www.oystercovemarina.com.au Ph 03 6267 4418
South Haven Marina, also in Oyster Cove is right next to the Bruny Island ferry landing point. Comprising a visitor information centre and waterfront café, the marina offers a free berth for yachts visiting for lunch. Book ahead as space is limited.
Ferry Rd Kettering 03 6267 4494
Wooden Boat Centre at Franklin is upstream from Port Huon, approximately halfway to Huonville. Local knowledge is needed to navigate the river (advice at time of visiting suggested that there is approx 7 ft of depth in the channel). Visitors are welcome at what must be the cheapest marina in the country.
Boating Bruny Island Navigation Essentials
Tasmanian Anchorage Guide by Royal Yacht Club of Tasmania
Cruising Tasmania by J Brettingham-Moore
South East Tasmania Boating Guide by TAS Marine and Safety
Charts AUS173 D'Entrecasteaux Channel
AUS172 Port of Hobart
AUS174 Plans in Tasmania South East Coast
Events in Summer
The Wooden Boat Festival (Hobart) www.australianwoodboatfestival.com.au
A Taste of the Huon (Ranelagh) www.tasteofthehuon.com.au
The Wooden Boat Centre generally launches their latest vessel in Mar or April – check with the centre for dates.

View Bruny Island Tasmania in a larger map
Save
Save